My Griolladh Sambo Experience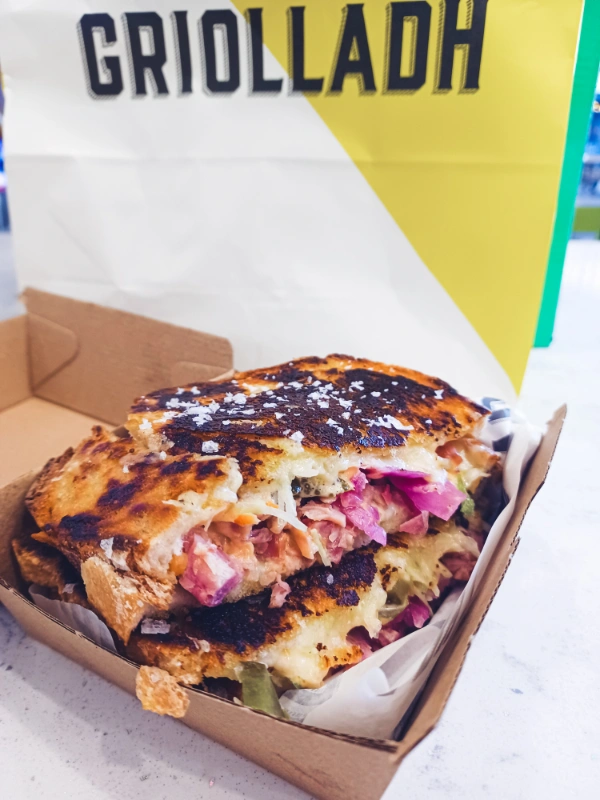 On their day of opening, I couldn't wait to give Griolladh a try and taste one of their grilled sandwiches to see what the hype was about. I got their Griolladh Hamo sandwich to start off to see how it stacked up against most other grilled sandwiches in Cork.
Their Sambo Menu
Their menu says the hamo sandwich comes with shredded ham, and most would probably think of the flavourless ham you get in most sandwich shops around town, but not at Griolladh.
The ham is proper Irish boiled ham, like what you get with a good Sunday or Christmas dinner. It is tender, not too salty and packed full of flavour. With everything you get in this sandwich, you need the ham to stand out and make you go, oh yes.
Using gammon and collar ham for their sandwich is a winner and a testament to Griolladh's desire to make the best grilled sandwich in Cork.
Sandwich Filling
With their hamo you get their blend of cheese, which adds a delicious savoury flavour that adds a bit of gooey, melty goodness. It doesn't overpower anything in the sandwich but acts as a soft, delicious and flavourful glue that holds all that delectable ham and toppings in place.
In my hamo I got pickles and red onion; the chopped pickles add a much-needed crunch to the hamo sandwich. I've worked as a chef before, and in the last restaurant I worked in, where we won an award for the Best Burger in Ireland, we always used the best pickles in our burgers we could buy.
The pickles in the hamo sandwich reminded me of these same pickles. If you think along the lines of a Reuben sandwich then this hamo sambo was like a ham version of a Reuben sandwich, one of my all-time favourites.
The Bread
Let's talk about their bread. Most times, when you have a toasted sandwich and get to the last corner of the bread, which is mostly crust, you are often like, I won't finish that, and you leave it behind; you won't with this. When I got through my sandwich and popped that last bit of crust in my mouth, I really got to taste the buttery goodness in their bread.
The whole time I was eating my Griolladh hamo, the sandwich tasted like it was perfectly seasoned. This is down to the generous amount of butter they apply to their bread before grilling it. They top off their grilled sambo with a nice sprinkle of sea salt which adds a nice little touch of class saying, this isn't any ordinary grilled sambo.
Everything with this sandwich was completely balanced and delicious. I left satisfied but not over-full like some food vendors in the Marina. It was a perfect lunch for someone who didn't want to feel like they ate their dinner on their lunch break.
While I have your attention, I recently updated my list of the best restaurants in Cork; make sure to check it out before you leave.
My Griolladh Experience
My overall experience of Griolliadh was that they know how to make amazing Grilled Sambos. Prior to the Griolladh coming to the Marina Market, my favourite sandwich bar in Cork was the Sandwich Bar in the English Market. Griollad in the Marina Market has gone right to the top of my list, and I can't wait to try more.
I actually can't wait to try their Potato grilled sandwich with spiced hash cauliflower and broccoli. Combined with their gravy mayo, which I can't wait to try, this could be something exceptional and entirely different from any other sandwich I have tried.
Well done to everyone at Griolladh, and I wish you all the best of success. It's great to see the dubs finally come to their senses and come down and join the food capital of Ireland, Cork.
Keep reading for more information on Giolladh at the Marina Market in Cork City.
Griolladh Cork From Dublin's Delight to Cork's Culinary Scene – More Than Just Grilled Cheese Sandwich!
Originating from Dublin, Griolladh brings a unique blend of flavours and textures and a commitment to using 100% Irish suppliers to ensure an unforgettable culinary experience. Let's delve into the delectable details of Griolladh's offerings.
Griolladh's expansion from Dublin to Cork showcases its commitment to sharing its amazing-tasting toasted sandwiches with a broader audience. 
The move to the Marina Market signifies a business expansion and a culinary adventure that seeks to captivate Cork City's taste buds and to become one of Cork's Best Places to eat for lunch.
A Toasty Welcome to Griolladh:
In November, Griolladh became the newest addition to the Marina Market, adding a touch of Dublin's culinary magic to the vibrant food scene in Cork City. Griolladh is looking to fill a gap in the Marina Market's food offering by bringing their unique Toasted Sandwiches to Cork.
This newest addition to the Marina Market in Cork will give diners a greater variety of lunch and breakfast options, which I am thrilled about. Combined with the addition of Hana Marina Market the food choices are getting bigger and better each month.
Whether you're a breakfast enthusiast, a sandwich connoisseur, or a fan of wholesome bowls, Griolladh has something extraordinary for every palate.
The Marina Market Cork City
The Marina Market in Cork City is a lively and diverse marketplace in the city centre. It boasts a vibrant atmosphere and offers a mix of international cuisines from various food stalls, satisfying both savoury and sweet cravings with tempting ice cream options. 
Beyond food, visitors can explore stalls featuring unique clothing finds, adding a touch of fashion to the market's eclectic offerings. 
More than just a place to shop and eat, the Marina Market is a cultural and social hub, making it a must-visit destination for those seeking a flavorful and dynamic experience in the heart of Cork City Food Scene.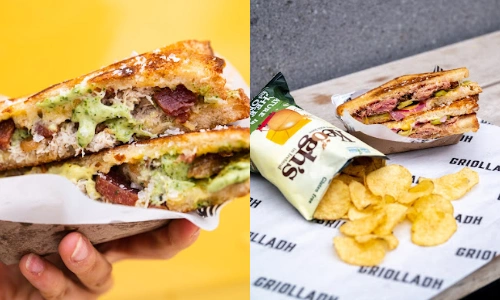 Grioladh Cork Breakfast Options
Begin your day with a symphony of flavours at Griolladh Marina Market Cork, where breakfast isn't just a meal; it's an experience. Their breakfast options perfectly blend hearty ingredients, culinary craftsmanship, and the unmistakable touch of Irish goodness.
Hungry then Guess What?
If you are starving on a cold morning, add a little extra to your breakfast sandwich. Choose your breakfast option, then add 1 or more (you hungry sod) from their 9 premium fillings to tailor your breakfast sandwich to your taste (at an additional charge).
Breakfast Filling Options
Your options to elevate your breakfast sandwich are:
Double Cheese
Ex Hambo Base
Crispy Bacon
Gubbeen Chorizo (Up the Rebels)
Ex Chicco Base
Wicklow Ban Brie
Ex Beefo Base
Ex Potato Base
Wicklow Ban Blue
Breakfast Sandwiches
Here's a tempting glimpse into the breakfast offerings that await you at Griolladh Marina Market Cork:
1. Egg and Cheese Grilled Sandwich:
Start your morning with our Egg and Cheese Grilled Sandwich on a classic note. Perfectly cooked fried egg with the richness of melted cheese, all embraced in their signature sourdough bread and secret sauce, for a timeless breakfast treat.
2. Ham, Egg, and Cheese Grilled Sandwich:
Savour the Ham, Egg, and Cheese Grilled Sandwich for a heartier option. A delightful combination of savoury, shredded ham, fried egg, and gooey cheese with their secret sauce. This sandwich is a fulfilling way to kickstart your day.
3. Bacon, Egg, and Cheese Grilled Sandwich:
Indulge in the salty goodness of bacon paired with eggs and cheese in their Crispy Bacon, Egg, and Cheese Grilled Sandwich. A breakfast choice that's sure to satisfy your cravings for a savoury and comforting start.
4. Potato, Egg, and Cheese Grilled Sandwich:
Experience a unique twist with their Potato, Egg, and Cheese Grilled Sandwich. The earthy flavour of spiced potato hash with fried egg and cheese, all grilled to perfection, offers a delightful departure from the ordinary.
5. Grilled Bap:
Opt for the Grilled Bap if you're in the mood for a sandwich that will blow you away. Sourdough bap with fried egg, sausage, crispy bacon, shredded ham, and taco relish (the dubs love their taco sauce).
At Griolladh Marina Market, they believe breakfast sets the tone for the day. Their breakfast options not only tantalise your taste buds but also provide a warm and comforting start, ensuring your day begins on a delicious note. 
Griolladh Marina Market Lunch Options
Griolladh Marina Market Cork is where lunch is about to change forever. Their Sambo options are a testament to the artistry and passion that defines their culinary creations. Each sandwich is carefully crafted, painted with butter, and perfectly grilled, delivering a delightful crunch that elevates the sandwich experience. 
Once you select which sandwich you want, you have two options to make for sauce and fillings.
Griolladh Sauce Options:
Creamy Pesto
Garlic Aioli
Gravy Mayo
Spicy Sriracha
Tangy Curry
Taco Relish
Secret sauce
Griolladh Filling Options:
Red Onion
Green Onions
Griolladh Pickles
Rustic Tomato Mix
Mixed Leaves
Seasonal Slaw
House Jalapenos
Stuffing
Crunchy Crisp Filling
Chutney
Explore the extraordinary taste profiles of their Sambo collection below.
Sambo Range at Griolladh Cork
1. Hambo:
Indulge in the classic and timeless appeal of the Hambo. Featuring succulent ham, this sandwich is a harmonious blend of savoury goodness and grilled perfection. The Hambo consists of a shredded gammon & bacon collar, roasted marmalade with mustard glaze and a signature cheese blend for a melt-in-the-mouth experience.
2. Cheese-O:
For cheese enthusiasts, the Cheese-O is a symphony of cheesy delight. Melted cheese oozes from every bite, complemented by the buttery crunch of the grilled bread and their signature cheese blend. It truly celebrates the simple joy that cheese brings to a sandwich. 
3. Beefo:
Elevate your sandwich experience with the bold flavours of their Beefo Sambo. 12-Hour Cooked Brisket, House Jus and their signature cheese blend in perfectly seasoned and grilled sourdough bread to create a savoury masterpiece that will satisfy even the most discerning taste buds. It is a choice for those who crave a hearty and robust sandwich.
4. Chicco:
Step into the realm of sophistication with the Chicco. This sandwich features a blend of flavours that will transport you to a culinary paradise. Roasted herb chicken breast and caramelised vegetables with their signature cheese, the Chicco is a journey of taste and texture from the first bite to the last.
5. Potato:
Experience a unique twist with their Potato Sambo. The earthy goodness of spiced potato with roast cauliflower and broccoli, combined with a signature cheese blend, creates a comforting and distinctive sandwich. The potato is a unique sandwich experience.
6. Sambo Special:
The Sambo Special is a culinary adventure for those who crave a bit of everything. This unique creation showcases the diversity of our offerings, ensuring that every bite is a surprise and a delight. 
You get their signature cheese blend, home-baked shredded gammon & bacon collar, roasted marmalade and mustard glaze in delicious sourdough bread. The addition of delicious sriracha caramel, Griolladh pickles and Crispy Shallots make this the perfect choice for grilled sandwich lovers.
Griolladh Marina Market's Sambo selection has extraordinary flavours and textures tailored to your personal taste. Each of their Sambo options is crafted to leave an indelible mark on your taste buds.
Griolladh Healthy Options
At Griolladh Marina Market, they understand the importance of balancing indulgence with wellness. That's why they've curated a selection of wholesome and flavorful options that cater to those seeking a healthier culinary experience. 
Dive into their menu of nutritious choices, where each bite is a celebration of well-being:
1. Soup Bowl:
Warm your soul with our Soup Bowl, a hearty, comforting option perfect for those craving a nourishing start. Our soups are crafted with the finest ingredients, ensuring a delightful balance of flavours in every spoonful. It is ideal for those seeking a lighter yet satisfying choice.
2. Spicy Potato Bowl:
Spice up your mealtime with our Spicy Potato Bowl. This option combines the earthy goodness of spiced hash potatoes with a kick of spice, creating a satisfying and refreshing bowl. It includes protein-rich grains, taco relish, and slaw with marinated red onion. A flavorful choice for those who appreciate a hint of heat in their wholesome meals.
Choose 1 of 6 fillings with your Spicy Potato Bowl:
Grain Mix
Potato Base
Mixed Leaves (additional Cost)
Marinated Red Onion
Seasonal Slaw
Taco Relish
3. Ploughman's Ham Bowl:
Experience the classic Ploughman's Ham Bowl, a well-rounded option combining shredded ham with fresh leaves, protein grain mix, and mixed pickles with their secret sauce, apple, and chutney. This bowl is a delightful balance of protein and flavour, offering a wholesome and satisfying meal.
Choose 1 of 6 fillings:
Grain Mix
Mixed Leaves (Extra Cost)
Hambo Base
Griolladh Pickles
Secret Sauce
Chutney
4. Mediterranean Chicken Bowl:
Transport your taste buds to the Mediterranean with their Chicken Bowl. This bowl celebrates health and taste and is packed with lean protein, vibrant vegetables, and a medley of flavours. The bowl includes Roast Chicken, Caramelised veg, Marinated Red Onion, Creamy Pesto and rustic tomato mix with fresh leaves and protein grain mix. It is a perfect choice for a light and refreshing meal.
Choose 1 of 6 Fillings:
Chicco Base
Mixed Leaves (extra cost)
Marinated Red Onion
Creamy Pesto
Rustic Tomato Mix (extra cost)
Grain Mix
At Griolladh Marina Market Cork, their commitment to health doesn't compromise on flavour. They believe in creating meals that are good for your body and a feast for your senses. Enjoy their range of bowls that offer wholesome goodness, where every dish is a step towards a well-nourished and satisfied you.
Conclusion:
To summarise, Griolladh in the Marina Market is more than just a food spot; it's a destination for those seeking a culinary journey through gourmet toasted sandwiches. 
This newest addition to the Marina Market will offer us a fantastic range of options for breakfast and lunch.
The food options in the Marina Market Cork are extensive, and people are often spoiled for choice. Undoubtedly, Marina Market needed another food vendor like Griolladh to give us more comprehensive breakfast and lunch options.
I expect good things from Griolladh Marina Market Cork, and they might even give Poulet Vous a run for their money for the busiest food vendor in the market.
Visit the Griolladh website for further information.