What are the best restaurants in Cork City?
The best restaurants in cork city (in our chef's opinion) are :
The Glass Curtain
Jacobs on the Mall
Quinlans Seafood Bar & Restaurant
Market Lane
Spitjack
For more information on each restaurant, please read further, where our chef will give you more details such as price range on his personal picks for the best restaurants in Cork City.
Our very own Chef compiled this list of the best restaurants in Cork.
Best Restaurants in Cork City – Where to Eat Guide 202

3

Are you looking for the best restaurants in Cork City? You've come to the right place!

Hello, I am Chef JJ, and in this article, I will give you some information on the best restaurants in Cork City. I will give you a list of well-known and not-so-well-known restaurants that will be worth the visit during your stay and the average pricing of their menus.

From fine dining restaurants to elegant eateries, there's something for everyone in this vibrant Irish city. So whether you're looking for a romantic dinner date or a hearty meal after a day of sightseeing, read on for the best places to eat in Cork City!

I will also give you my recommendations on what to try when possible.

To see a list of Restaurants in Cork County, read my article on the Best Restaurants in Cork for more info.
Best Restaurants in Cork City
To start our list of the best places to eat in Cork city, let's look at some of Cork City's best restaurants.
Michelin Star Restaurant in Cork City
Ichigo Ichie by chef-owner Takashi Miyazaki.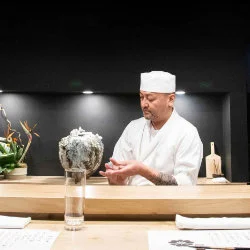 My top choice is Ichigo Ichie, Cork's very own Michelin Star restaurant.
Ichigo Ichie meaning 'once in a lifetime,' is, without doubt, a once-in-a-lifetime experience. Opened in 2018, Chef Takashi Miyazaki won his first Michelin Star Award in 2019. This five-seater counter restaurant offers a select few diners the experience of watching a master sushi chef prepare intricate and delicate dishes using time-honoured Japanese techniques. When you plan to visit Cork City, this authentic dining experience is unique. I would always suggest you book your seat in advance.
Visit their Website at Ichigo Ichie.
Chefs Personal Recommendations:
Chef Takashi offers a very seasonal menu, and this changes to ensure you always get the best dishes. Check their website before visiting, where the menu is constantly updated. Their "Kisetsu no osashimi" selection of sashimi demonstrates why this restaurant won its Michelin Star.
Top Restaurants in Cork City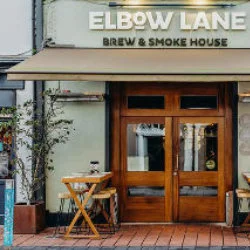 This restaurant is located along Oliver Plunket Street, 5 minutes walk from Cork City Bus station and 15 minutes walk from the train station. This restaurant is what you would call a proper destination restaurant and is one of the must-visit restaurants in Cork City.
Elbow Land Brew and Smokehouse have their nano-brewery onsite, brewing their unique Lagers, Stouts and Pale Ales. Combine this with some of the best-smoked BBQ baby back ribs in Cork City, and you can't go wrong.
For more information, read my article on Elbow Lane Brew and Smokehouse.
Main Course Price Range: Between €11.50 – €28.00 (Sides are extra €4.20 – €5.20)
Visit their website at Elbow Lane.
Chefs Personal Recommendations: :
If you are visiting Elbow Lane for the first time, I highly recommend trying their brisket roll as a starter. It's tender, juicy and packed full of smokey goodness. As a main, it's their rib-eye steak every time. You won't find a better steak in Cork City topped with their smoked butter. If you are unsure of what beers to go for, grab their tasting tray of four beers. My personal favourite is their Jawbone Pale Ale which has a mild hoppy aroma and flavour with fruity notes. This goes perfectly with the rich meat dishes.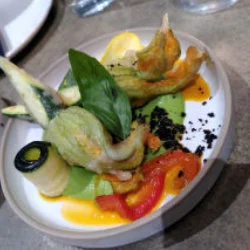 This multi-award-winning restaurant is no ordinary restaurant. It is one of the Best Vegetarian restaurants you will visit anywhere on the Island of Ireland. Winner of the best chef of the year award from Food & Wine magazine to the best restaurant in Ireland. This unique restaurant must be on any list of top restaurants to eat before you die. Do yourself a favour and book a table and see for yourself.
Small Plates Menu Price: €45 per person (3 courses of 3)
Visit their website at Cafe Paradiso.
Chefs Personal Recommendations:
Cafe Paradiso is a restaurant that everyone can enjoy, even if you are not vegetarian. The level of the food is outstanding, and I would highly recommend visiting. Chef Cotter uses the best seasonal ingredients when creating his dishes, so the menu adapts to each season. Their wine list is outstanding, so make sure to ask your server for their recommendations to pair with your meal. Their roast carrot with burnt aubergine is heaven. Creamy, smokey flavours with a sweet roast flavour of carrot and a nice little punch of heat from their harissa, you will see why this place is so popular. Always give their local cheese dishes a try too to understand why Cork is considered the food capital of Ireland.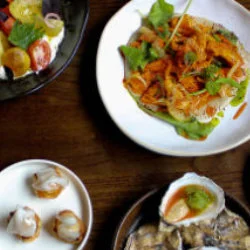 Another entrant into the Michelin Guide, Glass Curtain, which opened in 2019, quickly went from strength to strength. Chef Brian Murray has had many setbacks since opening, caused mainly by the pandemic. Still, since opening again to the public, the restaurant has finally had its chance to shine. 
Winner of Best Emerging Cuisine at the 2022 Irish Restaurant Awards, you can be sure The Glass Curtain will become one of Cork Cities' top restaurants.
Main Course Price Range: Between €24.00 – €34.00 (Sides extra €3.00 – €5.00) Tasting Menu €65 + extra for wine pairing
Visit their website at The Glass Curtain.
Chefs Personal Recommendations
This is the perfect spot for 2 or more diners. If you have a gathering of friends, I highly recommend their tasting menu to get the most of what the Glass Curtain and Cork offer. The Glass Curtain restaurant is big on flavour, and they honestly love to show off their food, and rightly so. Go for their tasting menu and opt for the extra wine pairing. Trust me; they will spoil you with their seasonal food and wine.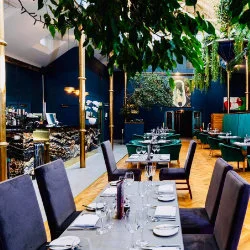 Jacobs on the Mall has been around since 1999 and has served the people of Cork with pride and passion. The head Chef Ricky Nolan has been leading the way in creating exceptional dishes using the best of locally sourced ingredients.
The menu has many European dishes with a little mix of Asian to mix things up. Their Lime and Coconut Prawns are packed full of flavour.
Jacobs on the Mall is a real treat, and I would highly recommend booking ahead of time as this stylish restaurant is often bustling.
Main Course Price Range: Between €23.95 – €44.00 (sided extra: €5.00)
Visit their website on Jacobs on the Mall.
Chefs Personal Recommendations
Jacobs on the mall has always been a restaurant which knows how to make each core ingredient on the plate shine. Their dishes are elegant but not too over the top, perfection on a plate. I highly recommend trying their locally sourced black pudding from Jack McCarthy as a starter. The pudding is rich and delish, almost crumbly and paired with the sweetness of a rhubarb and fennel salad, it is the perfect way to start a meal. For main my personal choice is to go with their specials which changes regularly. If that doesn't tickle your tastebuds, then their confit duck with their bean and sausage cassoulet really packs a punch of flavour. Rich and tender with smoked paprika flavours from their chorizo sausage and balanced with juicy tomato and basil sausage, it sets your mouth watering just thinking about it.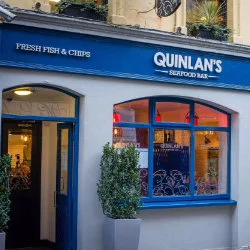 If fresh seafood is what you fancy while visiting Cork City, then I would highly recommend Quinlans Seafood bar as the restaurant that is hard to beat.
Sourcing fresh seafood from their fishing boats guarantees you will get the best at Quinlans. Their restaurant is stylish and relaxed, and the menu has everything a seafood lover would want. When I visit, I always have to go with the Award Winning Smoked Salmon Salad and follow that up with the best Fish & Chips in the city.
Main Course Price Range: Between €18.95 – €22.95 (sides included)
Visit their website at Quinlans Seafood.
Chefs Personal Recommendations
If you are a seafood lover, then Quinlans are the experts. As stated above, my go-to favourite is the Smoked Salmon Salad, followed by the best fish and chips in Cork City. They also do fantastic fried calamari. Basically, this place is seafood heaven, and they are proud of it, stating a tidetotable philosophy. But seriously, get their fish and chips and be blown away.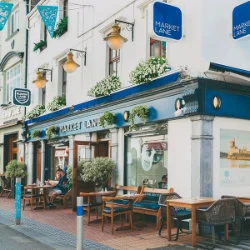 Market Lane Restaurant is one of the best local family restaurants in Cork City. They are located on Oliver Plunkett street, next door to their sister restaurant, Elbow Lane Brew and Smokehouse.
Market Lane has been around since 2007 and has been one of the top restaurants along Oliver Plunket street that have survived and thrived.
Their menu takes inspiration each week from the local ingredients on sale in the nearby English Market. They serve fresh, tasty food, and the restaurant is bright and stylish. A fantastic restaurant that you have to try.
Main Course Price Range: Between €15.00 – €31.50 (Sides included)
Visit their website at Market Lane.
Chefs Personal Recommendations
Market Lane seems to be a restaurant that has been around forever. They have always maintained the same standards of top-quality local food. Great for casual dining in a relaxing and stylish restaurant. I would recommend trying out their Slow cooked Rosscarbery pork cheek in XO sauce. Tender, juicy sweet pork with a nice touch of heat for their XO sauce topped with a creamy smoked celeriac puree and crispy scallion. That's just the starter. I personally love their fish curry when they have it on the menu. With the flavours of Thailand, this curry is amazingly well-balanced and allows each flavour to dance on the tongue.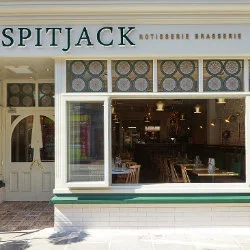 Owned by husband and wife Richard and Laura, the Spitjack food concept is based around locally sourced meats cooked via Rotisserie.
If you love meat, Spitjack is the one place in Cork City where you will never be disappointed. Their locally sourced meats are cooked over an open flame in their French Rotisserie oven. Combining styles of Rotisserie cooking from all over Europe, you will be spoiled for choice when you visit.
Their Rotisserie Pork Belly, or Porchetta as known in Italy, has to be tried if you can get it. This beauty always sells out fast, so book a seat early, and you won't be disappointed. Seasoned for 48hrs then slow roasted, the fats and juices of this Porchetta are made come alive with their Rotisserie oven. I can't sing high praises enough for this amazing dish.
Main Course Price Range: Between €18.90 – €22.92 (Sides €4.50)
Visit their website at The Spitjack.
Chefs Personal Recommendations
Let us not beat about the bush. Book early, arrive early, and get their Porchetta!
You won't find anything like it in Cork City. It's authentic, and you will feel like you are dining in Italy or heaven, you decide. Paired with a glass or three of Bernardeschi, Merlot from Italy, you will not regret being the first to dinner.
Frequently Asked Questions
What are the best restaurants in Cork City?
For casual Market Lane, beer lovers Elbow Lane, vegetarian Cafe Paradiso, Meat Lovers The Spitjack, Fish Lover Quinlans, groups The Glass Curtain, couples Jacobs on the mall, very special occasion Ichigo Ichie.
Does Cork City Have Food?
Cork City has a range of restaurants creating the best food in Cork using locally sourced ingredients. Cork is considered the food capital of Ireland, and Cork City shows you why.
What is the best vegan restaurant in Cork City?
The best vegan restaurant would have to be Cafe Paradiso. If you want something a little more casual, try the Franciscan Well. They have a fantastic Range of Vegan Pizzas.