Welcome to the vibrant heart of Cork City, where history, culture, and culinary delights converge in a symphony of flavours and aromas. From a Chef's perspective, the English Market Cork City is Cork's Culinary Playground. It's a place of enchantment and discovery, where the past meets the present in the most delectable way.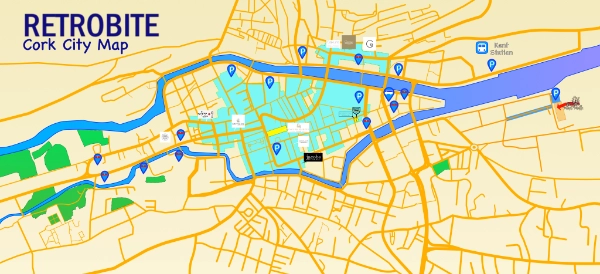 Stepping into the English Market is like entering a time portal to the 18th century. With its iconic red-bricked facade, this storied Market has been a cherished part of Cork's heritage for over two centuries. It's not merely a marketplace but a living testament to the city's enduring spirit and commitment to preserving its unique identity.
As you stroll through the Market's bustling alleys, the English Market will transport you to a world where fresh produce, artisanal creations, and international cuisines collide in a delightful dance of tastes and textures. The English Market offers a feast for all senses, from local cheeses and handcrafted chocolates to exotic spices and succulent seafood.
But it's not just the culinary treasures that make this Market unique; the vibrant, eclectic atmosphere truly sets it apart. Locals and visitors mingle beneath the Market's vaulted ceilings, sharing stories and savouring the diverse offerings. The Market reflects Cork itself – a city that thrives on its rich heritage while embracing the global influences that shape its dynamic present.
Join us as we journey through the history, culture, and culinary wonders of the English Market in Cork City. Whether you're a seasoned foodie or simply looking to immerse yourself in the authentic spirit of Cork, this enchanting Market is a destination you will want to take advantage of. So, let's step inside and explore the English Market's magic.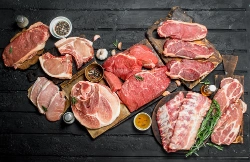 History of the English Market Cork
The English Market in Cork City is a living testament to its history and integral role in cultural and gastronomic realms. The English Market in Cork City was established in the late 18th century. The Market has been a cornerstone of Cork's identity for over two centuries. Its roots can be traced back to when the city grew in importance as a bustling port and trading hub.
Initially known as the "Grand Parade Market," it later earned the name "English Market" when Ireland was under British rule. While the name's origins may be somewhat contentious, there's no denying that the Market has weathered the tides of history, adapting and thriving through various eras.
English Market Cultural Significance
The English Market has always been a focal point for Corkonians, where generations of families have shopped, socialized, and celebrated local produce. It embodies the city's spirit, serving as a symbol of resilience and community. Corkonians, known for their strong sense of identity, take immense pride in this historic marketplace.
Gastronomic Hub
Beyond its cultural importance, the English Market has earned its reputation as a gastronomic haven. It has consistently provided local farmers, artisans, and producers a platform to showcase their goods. From the freshest seafood from nearby ports to the artisanal cheeses crafted in the surrounding countryside, the Market has long been a showcase for the region's culinary talents.
The English Market has played a pivotal role in shaping Cork's food culture. It has inspired chefs and food enthusiasts, influencing the city's culinary scene and even contributing to Cork's recognition as a "Food Capital of Ireland." The Market's influence extends beyond its boundaries, as it has become synonymous with the broader "Cork brand" associated with quality and tradition.
Navigating the English Market
The English Market in Cork City is a captivating labyrinth of sights, sounds, and scents, each alleyway and corner offering something unique to discover. Its architectural charm, striking red-bricked facade and elegant Victorian-style wrought iron and glass canopy is a testament to its rich history. This blend of architectural elements creates an inviting and timeless ambience, drawing visitors into its welcoming embrace.
Market Main Hall
 As you step inside, you'll find yourself in the heart of the Market, the Main Hall. This spacious area is where the Market's beating heart lies. Overhead, the high, arched glass ceiling bathes the space in natural light, creating an inviting and airy atmosphere.
Stalls and Notable Highlights:
Frank Hederman's Smokehouse: This renowned purveyor of smoked salmon and other seafood delights is a must-visit for seafood enthusiasts. Frank cures and smokes all his fish on his premises on the 'Great Island' where the river lee empties into the Cork Harbour.
The Farmgate Café: Above the Main Hall, you'll find the Farmgate Café. This beloved institution offers a delightful selection of traditional Irish dishes with market-fresh ingredients. It's an ideal spot to savour a leisurely meal while soaking in the Market's ambience.
Mezzanine Level
You'll find a charming mezzanine level above the bustling Main Hall. Here, you can take a breather and enjoy a different perspective of the Market below. The mezzanine offers a fantastic view of the various stalls below. Stalls include butchers, bakers, and cheesemongers, each offering unique specialities. Most notable is the award-winning Tom Durcan Meats, trading in the English Market since 1985.
Notable Stalls to Explore
Kay O'Connell's Fish Stall: Known for its impeccable selection of fresh fish, O'Connell's is a go-to destination for seafood lovers. Whether you're in the mood for a succulent fillet or a medley of shellfish, you'll find it here.
On the Pig's Back: This charming stall is a haven for cheese connoisseurs and lovers of artisanal charcuterie. Their carefully curated selection of Irish and international cheeses is a delight.
The Courtyard
Venturing further into the Market, you'll discover the Courtyard, an enchanting open space surrounded by covered walkways. Here, you can enjoy a moment of tranquillity while taking in the delightful scents wafting from the various food stalls.
Notable Courtyard Highlights:
Ballycotton Seafood: Ballycotton Seafood is one of several fishmongers that offers an array of fresh seafood, and their friendly staff is always ready to provide cooking tips and recommendations.
The Alternative Bread Company: The Alternative Bread Company is a hidden gem for those seeking delectable bread and pastries. Their artisanal bread and baked goods are made with love and care.
As you navigate the English Market's layout, you'll quickly realize that every stall has a story to tell and a culinary treasure to offer. Whether searching for fresh ingredients, gourmet delights, or a taste of Cork's culinary heritage, this historic Market satisfies every palate and curiosity.
English Market Culinary Delights
The English Market in Cork City is nothing short of a food lover's paradise, where the senses are treated to an array of culinary delights that span the spectrum of flavours and textures. When you enter this gastronomic haven, you'll be enveloped in the tantalizing aromas and vibrant colours of the freshest ingredients and artisanal creations.
Fresh and Local Produce
One of the hallmarks of the English Market is its dedication to offering the freshest, locally sourced produce. Stalls brim with seasonal fruits and vegetables, each harvested at the peak of ripeness. Whether it's a basket of plump, ruby-red tomatoes or a bundle of earthy, organic greens, the Market's commitment to quality is evident with every purchase.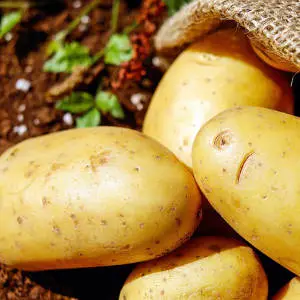 Artisanal Producers
For those with a penchant for artisanal goods, the English Market is a treasure trove of carefully crafted products. From creamy Irish cheeses to hand-cured charcuterie, you'll find many artisan producers who pour their passion and expertise into their creations. These dedicated artisans often share their knowledge and stories with market-goers, making each purchase a unique and personalized experience.
Inspiration for Chefs
The English Market isn't just a destination for everyday shoppers; it's also a culinary playground for local chefs. Renowned chefs from Cork City and beyond frequent the Market, seeking inspiration for their menus. They peruse the stalls, engage with the producers, and select the finest ingredients to elevate their dishes.
The Market's dynamic nature and ever-changing selection of seasonal ingredients provide chefs with a constant source of inspiration. Whether it's a succulent rack of lamb from a nearby farm or a rare herb sourced from a local grower, the English Market sparks creativity in the minds of culinary artists.
Chefs aren't the only ones benefiting from the Market's abundance. As visitors and food enthusiasts, we, too, can gain inspiration from the Market's vibrant energy and diverse offerings. Exploring the English Market isn't just about filling your shopping bag; it's about embarking on a sensory journey that connects you to the land, the producers, and the culinary heritage of Cork City.
The Market Vendors
The English Market in Cork City is home to various vendors offering fresh produce, artisanal goods, and culinary delights. While the specific vendors may change over time, here are some of the well-known and beloved vendors that have been part of the Market's rich tapestry:
Frank Hederman's Smokehouse: Renowned for its smoked fish, particularly salmon and mackerel.
The Farmgate Café is a restaurant and café that showcases the best local and seasonal ingredients in its dishes.
Kay O'Connell's Fish Stall: A family-run fishmonger offering a wide selection of fresh seafood.
On the Pig's Back: Specializing in artisan cheeses, charcuterie, and gourmet food products.
The Alternative Bread Company: A bakery known for its artisanal bread and pastries.
The Roughty Foodie: Offers a range of Irish and international foods, including spices, chutneys, and sauces.
Tom Durcan Meats: Renowned for its quality meats and traditional Irish dishes.
K O'Connells Fruit and Vegetable Stall: Provides fresh, seasonal fruits and vegetables.
Iago: A cheese shop offering a selection of fine cheeses.
The Good Food Shop: Specializes in organic and health food products.
Bubble Brothers: Offers a diverse range of wines and champagnes.
The Chicken Inn: A poultry supplier known for its fresh chicken and poultry products.
The Olive Stall: Provides a selection of olives, olive oils, and Mediterranean specialities.
Superfruit: Offers various fresh fruits, including exotic and tropical options.
Hasset's Bakery: A bakery known for its artisan bread and baked goods.
O'Flynns Gourmet Sausages: O'Flynns have a range of amazingly produced sausages which they cook and sell in the Market.
The Sandwich Stall: The sandwich stall produces sandwiches and more. They have the best Reuben in town.
Maki Sushi: A fantastic Sushi stand that uses ingredients from the English Market to produce tasty food. For further info please read my post on Maki Sushi Rolls Cork
If you are interested in Sushi, read my article on Japanese Food in Cork City.
Please note that the English Market may have additional vendors, and the availability of specific stalls can change over time. Exploring the Market is a delightful journey of discovery, where you can sample a diverse array of fresh, local, and international flavours. Visit their website for a list of up-to-date vendors.
English Market Insider Tips
Navigating the English Market in Cork City like a seasoned local can enhance your visit and ensure you savour every moment. Here are some valuable insider tips to make the most of your market experience:
1. Visit During Non-Peak Hours: The English Market can get quite busy, especially during weekends and lunch hours. To avoid the crowds and have a more relaxed experience, consider visiting in the early morning or later in the afternoon on weekdays.
2. Opening Hours: The Market typically opens around 8:00 AM and closes around 6:00 PM from Monday to Saturday. However, it's a good idea to check the official website or contact the Market directly for the most up-to-date opening hours, as they may vary on holidays or special occasions.
3. Parking and Accessibility: Parking can be a bit challenging in the city centre, so it's advisable to use public transportation, walk, or take a taxi. There are parking facilities nearby, such as the Paul Street Car Park and the North Main Street Car Park, but they can fill up quickly. If you're driving, plan to arrive early to secure a parking spot.
4. Cash is King: While many vendors now accept card payments, carrying some cash is still a good idea, especially for smaller purchases. This ensures you get all delectable treats or artisanal goods if a stall has a minimum card payment.
5. Chat with the Vendors: Engage with the passionate vendors. They're not just there to sell you products but are eager to share their knowledge and stories. Don't hesitate to ask for recommendations or cooking tips – you might uncover hidden gems and secret recipes.
6. Nearby Attractions: Extend your Cork City adventure by exploring some nearby attractions:
St. Patrick's Street: Cork's main shopping street, lined with shops, cafes, and historic architecture.
Shandon Bells and Tower: Climb to the top of this iconic tower and ring the bells while enjoying panoramic city views.
Cork City Gaol: Discover the history of Cork through a visit to this former prison-turned-museum.
Cork Butter Museum: Learn about Ireland's rich dairy heritage and the history of butter production.
Crawford Art Gallery: Explore a diverse collection of Irish and European masterpieces.
Whether you're a food enthusiast, a history buff, or simply seeking a taste of local life, the English Market and its surroundings offer many experiences. Following these insider tips will help you make the most of your visit, ensuring a memorable and enjoyable exploration of Cork City's culinary and cultural heart.
Please read my article on the Best Restaurants in Cork City to learn more about why Cork City is considered the Food Capital of Ireland.