Japanese Restaurants in Cork City have started a culinary revolution that has been quietly brewing over the past few years. With each passing year, the enchanting allure of Japanese Cuisine captivates more and more Corkonians and visitors alike. From the artistry of Sushi to the comforting embrace of ramen, Japanese food has rapidly become a firm favourite, with many looking for something fresh and tasty.
What makes Japanese Cuisine so irresistible? The delicate balance of flavours, the meticulous craftsmanship, and the deep cultural reverence for food draw people in. Cork City has warmly embraced this culinary voyage, offering a delightful array of Japanese dishes to tantalize your taste buds.
Whether you're in the mood for meticulously rolled Sushi, steaming bowls of soul-warming ramen, or the exquisite simplicity of tempura, you'll find a diverse tapestry of flavours waiting to be explored. Join us on a gastronomic journey through the enchanting world of Japanese food in Cork City, where tradition and innovation blend harmoniously on every plate.
Japanese Restaurants in Cork City
The following is a list of the best Japanese Restaurants in Cork City. I will provide some brief information, a price guide and links to their websites.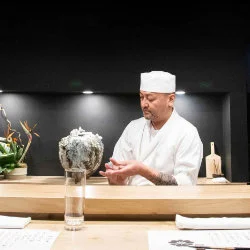 Ichigo Ichie: The Best Japanese Restaurant in Cork City and is the proud owner of a Michelin-star. Ichigo Ichie offers an exquisite kaiseki menu and an unforgettable dining experience. Ichigo Ichie is the best of the best when it comes to Japanese Food in Cork City. Bookings are usually taken weeks in advance, so be prepared to wait. The wait is worth it, as you will get to sample some of the best Japanese Food in Cork City. Please read my article on Ichigo Ichie for more information.
Sakura Japanese Restaurant: Sakura offers a range of Japanese dishes, including Sushi, sashimi, tempura, and bento boxes. Sakura Japanese Restaurant in Cork City offers dine-in and takeaway services. They have a fantastic lunch and evening menu that caters to all searching for amazing-tasting Japanese Cuisine. The menu at Sakura in Cork is extensive, offering a large selection of Sushi Nigiri, Sashimi, Norimaki, Tempura and Tappenyaki dishes. Alongside this fantastic choice, they also offer a large selection of fried rice, fried noodles and ramen dishes. Trust me, Sakura will spoil you with choice.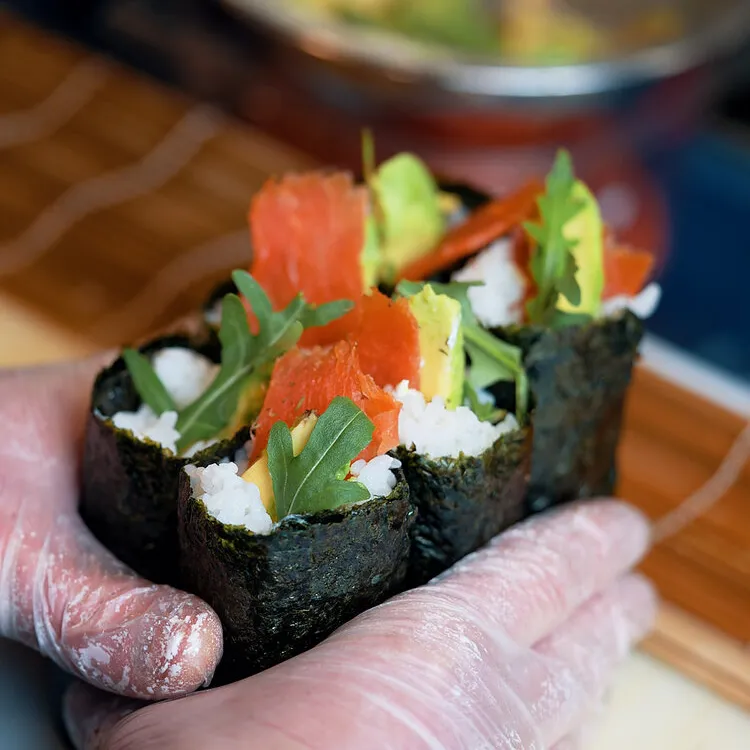 Maki Sushi Rolls: This sushi delivery and takeaway service in Cork offers a variety of sushi rolls, sashimi, and Japanese appetizers. Maki Sushi Rolls operate a stall in Cork's Famous English Market. Opened in 2015, Maki Sushi Rolls takes influence from Japanese and Hawaiian Cuisine. Sourcing most of their ingredients from within the English Market, you are really getting the freshest Sushi available in Cork City. Maki Sushi Rolls sell a range of delectable Sushi, Póke bowls, and Miso Soups. Their Sushi can be viewed standing tall as you pass through the English Market; make sure to stop off and grab some Sushi on the go. For further information, please read my article on Maki Sushi Rolls Cork.
Miyazaki Japanese Takeaway: Miyazaki is a very small Japanese Takeaway in Cork City owned by the Michelin Star Chef Takashi Miyazaki. Chef Takashi Miyazaki also owns the Michelin-star restaurant Ichigo Ichie in Cork City. Miyazaki's menu changes regularly but always delivers some of the best Sushi Cork offers.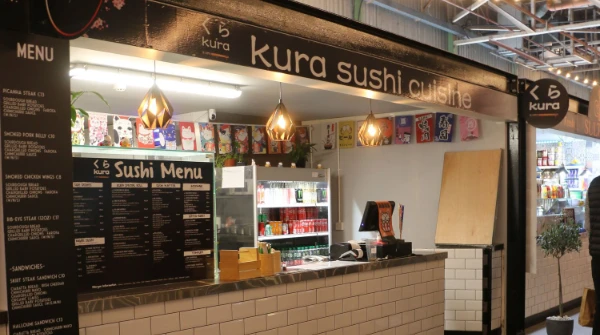 Kura Sushi Cuisine: Fresh and tasty Sushi, Japanese Katsu Curry, delicious gyozas and more located in Marina Market Cork City. Kura Sushi Cuisine is situated in one of Corks' favourite food destinations, The Marina Market Cork. The food is prepared as you wait, and you can watch the chef create delectable sushi and sashimi dishes while you wait. Seating is available within the Marina Market, so you can order your food, grab a seat and wait if you wish, or grab and go.
Sushi in Cork City
As you can see, Cork City has much to offer for all you Sushi lovers. It has excellent takeaway Sushi bars to Michelin Star restaurants.
One thing you will find consistent across each business is their pride in using the freshest local ingredients. If it is going to be good Sushi, you need fresh, which is why the Cork Sushi scene is exploding. Cork has some of the best ingredients in the country, and you can see this in the food being produced in these fantastic Japanese restaurants.
I hope you enjoy your outing in Cork and sample delicious Japanese Cuisine. 
Food is life; when you taste the Japanese food in Cork City, your life will be changed.