Nestled within the vibrant heart of Cork's iconic English Market, Maki Sushi Rolls Cork stands as a testament to the evolving culinary landscape of this charming city. 
As the aroma of freshly prepared sushi wafts through the bustling market corridors, it's evident that Cork has wholeheartedly embraced the global sushi sensation. With its diverse culinary scene and a growing appetite for fresh, flavoursome meals on the go, Maki Sushi Rolls has emerged as the go-to destination for those who crave the perfect blend of convenience and delectable dining.
Sushi, once considered exotic and niche, has now firmly embedded itself in the culinary tapestry of Cork. As the city's residents and visitors alike explore diverse culinary experiences, sushi has surged in popularity for its delightful combination of taste, nutrition, and the artistry of its creation. 
Amid this sushi renaissance, Maki Sushi Rolls Cork shines as a beacon for anyone seeking a quick, delicious, and health-conscious meal.
In this blog post, we will take you on a compelling journey through the vibrant world of Maki Sushi Rolls Cork. We'll delve into the essence of this beloved sushi stall, its unwavering commitment to freshness, its diverse and mouthwatering menu, and how it caters to the demands of individuals searching for the finest fresh food on the go. 
So, whether you're a sushi enthusiast, a casual foodie, or simply someone eager to discover the culinary gems of Cork, join us as we explore what makes Maki Sushi Rolls Cork a must-visit destination in this thriving market city.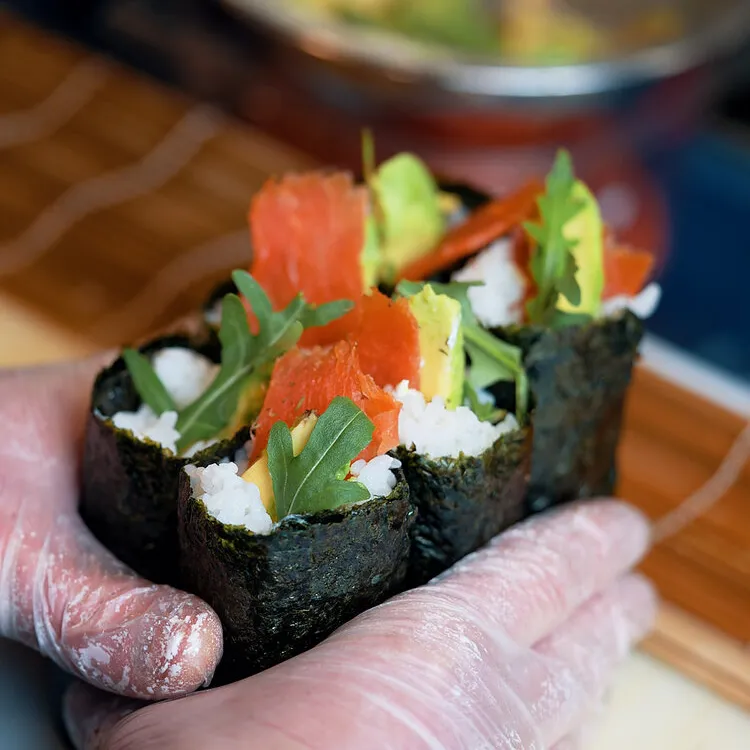 Maki Sushi Rolls: A Culinary Journey in Cork
Founded with a vision to redefine the sushi experience in Cork, Maki Sushi Rolls made its grand entrance into the food scene several years ago. Since its inception, this sushi stall has been dedicated to crafting not just sushi but unforgettable culinary experiences. Let's delve into the story behind Maki Sushi Rolls, its unwavering commitment to sourcing locally, and its ambitious goals.
The Birth of Maki Sushi Rolls in Cork
Maki Sushi Rolls Cork embarked on its culinary adventure with a passion for sushi and a desire to offer something unique to the people of Cork. In 2015, this small yet vibrant food stall opened in the heart of the English Market, quickly capturing the attention and taste buds of locals and tourists alike. From day one, it has been more than just a place to grab a bite; it's a destination where fresh, handcrafted sushi is given a modern twist.
A Commitment to Sourcing Locally
One of Maki Sushi Rolls' distinguishing features is its commitment to sourcing fresh, high-quality ingredients from local producers. Cork and its surrounding regions boast a rich agricultural heritage, and this sushi stall embraces it wholeheartedly. By prioritizing local sourcing, Maki Sushi Rolls ensures the freshness of its sushi and contributes to the support of regional farmers and suppliers. Every bite of sushi tells a story of Cork's bountiful land and sea, creating a unique and flavorful experience for patrons.
Goals and Aspirations
Maki Sushi Rolls Cork aspires to be more than just a sushi stall; it aims to be a culinary cornerstone of Cork's bustling food scene. Their goals are threefold:
Exceptional Quality: Maki Sushi Rolls is unwavering in its commitment to delivering the highest-quality sushi. They strive to exceed expectations with every roll, ensuring each customer experiences the perfect balance of taste, texture, and freshness.
Community Engagement: Beyond satisfying appetites, Maki Sushi Rolls aims to foster a sense of community. They actively participate in events, support local initiatives, and engage with their customers to create a welcoming environment that extends beyond their stall.
Sustainability: Looking to the future, Maki Sushi Rolls is dedicated to sustainable practices. They continually explore ways to minimize their environmental footprint, from responsible sourcing to waste reduction, while maintaining their quality commitment. This is achieved by using the ingredients right on their doorstep within the English Market.
Signature Sushi Rolls
Maki Sushi Rolls prides itself on its innovative and delicious sushi creations. From classic California rolls to inventive fusion rolls, their menu boasts many options to cater to every palate. What sets their sushi apart is the use of ingredients that are not only of the highest quality but are often sourced from neighbouring stalls within the English Market. This ensures that your sushi is as fresh as possible, with ingredients that have made only a short journey from farm or sea to plate.
Vegetarian and Vegan Options
Maki Sushi Rolls has various vegetarian and vegan options for those with dietary preferences or restrictions. These dishes showcase the diverse produce available within the English Market, transforming fresh vegetables into delightful sushi creations that cater to all tastes.
Póke Bowl and Miso Soup
In addition to the delicious sushi you can buy from Maki Sushi Rolls, they also offer a range of fresh and tasty póke bowls and miso soup.
Their póke bowls range from their famous California póke bowl to their Vegan bowl pack full of goodness. It's a taste sensation and a little different from the norm.
For a complete list of their menu, visit their website at Maki Sushi Rolls.
An Exciting Adventure Awaits
As we conclude our journey through the culinary delights of Maki Sushi Rolls Cork, it's impossible not to be excited about the presence of such a dynamic and innovative sushi stall within the historic English Market. The fusion of Japanese tradition and local sourcing has resulted in a dining experience that is not only fresh and delicious but also deeply rooted in the vibrant food culture of Cork.
The sight of sushi rolls and Poke Bowls brimming with ingredients sourced from neighbouring stalls in the market is a testament to the creativity and collaborative spirit of the English Market community. It's a reminder that food is not just about sustenance; it's a celebration of the region's flavours, cultures, and traditions.
Maki Sushi Rolls Cork invites you to join this celebration with every visit. Whether you're a seasoned sushi connoisseur or a newcomer eager to explore the world of sushi, this stall offers an unforgettable experience that encapsulates the essence of Cork's culinary scene.
So, as you plan your next visit to the English Market, make Maki Sushi Rolls Cork a must-stop destination. Savour the freshness, relish the flavours and immerse yourself in the dynamic fusion of traditional Japanese cuisine and locally sourced ingredients. Your taste buds will thank you, and so will the vibrant community that makes the English Market the culinary gem it is.
Thank You for Exploring with Us
We sincerely thank our readers for joining us on this culinary journey through Maki Sushi Rolls Cork. We hope this glimpse into the world of fresh and locally sourced sushi has left you inspired and eager to explore the diverse tastes of Cork. Your support of local businesses like Maki Sushi Rolls celebrates good food and is a testament to the spirit of community and culinary innovation. As you venture into your food adventures, remember that the English Market is always ready to welcome you with open arms and tantalizing tastes. Until then, happy dining!
If you want to learn more about Sushi Scene in Cork City read my article on the Japanese Food in Cork City.