When it comes to experiencing authentic Japanese cuisine in the heart of Cork City, Kura Sushi Cuisine is a name that stands out. Nestled within the vibrant Marina Market, this sushi stall has won locals' and visitors' hearts and taste buds with its delectable offerings. 
In this blog post, we'll take you on a culinary journey to Kura Sushi Cuisine, where the art of sushi and Japanese flavours come to life.
A Taste of Japan in Cork
Kura Sushi Cuisine is a hidden gem within the bustling food scene of Cork City. Located in the Marina Market, this sushi stall brings the flavours and traditions of Japan to the heart of Ireland. Whether you're a sushi enthusiast or just curious to explore the world of Japanese cuisine, Kura Sushi Cuisine has something to offer everyone.
Please read my article on the Marina Market Cork City for more information.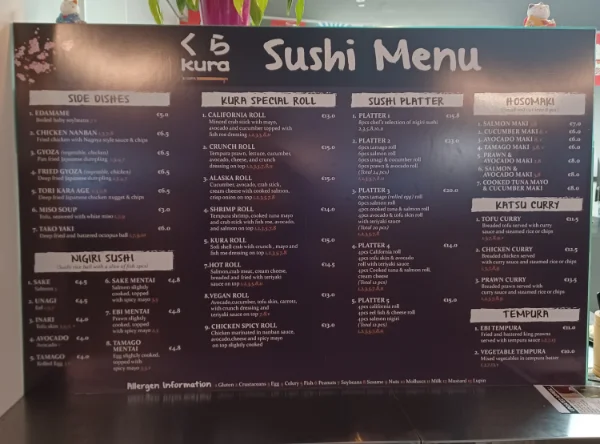 Kura Sushi Cuisine's Menu
Kura Sushi Cuisine's menu is a delightful fusion of traditional and modern Japanese dishes. Here's a glimpse of what you can expect:
Nigiri Sushi: Indulge in the simplicity and elegance of nigiri sushi, where slices of fresh fish or seafood are delicately placed atop a small bed of vinegared rice. Each piece is a bite-sized masterpiece.
Sushi Platters: For those who want to sample a variety of flavours, their sushi platters offer a diverse selection of sushi rolls, nigiri, and sashimi. It's the perfect option for sharing with friends or family.
Hosomaki: Hosomaki, or thin rolls, are perfect for a quick, flavorful snack. These rolls typically feature a filling wrapped in seaweed and rice, like avocado, cucumber, or tuna.
Katsu Curry: If you want something warm and hearty, Kura Sushi Cuisine offers a mouthwatering Katsu Curry. This Japanese comfort food features crispy breaded chicken or pork with rich and savoury curry sauce.
Kura Specials Rolls: Their Kura Specials Rolls are a must-try for an adventurous palate. These rolls combine unique ingredients and flavours, showcasing the creativity of the sushi chefs.
Location and Atmosphere
Kura Sushi Cuisine's location within Marina Market adds to the overall experience. The market is a bustling indoor food hall in Cork City, known for its diverse range of food stalls offering the best culinary delights in the area. The lively atmosphere and the aroma of freshly prepared dishes make it an inviting destination for food enthusiasts.
Conclusion
For those seeking an authentic taste of Japan in Cork City, Kura Sushi Cuisine is the place to be. Whether you're a sushi connoisseur or new to Japanese cuisine, their menu offers a delightful array of options to satisfy your cravings. And with the added charm of the Marina Market, it's an experience beyond just food – a culinary adventure you won't want to miss. So, the next time you find yourself in Cork City, visit Kura Sushi Cuisine and embark on a journey of flavour and tradition. Your taste buds will thank you.
Please read my article on Japanese Food in Cork to learn more about great Sushi in Cork.