Are you looking for a unique and diverse market experience in Cork City? Look no further than the Marina Market Cork City. This bustling indoor market is a hidden gem that offers a wide range of attractions for visitors of all kinds. In this comprehensive guide, we'll take you through everything you need to know about Marina Market Cork City, from its location and offerings to its amenities and operating hours.
Marina Market Cork City
The Marina Market Cork City opened to the public in September 2020. It became an "outdoor" venue for traders who could sell to the public in an outdoor space. Since opening, it has become loved as one of the best places in Cork City to get fantastic food.
The Marina Market Cork City is not just a trendy place to hang out with friends but a place for social gatherings. You can hang out all day in the Marina Market, chat with friends, visit stalls, and chat with many vendors. 
If you are a dog lover, bring your dog along and meet with other dog lovers. The Marina Market in Cork City prides itself on being open to everyone, two or 4-legged.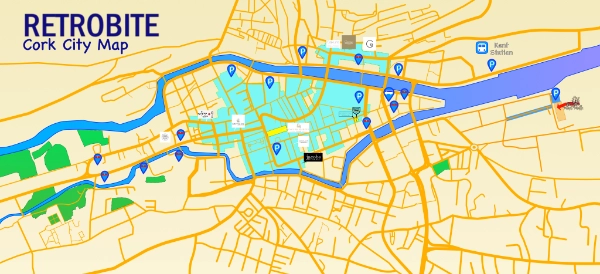 Location and Accessibility
The Marina Market is conveniently located in Cork City, making it easily accessible for locals and tourists. While parking on the premises is limited, you'll be pleased to know it's within walking distance of the train and bus stations. So, whether you're arriving by car or public transportation, you can easily reach this vibrant market.
A Hub of Culinary Delights
One of the standout features of the Marina Market is its diverse range of food stalls. From savoury to sweet, you'll find an array of culinary delights to satisfy your taste buds. Whether you're ready for a quick coffee, international cuisine, or artisanal treats, this market has you covered. You can enjoy your meal in a relaxed setting with ample seating, including comfortable leather chairs.
Retail Therapy and Services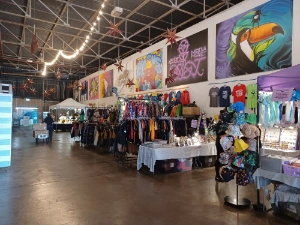 The Marina Market isn't just about food. It also boasts a variety of stalls selling clothing, jewellery, beauty products, and trinkets. If you're in the mood for retail therapy or searching for unique gifts, you'll find plenty of options here. There's even a hairdresser's stall, making it a one-stop destination for all your shopping and grooming needs.
One of my daughter's favourite stalls is the Kawaii Store and More run, which has the best range of unique merchandise you will come across in Cork City. From printed t-shirts to retro earrings and keyrings, you will be amazed at their range of goods. You have to visit this stall and look at their fantastic range of products.
If you are looking for unique handcrafted Irish Jewellery, then Luna Maille is the stall to visit. Owner and creator Aine Cudlip sells some fantastic handmade pieces for men and women from her stall in the Marina Market. I recently purchased a men's beaded bracelet that I absolutely love and can't wait to return to buy more. Read my article on Lune Maille for more information.
As a bearded man, I recently found a fantastic stall run by John Seagram of John Seagram Fragrances. His beard oil is just excellent using all-natural products; they smell amazing. John sells a range of soaps, candles, home fragrances, aromatherapy essential oils, and beard oil. Everything is made using natural ingredients, and John takes great care and pride in everything he sells; you must visit him.
Independently Owned Stalls
Solo traders run each stall within the Marina Market. This means you can expect a diverse and unique range of products and services, often with a personal touch. Supporting local entrepreneurs and artisans is a great way to discover hidden gems you won't find in larger commercial establishments.
Along with the daily traders in the Marine Market, you will regularly get pop-up vendors who bring something unique to Marina Market.
One of my all-time favourite pop-up vendors is Pokebundles Stall, run by Tony and Anna, the two best people in Ireland. This fantastic pair bring a real sense of fun and excitement every time they set up a stall in the Marina Market selling unique Pokemon cards and merchandise. You can feel the buzz as kids and adults discuss their passion for Pokemon with Tony and Anna. I always watch out for them when they travel down from Limerick to set up in the Marina in Cork.
Marina Market Food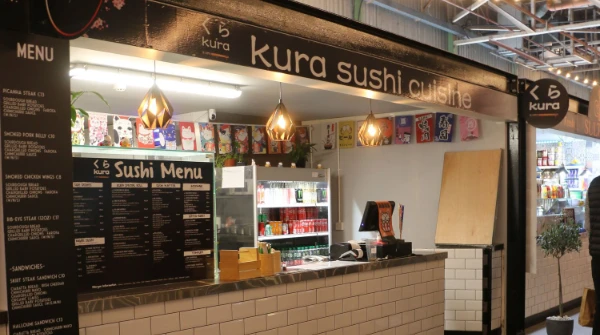 You will be spoiled for food choices when you visit the Marina Market Cork City. Once you arrive at the entrance, you will be treated to the aroma of pizza cooking in a wood-fired oven at Oak Fired Pizza. As you walk by each food vendor, your mouth will salivate as you see rotisserie chicken being cut, meats being roasted over open flames and sushi being prepared at Kura Sushi Cuisine.
The Marina Market has a large selection to cater to everyone. Several food vendors offer vegan options, but the newest stall to open has been the Saucy Cow, which serves some of the best vegan food in town.
One of their new food vendors in the last few days is Hana offering Koren BBQ Food and a delicious breakfast menu. Hana is a sister business of Poulet Vous which sells Korean Street food and is probably one of the busiest food vendors in the market. Please read my article on Hana for more information.
If you have a sweet tooth, you are more than catered for at the Marina Market, from the best Ice Cream in Cork served by Leahy's Open Farm Ice Cream to scrumptious buns at Messy Buns. Marina Market really has become the place to go for something to eat in Cork City.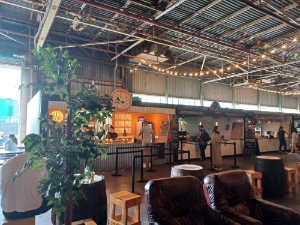 Operating Hours
The Marina Market is open seven days a week, ensuring you can enjoy its offerings conveniently. Operating from 8:00 AM to 8:00 PM daily, it provides an extensive window of opportunity to explore, shop, dine, and unwind.
In conclusion, the Marina Market in Cork City is a multifaceted destination catering to various interests and needs. Whether you're a foodie, a shopaholic, or just looking for a unique place to hang out, this indoor market has it all. With its central location and convenient amenities, it's no wonder that the Marina Market has become a beloved spot for locals and a must-visit for visitors. Plan your visit and experience the vibrant atmosphere for yourself – you won't be disappointed.