This week, I came across Luna Maille handcrafted chainmail jewellery in the Marin Market in Cork City and I've fallen in love. What caught my eye first was Luna Maille's men's beaded bracelets made using various healing stones.
I recently purchased a men's beaded stone bracelet from another craftsperson at the Youghal Medival festival and found they really helped me control my stress levels.
When I saw the range of beautifully crafted stone needs at Luna Maille in the Marina Market, I knew I had to get one.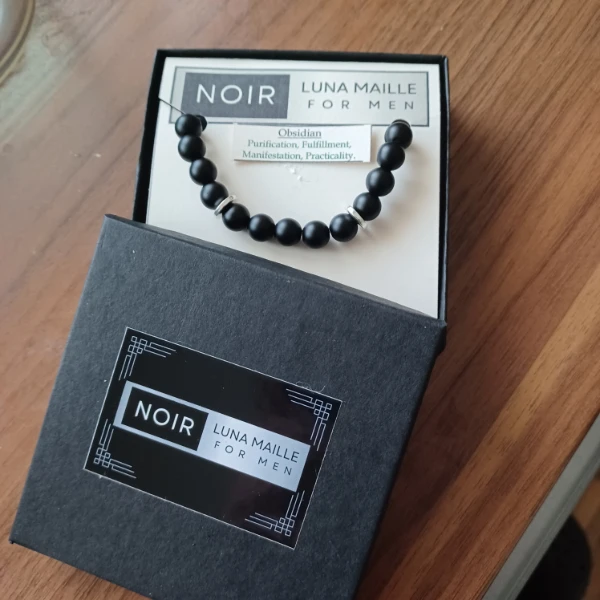 Lune Maille
Lune Maille has been in business since 2019 and is a "one woman business" ran by an amazingly talented lady, Aine Cudlip.
I say they have been in business since 2019, but Aine has been producing jewellery from a very young age. Gifted a craft set as a child, Aine developed a keen entrepreneurial spirit and began selling her creations to friends in secondary school.
At age 16, Aine held her first adult education course with a dream of someday owning her own business. As you can see, Aine is one fantastic and ambitious lady and once you see her craftwork, you will know she is also extremely talented.
Luna Maille Mens Collection
What caught my eye when passing Lune Maille was their dedicated section of men's beaded bracelets. These bracelets have been crafted with men's fashion in mind, and I really had a tough time picking one out.
As I was looking, Aine, who was busy making more products at her little table in the back, came out and told me that if I didn't see anything I liked, she had plenty more that she created. She told me she often goes crazy making them, so she always has extra she can't fit on display.
I found this to be amazing since every piece that was on display was individual and had its own unique charm. I finally went with a piece that called out to me, and it was added to my arm as soon as I got home.
Made From extremely smooth black obsidian, the label on the box for my men's beaded bracelet states it helps with "purification, fulfilment, manifestation and practicality". Between each fifth bead is a silver ring that makes this piece of jewellery look exquisite.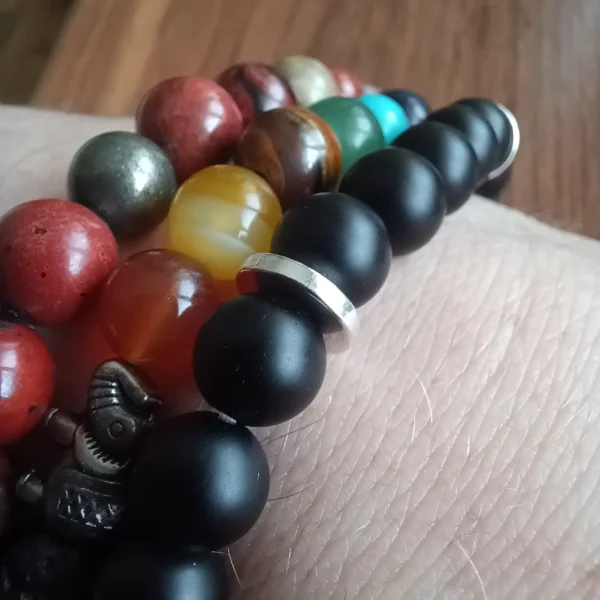 Luna Maille Womens Jewellery
As I stood there talking to Aine, I glanced over the other pieces of jewellery she had created for women. My daughter, like myself, has caught the bug for buying handcrafted beaded bracelets. She is 11 years old, and when I told her how I feel calm when wearing mine, she thought it would be nice to have some for herself.
Looking over what Aine had created, I know this is a stall my daughter will love to visit, and I can't wait to bring her up.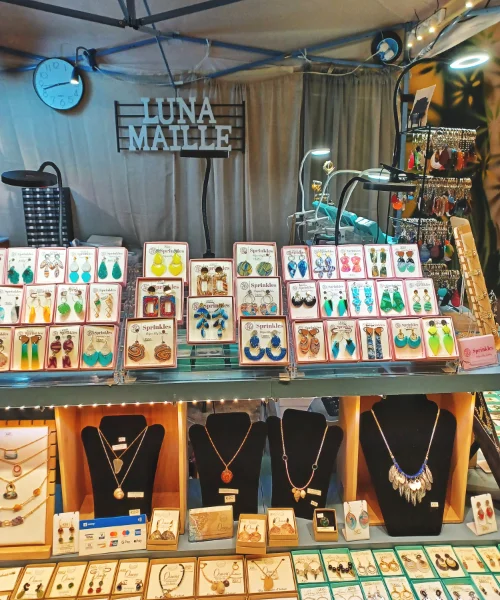 Luna Maille has a fantastic selection of handcrafted jewellery that will appeal to everyone. When you see Aine's creations, you can see her love and care for each piece. Aine's skill shines through, and when you hold one of her creations, you know you have a unique and 100% Irish.
Ger yourself up to the Marina Market, head down past all the food stalls, hang a left, and you will find Luna Maille, usually one of the last stalls on the right; trust me, it's worth the trip.
If you can get up to the Marina Market, you can find Aine's beautiful creations online at their Luna Maille Website.
For the men, get something stylish to help with various issues. I personally wear my beaded bracelets to keep calm and relaxed, and they do actually work.
Ladies, you will be spoiled for choice.