East Cork Restaurants
East Cork has become renowned for having some of the best restaurants in Cork. What makes these East Cork Restaurants stand out is their access to some of the best seafood, dairy and meats from with their local communities.
East Cork is spoiled for choice when it comes to food producers, and these East Cork Restaurants highlight this quality ingredient in all of their menus.
Here is my list of some of the the best restaurants in East Cork.
Glounthaune
The Elm Tree Glounthaune
The Elm Tree Restaurant in Glounthaune is a family-owned business that has served East Cork for over 21 years. 
Located just off the Cork to Waterford road, the Elm Tree Restaurant in Glounthane is a highly comfortable casual dining restaurant, and one of my all-time family favourites to visit. 
The staff are excellent, and on entering, you will be greeted by the host who will always find you a table even if they are fully booked.
The food served is excellent for family occasions, and I highly recommend their fish and chips; make sure you are hungry. Their desserts are extremely heavy and filling, so I suggest sharing a dessert at the end of your meal. 
They have a sharing plate, but that would nearly feed four people. Make sure to try their house cheesecake. The last time I was there, it was Cola flavoured, and the time previous it was Snickers.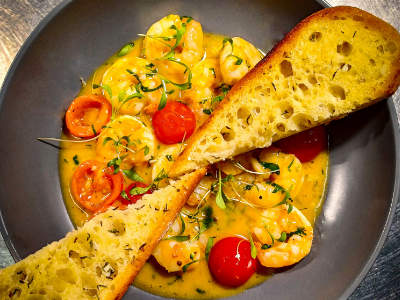 Midleton Restaurants:
Youghal Restaurants:
Clancys Bar & Restaurant

Clancys Bar & Restaurant has all the Irish charm of a traditional pub and good food. Their menu is primarily European dishes, but at the same time, you will get something new and tasty. Their Koren-style chicken burger is one to try. Their wine list is good, and you have plenty to choose from in their bar.

The Red Store Restaurant

The Red Store Restaurant in Youghal is the perfect place to meet up with friends for lunch or a coffee. They have something for everyone at the Red Store and pride themselves on delivering "homecooked" meals. Perfect for any budget its always an excellent choice for last-minute plans.

Walter Raleigh Hotel Restaurant

Dining in the Walter Raleigh Hotel Restaurant, sometimes you can feel you are being transported back in time in style. It's a charming dining location, and you can feel the history in every part of the building. The food is modern and highlights the ingredients sourced locally. Dine in comfort and style.
Cobh Restaurants: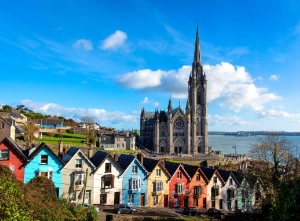 Titanic Bar and Grill

If you want to experience what it was like to dine on the Titanic, then the Titanic Bar and Grills decor will definitely please. This casual dining restaurant offers a great selection of meals that won't disappoint. Their 16-hour feather blade is a perfect example of how to cook beef to perfection.

Jacobs Ladder Cobh

Jacobs Ladder Cobh reminds you of dining on a cruise ship. With large patio-style windows opening onto views of Cork Harbour, you could almost forget you are dining onshore. Often one of the first stops for tourists who disembark from Cruise ships, Jacobs Ladder represents local Irish Cuisine well with its extensive menu. It is a perfect little dining experience full of local charm.

The Quays Bar & Restaurant

The Quays Bar & Restaurant offers one of the most scenic views of Cork Harbour in Cork. The Quays offer a very casual dining restaurant, and their menu highlights the best of Irish seafood with their Pil Pil Prawns followed by traditional beer batter fish and chips being a real crowd pleaser.
Cloyne Restaurants:
Hartys Bar & Restaurant

For a small town, Hartys Bar & Restaurant is a great little spot for a bite to eat. Harty's pub on most days, is great to pop in for a drink, but their food is excellent, too. Their menu has plenty of choices, and you wouldn't expect the food quality in a small town in East Cork. I recommend popping in for a bite to eat and a few drinks afterwards.
Shanagarry Restaurants:
Ballymaloe Restaurant

When considering East Cork Restaurants, Ballymaloe House is one of the first restaurants to mind. Ballymaloe House is known worldwide as the place that put Ireland firmly on the map in the culinary world. Their menu screams old-school country cooking, with many dishes steeped in traditional Irish/French Cuisine. Championing a Farm to Fork Cuisine, their menu highlights the need for sustainability and sourcing quality local ingredients. Ballymaloe is the foodie destination in East Cork.
Castlemartyr Restaurants:
Terre Restaurant

This one-star Michelin award-winning restaurant is fine dining on a whole other level. Located in Castlemartyr Resort, Terre Restaurant is one of East Cork's Top fine-dining restaurants that has wowed everyone with the highest level of Cuisine. Each dish created at Terre showcases a deep Umami flavour. The Chefs at Terre show how using locally sourced ingredients combined with vast amounts of skill can produce some of the best food in Ireland.
Killeagh Restaurants:
The Old Thatch

The Old Thatch is Ireland's Oldest Thatches pub, established in 1650. Don't let this fool you; the Old Thatch pub has a very modern charm, and its menu is up there with some of the best restaurants in East Cork. Serving very modern European Cuisine, the Old Thatch pub is perfect for Sunday lunch or a bite to eat with friends and family in comfort.
Garryvoe:
The Garryvoe Hotel Restaurant

The Garryvoe Hotel Restaurant in East Cork has always been known for its world-class Cuisine. Their Chefs are spoiled for choice when it comes to seafood, and Ballycotton docks can often see down them to get the best choice of fish for their menu. Garryvoe is one of East Cork's top restaurants showcasing Cork's best.
Ballycotton:
Cush

Bib Gourmand, winner in the Michelin Guide Cush of Ballycotton in East Cork, is a family-run pub with many styles and charm. Located in Ballycotton, Cush makes the best use of all the excellent seafood they have on their doorstep. Their modern menu is a delight, and you will be delighted you visited them.

Sea Church Restaurant

Located in a beautifully renovated St Colemans Church, the Sea Church Restaurant in East Cork offers excellent seafood in one of the most beautiful restaurants in East Cork. The Sea Church Restaurant's wine and spirits menu almost rivals its menu with a selection of delightful sea-inspired cocktails.
If you are interested, please read my article on the Cork City Best Restaurants.