Hana is one of the Marina Market's newest food stalls to join the long list of exquisite food producers in the Marina Market in Cork. Focusing on Korean BBQ food, Hana brings a unique flavour and style to the already wide selection of food producers in the Marina Market.
A sister business to Poulet Vous, you can be guaranteed to have very high standards of food packed full of flavour.
I was lucky enough to be their first customer when they opened their doors to the public in the Marina Market this week. They had a few technical difficulties on the day, which delayed their opening, but it was great to see them finally ready to serve.
I ordered their Kimchi Fries at €8 and their Spicy Pork Belly Taco at €12.50.
Hana Fries
Hana's Kimchi fries are pretty big in size with crinkle-cut chips. The chips are then layered with cheese sauce and their "Gouchuang Mayo". This is then topped with their own caramelised Kimchi. The fries' portion size was enough for a meal on their own, and the cheese sauce and Gochujang Mayo were addictive.
Hana Marina Market's Kimchi is unlike any other kimchi I have tasted. It wasn't overly spicy and had a minimal sour flavour that you would typically associate with kimchi. It was sweeter with a little bit of heat and really complemented the fries; it's a perfect kimchi for those wanting to try it for the first time. The size and flavours are worth the price of €8.
As an addition, you can also add Chicken or Pork for an extra €4 or Beef for €5, making this already large dish more substantial and something I'll have to go back and try.
Hana Tacos
When I went on the day, they only had their Spicy Pork Tacos, so I ordered a portion to see the flavours. Their spicy pork is marinated in fermented garlic and chilli and adds a huge amount of flavour. The pork is wrapped in a soft Mexican corn tortilla along with Ssamjang, yuzu slaw, Korean Cucumbers, caramelised kimchi and gochujang mayo. You get three spicy pork tacos for €12.50, which, for the quality of the Spicy Pork and filling, is worth the price.
The flavour of the pork combined with the slaw, cucumbers, kimchi and gochujang mayo is outstanding. The pork was tender and packed full of flavour, and the slaw added a nice fresh punch to it. The downside was that the Mexican corn tortilla overpowered the flavours of the meat and slaw. Even a good hour or so after eating the tacos, I could still taste the intense flavours from the Mexican Corn tortilla.
Some people might like this flavour, but from a chef's perspective, you don't want one flavour overpowering others; everything should be balanced.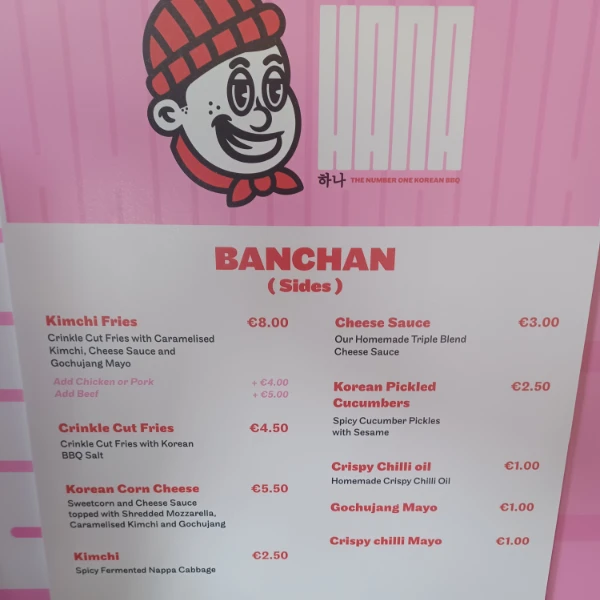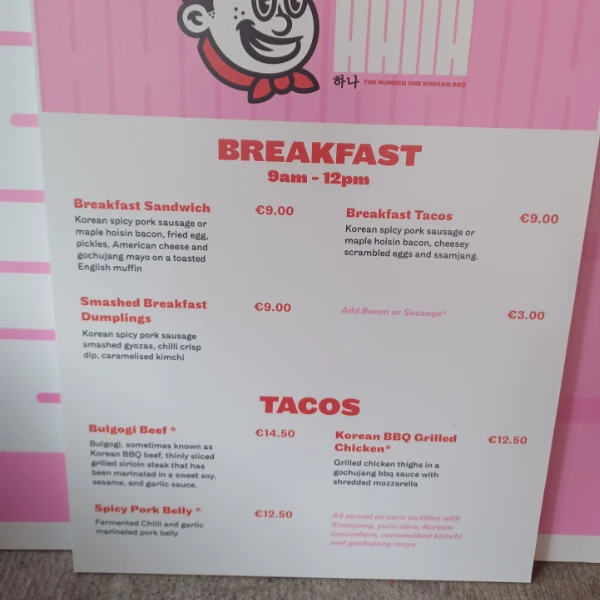 Hana Menu
Hana Marina Market's menu is small but offers some great choices for Korean BBQ food. They have a breakfast menu that starts from 9 am to 12 pm. I think it should be interesting to see how much business they get with their breakfast menu. The Marina Market can get busy at times, but traffic can be pretty low early in the morning. Hopefully, offering more breakfast options, it will entice a few more people in.
Hana Breakfast Menu
Their breakfast menu consists of the following items:
Breakfast Sandwich €9
Koren spiced pork sausage or maple hoisin bacon, fried egg, pickles, American Cheese and gochujang mayo on a toasted English Muffin.
Smashed Breakfast Dumplings €9
Korean spicy pork sausage, smashed gyozas, chilli crisp dip with caramelized kimchi.
Breakfast Tacos €9
Korean spicy pork sausage or maple hoisin bacon, cheesey scrambled eggs and ssamang.
Taco Menu
Hana's Taco menu is as follows:
Bulgogi Beef Taco €14.50
Thinly sliced Bulgogi (Korean BBQ Beef) which has been marinated in a sweet soy, sesame and garlic sauce in a Soft Mexican Corn Tortilla with Ssamjang, yuzu slaw, Korean Cucumbers, caramelised kimchi and gochujang mayo.
Spicey Pork Belly Taco €12.50
Fermented chilli and garlic pork belly in a Soft Mexican Corn Tortilla with Ssamjang, yuzu slaw, Korean Cucumbers, caramelised kimchi and gochujang mayo.
Korean BBQ Grilled Chicken €12.50
Grilled chicken thighs in a gochujang bbq sauce with shredded mozzarella with Ssamjang, yuzu slaw, Korean Cucumbers, caramelised kimchi and gochujang mayo.
Hana Sides Menu
Hana offer the following sides:
Kimchi Fries €8
Crinkle-cut fries with caramelised kimchi, cheese sauce and gochujang mayo. You can add chicken or pork for an additional €4 or beef for €5
Crinkly Cut Fries €4.50
Crinkle-cut fries with Korean BBQ salt.
Korean Corn Cheese €5.50
Sweetcorn and cheese sauce topped with shredded mozzarella, caramelised kimchi and gochujang.
Kimchi €2
Spicy fermented nappa cabbage.
Cheese Sauce €3
Homemade Triple blend cheese sauce
Korean Pickled Cucumbers €2.50
Spicy cucumber pickles with sesame
Crispy Chilli Oil €1
Homemade crispy chilli oil
Gochujang Mayo €1
Crispy Chilli Mayo €1
I think Hana will bring something fresh to the Marina Market and with their breakfast offering, I hope it will bring in more people early in the mornings. Setting up a Korean BBQ stall and trying to sell breakfast is a bold move, but in my book, BBQ is for any time of the day.
They have massive competition from their sister business, Poulet Vous, and maybe their Korean BBQ might be too similar to Poulet Vous's Korean street food.
Who knows, but I wish them all the best with their venture, and I will watch how they adapt and change their menu to suit the Marina Market customers.