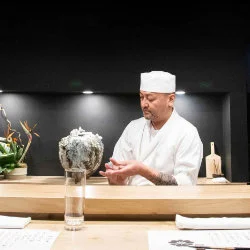 As soon as I walked through the doors of Ichigo Ichie in Cork City, I knew that I was in for something special. Everything about this restaurant oozed peace and tranquillity, almost a zen-like experience.
Unsurprisingly, Ichigo Ichie has earned a reputation as one of the best Japanese restaurants in Ireland. With a focus on high-quality ingredients and expertly prepared dishes, this restaurant is a must-visit for anyone who appreciates fine dining.
The first thing that caught my eye when I perused the menu was the emphasis on seasonal ingredients. This is a philosophy that I can get behind – when you use ingredients that are in season, you're guaranteed the freshest, most flavorful dishes possible.
The ingredients, sourced locally from various towns and villages across Cork, speak volumes about what this menu stands for; good quality local ingredients treated with respect.
One dish that exemplifies this philosophy is the chef's choice of sashimi platter. This dish is a true feast for the senses, featuring a rotating selection of the freshest seafood available.
From buttery tuna to delicate scallops, every bite is a reminder of just how incredibly simple, high-quality ingredients can be.
But Ichigo Ichie isn't just about raw seafood – their cooked dishes are just as impressive. The Wagyu beef skewers stand out, with tender meat that practically melts in your mouth. And the tempura vegetables are light and crispy, with a delicate batter that perfectly complements the natural sweetness of the veggies.
One thing that sets Ichigo Ichie apart from other Japanese restaurants I've visited is the emphasis on presentation. Every dish is a work of art, with careful attention paid to each ingredient's placement and the plate's overall aesthetic. Even the simplest dishes, like the miso soup, are presented and visually stunningly.
Of course, presentation means nothing if the flavours don't deliver – but at Ichigo Ichie, they absolutely do. The miso soup is rich and savoury, with a depth of flavour that can only come from hours of simmering. And the sushi rolls are perfectly balanced, with just the right amount of wasabi to add a kick without overwhelming the delicate flavours of the fish. (On a side note, I found it amazing that the wasabi is grown in East Cork, such is the dedication and commitment to using local ingredients.)
Another standout dish is the teriyaki salmon, which is grilled to perfection and served with a sweet and savoury glaze. The salmon is incredibly fresh and flavorful, and the glaze adds just the right amount of sweetness without overpowering the fish's natural flavour.
And if you're feeling adventurous, I highly recommend trying the uni – a type of sea urchin that is a delicacy in Japan. The texture is unlike anything else, with a creamy, almost buttery consistency that is offset by a slightly briny flavour. It's not for everyone, but uni is a true treat for those who enjoy it.
But what really sets Ichigo Ichie apart from other restaurants is the level of care and attention that goes into every dish. It's clear that the chef takes immense pride in his work, and they approach every dish as if it were a work of art.
And that level of care extends beyond the food – the service at Ichigo Ichie is impeccable. You're greeted with a warm welcome and impeccable service when you walk through the door. The staff is knowledgeable about the menu and happy to make recommendations based on your preferences.
Overall, I can't recommend Ichigo Ichie enough. If you're in Cork City and looking for an unforgettable dining experience, this is the place to go. From the carefully crafted dishes to the impeccable service, every aspect of this restaurant is designed to create a truly memorable experience.
It's no wonder that it's become a favourite of locals and tourists alike – Ichigo Ichie is simply one of the best Japanese restaurants in Ireland.
Read my list of best restaurants to visit when in Cork City in my Where to Eat in Cork City Guide.