Best Restaurants in Cork City: Elbow Lane Brew and Smokehouse
Elbow Lane Brew and Smokehouse in Cork City is a unique destination combining traditional smoking techniques and craft brewing.
The establishment opened its doors in late 2014, and since then, it has become a popular spot for locals and visitors alike.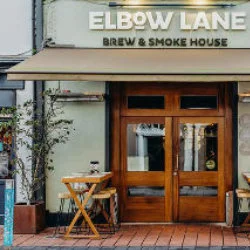 History of Elbow Lane Brew and Smokehouse
Elbow Lane Brew and Smokehouse is located in the historic Oliver Plunkeet Street of Cork City. One of the first streets to be built east of the Grande Parade in an area known as "Dunscombe marsh". It has become a bustling area filled with pubs, restaurants, and shops. The building that houses the smokehouse and brewery dates back to the 19th century and has been refurbished to provide a warm and welcoming atmosphere.
The concept for Elbow Lane Cork came from the minds of three Cork-based entrepreneurs: Jerry O'Sullivan, brewer Russell Garrett, and Chef Stephen Kehoe. They envisioned a restaurant that would showcase the best of traditional smoking techniques and offer a wide range of craft beers.
The team spent months perfecting their smoking techniques, sourcing the best quality meat and fish, and experimenting with different flavour combinations. Their head brewer, Russell Garrett, created a range of craft beers that would perfectly complement their smoked meats. Russell believes in creating beers following the old principle of the German Purity law "Rein­heits­ge­bot" of using only four ingredients in brewing. When you taste his beers, you will understand why.
Elbow Lane Cork City Menu
The menu at Elbow Lane Brew and Smokehouse is a meat lover's dream come true. They offer a range of smoked meats, including beef brisket and pulled pork, all cooked low and slow to ensure maximum flavour and tenderness. Their wood-grilled rib-eye and t-bone steak are cooked to perfection, and the quality of the beef is outstanding.
Their menu also includes a range of fish dishes, including smoked salmon, smoked mackerel, and smoked trout, and they offer whole-cooked fish of the day.
Vegetarians are also catered to, with a range of vegetable dishes that are perfectly smoked.
Their sides are just as impressive as their main dishes. From mac and cheese to smoked baby potatoes, their sides are designed to complement their meats perfectly.
But the star of the show is undoubtedly their craft beer. They offer a range of beers, from IPAs to stouts, all brewed on-site. Their beers are brewed in small batches, ensuring each beer is of the highest quality.
Elbow Lane Cork Ambience
Elbow Lane Brew and Smokehouse have a warm and welcoming ambience, with exposed brick walls, high ceilings, and a cosy fireplace. The open kitchen allows diners to watch as their food is prepared, adding to the overall experience.
The staff at Elbow Lane Cork are friendly and knowledgeable, always on hand to offer recommendations on both food and beer. The establishment also has an outdoor seating area, perfect for enjoying a cold beer on a warm summer evening.
In addition to its restaurant, Elbow Lane Cork also offers private dining options and a range of catering services, making it the perfect location for any special occasion.
Conclusion
In conclusion, Elbow Lane Brew and Smokehouse in Cork City is a must-visit destination for anyone looking to enjoy traditional smoked meats and craft beers. With its warm and welcoming ambience, delicious menu, and friendly staff, it's no wonder that Elbow Lane has become one of the most popular restaurants in Cork City.
If you're ever in Cork, be sure to stop by Elbow Lane Brew and Smokehouse for a truly unique dining experience. Whether you're a meat lover, a beer connoisseur, or just looking for a great night out, Elbow Lane has something for everyone.
If you are interested in learning more about the fantastic restaurants in Cork City then visit my article on the Best Restaurants in Cork City.