Best Vegetarian Restaurants Cork City Cafe Paradiso Cork City.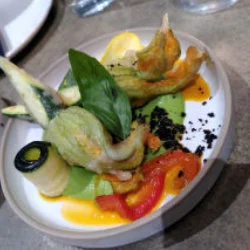 Cafe Paradiso Cork is one of the best vegetarian restaurants in Cork City, Ireland. Founded in 1993, the restaurant has become a popular destination for locals and visitors, known for its delicious and innovative vegetarian cuisine.
Cafe Paradiso Restaurant
The restaurant is situated along a one-way street between Lancaster Bridge and St Finbars, spanning the river lee in the historic quarter of Cork City.
Its cosy interior is filled with wooden tables and chairs, colourful artwork, and a bustling open kitchen where the chefs prepare the dishes with skill and care.
Cafe Paradiso's menu centres on fresh, seasonal ingredients from local farmers and producers. The chefs use these ingredients to create inventive vegetarian dishes that are both healthy and delicious. The menu frequently changes to reflect the availability of ingredients, so there is always something new to try.
Cafe Paradiso's most popular dishes are the wild mushroom and truffle oil risotto. This dish features a creamy, savoury risotto infused with the earthy flavour of wild mushrooms and the luxurious aroma of truffle oil.
Another standout dish is the sweet potato and cashew nut cake, served with a tangy tamarind sauce and a refreshing cucumber and mint salad.
In addition to its delicious food, Cafe Paradiso is also known for its excellent wine list. The restaurant has a carefully curated selection of wine worldwide, emphasising natural and organic wines. The knowledgeable staff always recommend a wine to pair with your meal.
Cafe Paradiso's commitment to sustainability is evident in all aspects of the restaurant. The restaurant uses only biodegradable and compostable packaging, and its waste is carefully sorted and recycled. The restaurant also supports local charities and community organizations through donations and fundraising events.
Cafe Paradiso is a must-visit destination for anyone looking for delicious vegetarian food in Cork City. With its fresh, seasonal ingredients, inventive dishes, and cosy atmosphere, it's no wonder that this restaurant has become a beloved institution in the local food scene.
In addition to its lunch and dinner menus, Cafe Paradiso also offers a popular brunch menu on weekends. The brunch menu features classic dishes like pancakes and eggs benedict but with a vegetarian twist.
One of the most popular brunch items is the Paradiso oatcakes with Knockalara sheep's cheese, tomatillo chutney, and tomato & rocket salad.
The restaurant's desserts are also a highlight, with a range of sweet treats. Their menu is constantly updated with seasonal dishes, so it is always best to check beforehand to see what they offer.
Cafe Paradiso has won numerous awards and accolades over the years, including being named one of the top 100 restaurants in the world by Restaurant Magazine.
The restaurant's founder and head chef, Denis Cotter, is a celebrated chef and author known for his innovative vegetarian cooking.
The restaurant has a loyal following of customers, many of whom return again and again to enjoy the delicious food and welcoming atmosphere.
Despite its popularity, Cafe Paradiso has managed to maintain a relaxed and informal vibe with friendly and attentive service.
In conclusion, Cafe Paradiso is one of the best vegetarian restaurants in Cork City, offering delicious vegetarian cuisine, a carefully curated wine list, and a commitment to sustainability. With its cosy atmosphere and excellent food, it's no wonder that this restaurant has become a beloved institution in the local food scene.
If you're looking for one of the best vegetarian restaurants in Cork City, stop by and enjoy a meal at Cafe Paradiso.
For more information on restaurants to visit, please read my article on Where to eat in Cork City.