Looking for Breakfast In Cork City? Then you have come to the right place.
Embarking on a flavorful journey through Cork City starts with one essential question: Where to find the best breakfast in Cork City?
From traditional Irish breakfasts to trendy cafes and market stalls, Breakfast in Cork City is an experience. Join us as we navigate the city's streets to uncover the best spots to kickstart your day.
Table of Contents
 Breakfast in Cork City
There's something magical about how Cork City embraces the morning sun, offering a breakfast experience that's nothing short of extraordinary. 
For many, breakfast isn't just a meal; it's an event, a moment to savour and kickstart the day. Breakfast In Cork City was elevated to an art form with some of the best ingredients on hand. My list of the Best Places for Breakfast In Cork City redefines the meaning of the day's most important meal. For information on what should go into a Full Irish Breakfast read my article in the link.
From cosy cafés to chic eateries, Cork City boasts a breakfast culture that sets the standard for the morning breakfast treat. Breakfast In Cork City should be a special treat; this list will give you all the information you need.
Read my article on the Best Restaurant in Cork City for a list of great places to eat.
Cork Breakfast Spots
1. Cafe Spresso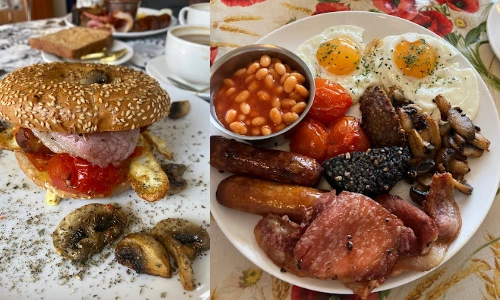 Situated near the lively Shelbourne Bar on MacCurtain Street, Café Spresso in Cork City is a local gem. From 9 am to 10 pm most days, this hardworking cafe unveils a breakfast haven. The aroma of freshly brewed coffee fills the air, and plates of deliciousness are served in true cafe fashion. 
Café Spresso is Cork's best-kept secret, offering a traditional yet delightful dining experience. Whether you're craving a hearty Irish breakfast or a treat, this cafe promises an adventure that captures the essence of Cork's vibrant food scene. Breakfast In Cork City is well and truly a treat at Café Spress.
Visit Cafe Spresso Facebook Page for more info.
2. Tonys Bistro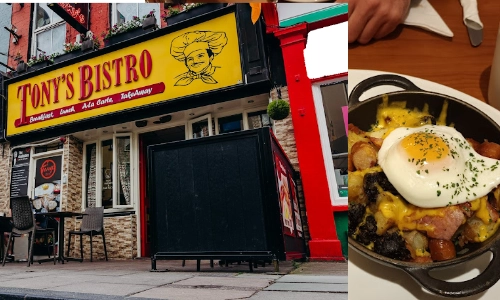 Tony's Bistro in Cork City is a breakfast location serving one of the best breakfasts in Cork City year after year. Imagine a place where the aroma of sizzling bacon and freshly brewed coffee welcomes you. Tony's boasts an all-day Full Irish Breakfast, a culinary masterpiece that's simply amazing. 
Tonys Bistro invites you to indulge in an extensive breakfast menu that will set you good for the day; and beyond. Despite its bustling nature, it's a must-visit spot for those seeking a delightful morning feast. From traditional favourites to trendy breakfast treats, Tony's Bistro captures the essence of Cork's breakfast scene in every bite.
Visit Tonys' Bistro Facebook Page for more information.
3. Farmgate Cafe Cork City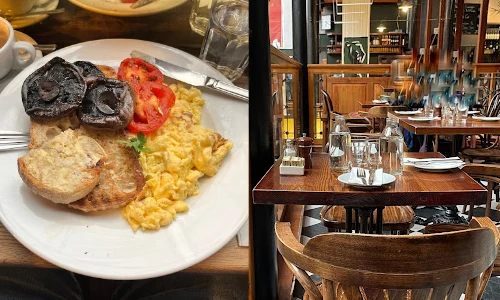 Nestled within the historic English Market in Cork City, Farmgate Cafe, boasts over 25 years of culinary excellence. This unique venue provides a relaxed atmosphere, making it the perfect spot for a delightful breakfast or brunch experience. 
Picture a stylish setting where menus are crafted to mirror the season and local flavours. Farmgate Cafe takes pride in sourcing the freshest ingredients from the bustling food stalls of the English Market. Establishing a harmonious connection with trusted small-scale market gardeners all under one roof. 
A Farmgate Cafe Breakfast In Cork City is a must for those seeking a taste of Cork's culinary heritage in a charming setting.
Visit the Farmgate Restaurant Website.
4. Liberty Grill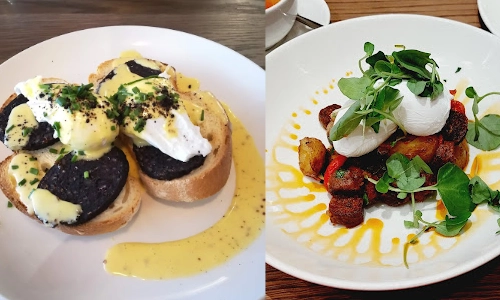 The Liberty Grill is a stylish culinary haven for breakfast and brunch enthusiasts on Washington Street in Cork City. With a commitment to freshness, every dish is a masterpiece of locally sourced, seasonal ingredients. 
Step into a New England-inspired atmosphere where the all-day brunch menu boasts classics like Eggs Benedict and French Toast. Beyond the classics, there's a thoughtful selection catering to vegetarians and vegans. 
The Liberty Grill is more than a restaurant; it's a flavorful journey through Cork's culinary landscape in a stylish environment.
Visit the Liberty Grill Website.
5. Tara's Tea Rooms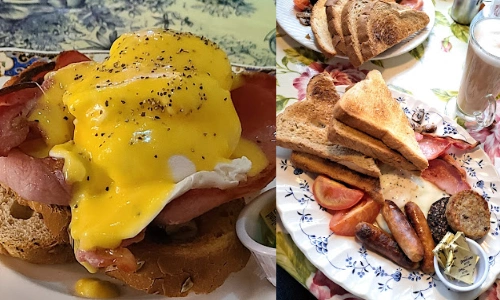 Located on McCurtain Street in Cork City, Tara's Tea Rooms is a timeless haven for breakfast and brunch lovers. This classic tea room serves as a breakfast experience to remember. Tara's Tea Rooms features a delightful full Irish breakfast and caters to vegetarians with their own tempting Irish breakfast variant. 
Stepping into Tara's is like entering a cosy retreat, where the ambience is as comforting as the menu. The tea room's snug and inviting atmosphere invites you to unwind and dine with style. 
Tara's Tea Rooms isn't just a place to eat; it's an escape into the heart of Cork's culinary charm.
Visit Tara's Tea Rooms Facebook page for more information.
6. The Castle Cafe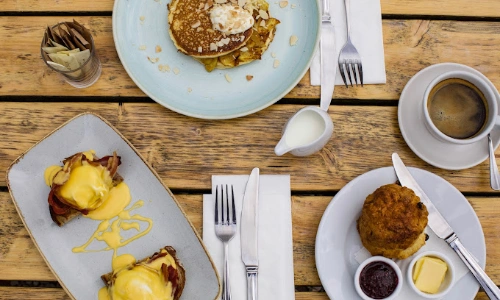 Nestled within the historic Blackrock Castle in Cork City, The Castle Cafe beckons with a family-friendly charm. Beyond its formidable walls lies an inviting haven offering excellent value and an experience that lingers in memory. 
The brunch menu is a culinary adventure, featuring delights like buttermilk pancakes and the hearty Rosscarbery sausage and bacon bap. Friendly service is the order of the day in this warm setting. 
The Castle Cafe is more than a dining spot; it's a delightful escape beyond the city centre.
Visit the Castle Cafe Website.
7. The Spitjack Cork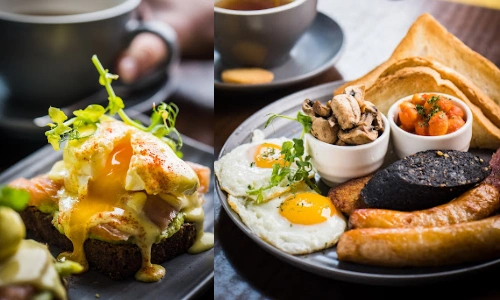 The SpitJack Rotisserie Brasserie is a culinary gem born from the passion of husband and wife duo Richard and Laura. Since 2017, they've infused Irish flavours with their global hospitality expertise. 
Focused on top-tier Irish meat, their Rotisserie Cooking transforms every bite into a symphony of taste. Not just a meat haven, SpitJack welcomes all with diverse vegetarian and "free from" options. 
Breakfast and brunch unveil a tempting menu, ranging from comforting baps to hearty breakfasts and exquisite eggs benedict. Step into SpitJack for an inclusive, quality dining experience that beautifully marries the heart of Ireland with global culinary finesse.
Visit the Spitjack Restaurant Website.
8. Restaurant 14a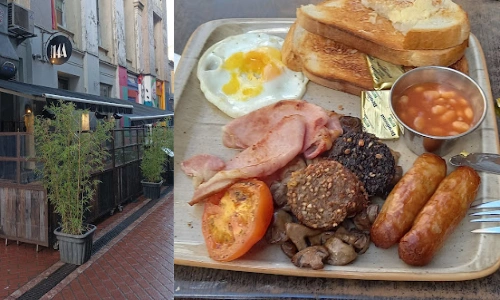 Nestled in Cork's vibrant Huguenot quarter just off Patrick Street, 14a is a modern haven blending intimacy with a welcoming vibe. 
With a bright interior and spacious outdoor seating, it's a perfect retreat near city attractions like The Opera House and The English Market. 
Beyond its stylish ambience, 14a is a culinary delight sourcing the freshest, local, and organic ingredients, some straight from their kitchen garden. 
The breakfast menu is a symphony of choices, from refreshing smoothies and granola to hearty full Irish breakfasts, vegetarian delights, Eggs Benedict, omelettes, and the comforting allure of breakfast hash. At 14a, every bite is a taste of Cork's finest.
Visit Restaurant 14a Website.
9. Dukes Coffee Company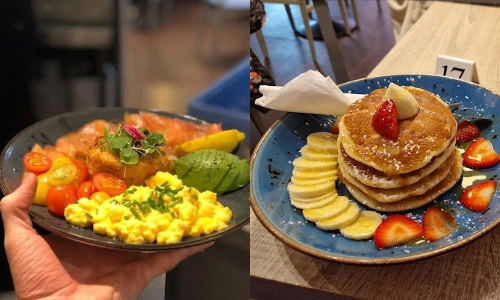 Dukes Coffee Company, a cherished family-owned gem in Cork since 2005, is more than a coffee haven—a philosophy of warmth and inclusion. 
With cafes on Carey's Lane, City Gate, Mahon, and a thriving catering business, Dukes crafts spaces that feel like a welcoming embrace. 
Their breakfast and brunch menu reads like a culinary adventure, from smoked salmon potato cakes to the classic Full Irish breakfast, tempting French toast, and nourishing vegan options. 
Beyond the delectable bites, Dukes is a haven for exceptional coffee. Step into this cosy world where every sip and bite reflects the heart of Cork's culinary spirit.
Visit Dukes Coffee Website.
10. The Egg Bar Marina Market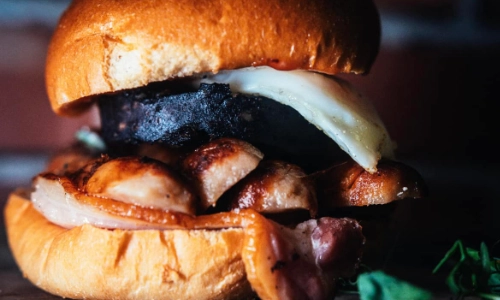 Nestled in the heart of Cork City's Marina Market, The Egg Bar is a delightful haven for egg enthusiasts. Transitioning from a popular café to its Marina stall in 2022, it's the go-to spot for all things egg-centric. 
This charming stall offers a diverse daily menu featuring breakfast delights like omelettes, breakfast baps, and standout specialities, including Chicken Eggs and Prawn Benedict. 
From classic omelettes to the irresistible buttermilk chicken and the Egg Bar brioche, each bite celebrates the versatile egg. The Egg Bar adds a flavorful touch to the evolving Marina Market, making it a must-visit spot in Cork City.
Visit the Egg Bar Insta Page.
11. Crafted Sausage in The Marina Market
Located in Cork City's lively Marina Market, the Crafted Sausage began as a beloved food truck and is now a must-visit food stall. Their gourmet sausage boxes are a flavour-packed journey, served in handy cardboard boxes—perfect for work lunch or outdoor feasting. 
While options like the curry and beef taco sausage boxes entice, all-day breakfast steals the show. Picture a Breakfast Box brimming with sausages, fried baby potatoes, mushrooms, baked beans, black pudding, and a perfectly fried egg. If that's different from your fancy, savour their scrumptious breakfast bap. 
The Crafted sausage is a savoury delight that adds a tasty spark to Cork's Marina Market scene.
12. Griolladh Marina Market Cork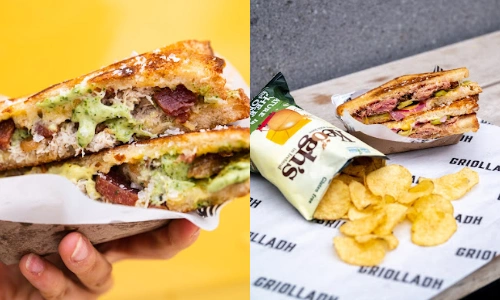 In Cork City's vibrant Marina Market, Griolladh stands out as a grilled sandwich haven, offering flavour and convenience. Among the market's newest stalls, Griolladh's breakfast menu is a quick, delicious solution for those on the go. 
From classic grilled cheese to hearty bacon, egg, and cheese, their offerings promise a morning treat, including the best-selling potato roll bap. 
Fast and impeccable service complements a fantastic range of coffees, making it a top choice for a swift and tasty stop. Highly recommended for a satisfying grab-and-go experience.
Read more about my experience at the Griolladh in the Marina Market by reading my article in the link.
Visit the Griolladh Website for more information.
Breakfast In Cork City
In the heart of Cork City, breakfast enthusiasts are spoiled for choice with an array of delightful spots. Every palate has a flavour, from the charming Tara's Tea Rooms serving classic morning delights to the egg-centric wonders at The Egg Bar. 
For a taste of Ireland's culinary heritage, Farmgate Cafe, nestled in the historic English Market, beckons with its farm-fresh goodness. 
The Liberty Grill on Washington Street marries global culinary finesse with traditional Irish warmth, offering a diverse breakfast experience. And remember Dukes Coffee Company, a family-owned gem crafting exceptional coffee and mouthwatering breakfasts since 2005. 
Whether you're in the mood for a gourmet sausage box from the Crafted Sausage. Or a swift, flavourful grilled sandwich at Griolladh in the Marina Market; Cork City's breakfast scene has something for everyone. 
Why not embark on a culinary adventure and savour each spot's diverse offerings? Your taste buds will thank you!