The best burger in Cork! As you explore the bustling streets of this vibrant city and county, you'll discover a culinary journey beyond the ordinary. 
In this guide, I will introduce you to Cork's top five burger places, each offering a unique and delicious experience. From gourmet creations to classic favourites, Cork's burger scene is a feast for the taste buds.
Prepare to embark on a flavorful adventure as we delve into these establishments' diverse and savoury offerings. Whether you're a local seeking a new favourite spot or a visitor eager to taste the essence of Cork, this guide will lead you to the most delectable burgers the city offers. 
Table of Contents
While I have your attention, I recently updated my list of the best restaurants in Cork; make sure to check it out before you leave.
Let's dive into the world of sizzling patties, fresh buns, and mouthwatering toppings – welcome to the best burgers in Cork!
Top Five Burgers Spots in Cork
1. Roastie Midleton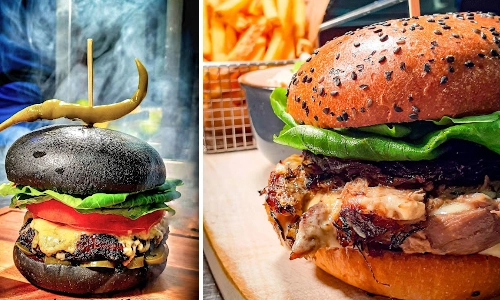 Roastie Restaurant in Midleton stands out as the go-to spot for the best burgers in Cork. Nestled in the heart of Midleton, this culinary gem earned its reputation by offering a diverse and mouthwatering burger menu that has taken the city by storm. Winner of the 2022 Best Restaurant Burger in Cork, Roastie has mastered the art of crafting colossal gourmet burgers bursting with flavour.
Roastie's wide range of gourmet burgers are at the heart of their menu, each a culinary masterpiece. The signature black burger, a visual delight served in a distinctive black bun, is a feast for the senses. Their burgers come from their butchers on the main street. They come adorned with pickles, beef tomato, baby gem lettuce, and a delectable combination of garlic mayo and mustard sauce.
Roastie's commitment to quality is evident in every bite, as they source their meat locally and take pride in creating all their sauces in-house. The Devil burger, featuring their homemade harissa sauce, adds a spicy kick that elevates the dining experience.
Roastie in Midleton is the ultimate destination if you're a burger enthusiast. With their winning combination of size, locally sourced ingredients, and bold flavours, they have rightfully claimed the number-one spot for the best burgers in Cork. Prepare to go hungry and leave satisfied with a memorable burger experience.
Visit Roastie Restaurant Website.
2. Son of a Bun Cork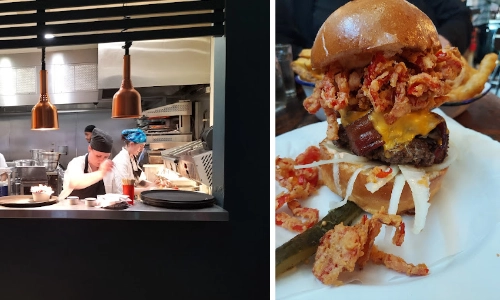 Son of a Bun in Cork is a burger haven born from a family's shared love for great food, particularly the art of crafting the perfect burger. Since its inception in 2015, its unwavering commitment has been clear – serving the best burgers without compromise.
Their dedication to quality ingredients makes Son of a Bun stand out. They meticulously choose prime cuts of Aberdeen Angus beef, ensuring the correct fat ratio for juicy and consistently delicious burgers. The beef is freshly minced on-site daily with no extra additives, keeping it simple.
The secret to their burger perfection lies in the signature brioche bun, baked fresh daily by local supplier Jack Cuthbert. They source bacon from Crowe's farm in Tipperary, emphasizing a commitment to local Irish products.
Adding a touch of excitement, Son of a Bun features a famous "Burger of the Month," showcasing their culinary creativity and dedication to keeping the menu vibrant and fresh. This dedication to top-tier ingredients, local sourcing, and a constant quest for new and delicious flavours has solidified Son of a Bun as one of Cork's premier destinations for burger enthusiasts. If you're searching for the best burgers in Cork, Son of a Bun is a must-visit, offering a delightful marriage of simplicity and extraordinary taste.
Visit Son of a Bun Website.
3. Bunsen Burger Cork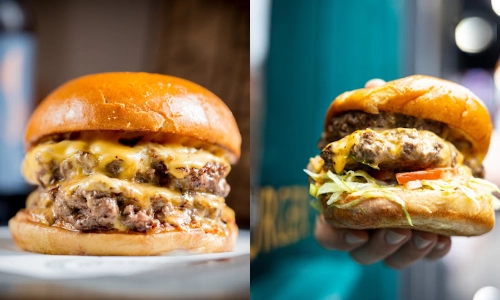 Bunsen Burger in Cork is a haven for enthusiasts who appreciate simplicity and unbeatable flavours. While seemingly straightforward, their menu is a masterpiece in taste and quality. You can choose from the basic burger, cheeseburgers, or go big with a double – each option delivering a satisfying and delicious experience.
What sets Bunsen apart is their commitment to excellence in every component of their burgers. The classic American hamburger bun, crafted daily by baker Derek in Tallaght, provides the perfect foundation. Fresh, quality vegetables, including exceptional tomatoes even out of season, are sourced from trusted suppliers.
When it comes to cheese, Bunsen's meticulous experimentation led them to a blend that mirrors the best of traditional American hamburger cheese, showcasing their dedication to finding the perfect balance of flavours. The Black Aberdeen Angus beef, sourced from FX Buckley, is a testament to their dedication to quality meat. The patty, minced fresh every morning with a precise ratio of cuts, is seasoned with just salt and pepper before grilling.
What truly elevates the Bunsen experience is their special mayo, mustard, and ketchup blend, providing a delightful punch to complement the richness of the burgers. Suppose you're searching for the best burgers in Cork. In that case, Bunsen Burger stands out for its commitment to simplicity, quality ingredients, and a taste that speaks for itself.
Visit Bunsen Burger Cork.
4. Coqbull Cork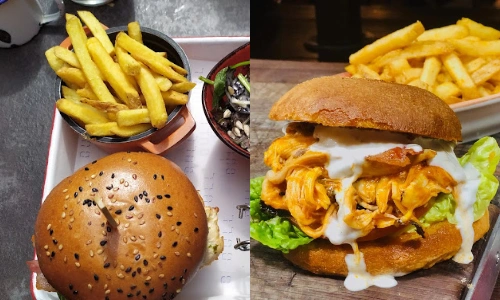 Coqbull in Cork stands out as a vibrant and laid-back dining hotspot, offering a diverse menu that caters to all tastes. Specializing in great steaks, chicken, seafood, pizzas, and particularly noteworthy burgers, Coqbull has carved its niche in the casual dining scene.
Their burger menu is a star attraction, featuring mouthwatering options with catchy names like Jane Bull, Classic Bull, Pull Bull, and more. Each burger is a flavour-packed delight crafted using locally sourced, high-quality ingredients. The commitment to quality is evident in every bite, making Coqbull a go-to destination for burger enthusiasts in Cork.
The name "CoqBull" speaks to the restaurant's ethos, emphasizing simplicity and using locally sourced ingredients. The calm and edgy vibe adds an exciting dimension to the casual dining experience, making it a favourite among locals and visitors alike.
If you're hunting for the best burgers in Cork, Coqbull should be at the top of your list. With a menu designed to satisfy diverse tastes and a commitment to quality, Coqbull offers an inviting atmosphere and a delightful culinary experience that keeps patrons returning for more.
Visit Coqbull Restaurant Cork
5. Spitjack Restaurant Cork City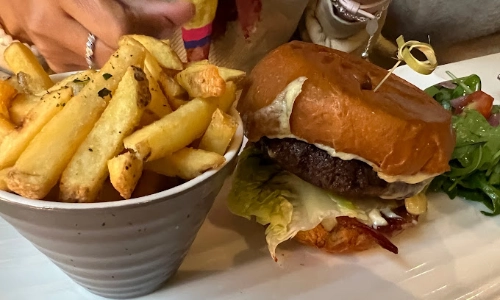 The SpitJack in Cork City isn't your typical burger joint, but it's a standout contender on the list of the best burgers in Cork. With a unique approach to culinary excellence, SpitJack offers two remarkable burgers that elevate the dining experience.
Their North Cork Sirloin Beef Burger features Aged Red Hereford Sirloin Beef, Cashel Blue Cheese, Crispy Bacon, Cheddar Cheese, Baby Gem, Gherkin, Relish, and Garlic Allioli, all embraced by a Brioche Bun. The Rotisserie Roasted Chicken Burger boasts West Cork Chicken Breast, Cheddar Cheese, Baby Gem, Tomato, Pickled Red Onion, and Garlic Allioli on a Brioche Bun. Both burgers are a testament to SpitJack's dedication to quality ingredients.
The restaurant's commitment to showcasing the best of local produce sets it apart. The unique flavour combinations and meticulous attention to detail make SpitJack a must-visit destination for burger enthusiasts in Cork. Whether you're a fan of beef or chicken, SpitJack promises a culinary adventure beyond the ordinary. With a welcoming atmosphere and an exceptional menu, SpitJack in Cork City earns its spot as one of the best locations for the finest burgers in Cork.
Visit Spitjack Restaurant Cork Website.
Cork Best Burgers Summed Up
In Cork's diverse and vibrant culinary scene, the quest for the best burgers unveils a palate-pleasing journey through unique flavours and local ingredients. Roastie in Midleton impresses with gourmet offerings like the signature black and devil burgers. At the same time, Bunsen Burger embraces simplicity without compromising taste, delivering perfection in every bite. Coqbull stands out as a laid-back haven, offering a diverse menu that caters to all tastes, mainly showcasing their delectable burgers with catchy names and high-quality ingredients. SpitJack in Cork City takes a different approach, providing an extraordinary burger experience with offerings like the North Cork Sirloin Beef Burger and the Rotisserie Roasted Chicken Burger.
Whether it's the culinary innovation of Roastie, the simplicity and quality of Bunsen, the diverse menu of Coqbull, or the unique offerings of SpitJack, each establishment contributes its flair to the tapestry of the best burgers in Cork. From the locally sourced ingredients to the creative combinations, these establishments showcase the essence of Cork's dynamic food culture. Whether you're a fan of gourmet twists or classic simplicity, Cork has a burger destination for every palate, inviting locals and visitors alike to savour the delicious offerings in this bustling city.