Looking for the best Pizza Cork City? You have most definitely come to the right place.
If there's one thing that transcends borders and languages, it's the universal love for pizza. And when it comes to savouring some of the finest pizza, Cork City is a place that never disappoints.
In the heart of Ireland, where the River Lee gently winds its way through charming streets, you'll find a vibrant food scene that includes an array of pizzerias dishing out delectable pizzas. Cork City, known for its rich history and warm hospitality, offers various pizzerias, each with unique charm and flavours.
Cork City's pizzerias cater to every pizza lover's cravings, from the classic Margherita to the more adventurous toppings like prosciutto and fig. Whether you're a local looking for your next pizza fix or a visitor eager to explore the culinary delights of this enchanting city, we've got you covered.
Join us on a mouthwatering journey as we explore some of the best pizza restaurants Cork City offers. We'll take you on a virtual tour of these culinary gems, describing their pizza specialities, locations, and whether they allow you to enjoy your pizza on the go or in a cosy setting.
So, grab your napkins and prepare to drool as we dive into the world of Cork City's top pizza joints. Whether searching for the perfect pizza slice or a gourmet pizza experience, Cork City has something to satisfy every pizza craving. Let's embark on this delicious adventure together!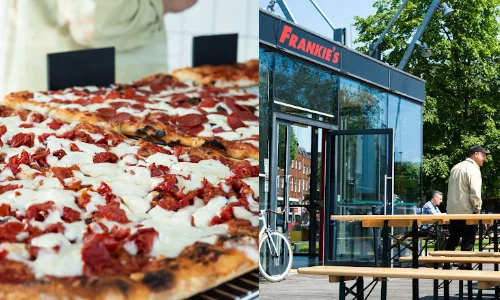 If you change your mind about pizza, read my article on the best restaurants in Cork City.
Best Pizza Restaurants in Cork
Here, I will break down my list of the best Pizza Restaurants in Cork City. This list will include the best dine-in, takeaway and grab-and-go pizzerias in Cork City. Enjoy!
Oak Fire Pizza
Located in several locations across Cork City, it is renowned for its wood-fired pizzas and is one of my all-time favourites. They offer various options, from classic Margherita to creative toppings like prosciutto and fig. Oak Fire Pizza provides both takeaway and a cosy dine-in experience, making it an excellent choice for pizza enthusiasts. Visit Oak Fire Pizza Cork.
Novecento
Novecento, an Italian-style pizzeria, can be found in a charming corner of Cork City. Their menu features authentic Neapolitan pizzas, known for their thin, soft crust and high-quality ingredients. While they offer takeaway, Novecento also provides a welcoming atmosphere with indoor seating for those who want to savour their pizza on-site. Visit Novecento Artisan Pizza.
PizzAmore
PizzAmore, located in a bustling part of Cork City, is a favourite for those who appreciate classic Italian flavours. Their menu includes a variety of pizzas, including vegetarian and meat options. You can choose takeaway or enjoy your meal at their cosy indoor seating area. Visit PizzAmore Cork.
Pompeii Pizza Cork
Pompeii Pizza Cork brings the taste of Naples to Cork City. They offer traditional wood-fired pizzas with a crispy, thin crust and fresh toppings. This pizzeria specializes in takeaway orders but has limited indoor seating for those who prefer an in-house dining experience. Visit Pompeii Pizza.
La Tana Pizzeria
La Tana Pizzeria, located in a picturesque part of Cork City, serves authentic Italian pizzas with a focus on simplicity and quality. Their menu includes classics like Margherita and Prosciutto e Funghi. While they primarily focus on takeaway, they have a small seating area for customers who wish to eat in. Visit La Tana Pizzeria.
Burnt Pizza
Burnt Pizza is known for its creative and unique pizza offerings. Located centrally in Cork City, they serve artisanal, wood-fired pizzas with unconventional toppings. They primarily offer takeaway services but have limited seating for those who want to enjoy their innovative pizza creations in-house. Visit BURNT Pizza.
Bella Napoli
Bella Napoli is an Italian pizzeria in Cork City, offering a wide range of traditional Italian pizzas with various toppings. They provide takeaway and indoor seating for customers who want to dine in a cosy atmosphere. Visit Bella Napoli Cork.
Gallo & Galetti
Gallo & Galetti is an Italian restaurant that includes pizzas on its menu. Located in Cork City, they offer a mix of classic and speciality pizzas, with options for takeaway and comfortable indoor seating. Visit Gallo & Galetti.
Ristorante Rossini
Ristorante Rossini, situated in Cork City, offers an Italian dining experience with various pizzas, from classic to gourmet options. They have indoor seating for those who want to enjoy their pizzas on-site and takeaway services. Visit Ristorante Rossini.
Milano
As part of a popular chain, Milano offers a mix of Italian-inspired and creative pizzas. Located in Cork City, they provide a comfortable dine-in experience and takeaway options, making it a versatile choice for pizza lovers. Visit Milano Cork.
Frankie's Slice Shop
Frankie's Slice Shop, located centrally in Cork City, is known for its New York-style pizza slices. They primarily focus on takeaway orders but may have limited seating for customers looking to enjoy a quick meal inside. Visit Frankie's Slice Shop.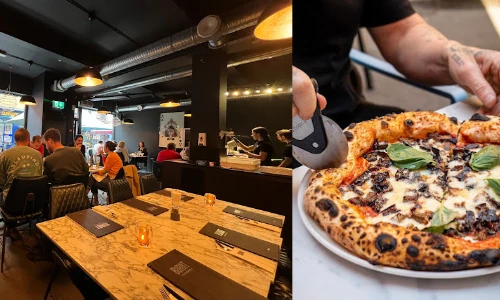 Cork Pizza Lovers Paradise
The Cork City's pizza scene is a delightful journey for the senses, offering a diverse range of pizza experiences that cater to every palate. Cork City's pizzerias have something for everyone, from the simplicity of a classic Margherita to the bold and creative flavour combinations.
As we've explored some of the best pizzerias in this charming European city, we've uncovered the passion and dedication that go into crafting these delectable pies. Whether strolling along the River Lee or exploring the city's historic streets, you're always close to a fantastic pizza option.
Whether you prefer a quick takeaway slice to fuel your adventures or seek the cosy ambience of an indoor seating area, Cork City's pizzerias offer both convenience and comfort. The warmth of the city's hospitality extends to its culinary offerings, making each pizza experience not just a meal but a memorable moment.
We hope this journey through Cork City's pizza landscape has ignited your appetite and curiosity. The next time you find yourself in this enchanting city, embark on your pizza adventure and discover the unique flavours and traditions that make Cork City's pizzerias truly special.
Remember, searching for the perfect pizza is an ongoing and delightful quest, and Cork City has undoubtedly proven itself a worthy destination for pizza enthusiasts. So, whether you're a local or a traveller passing through, may your pizza adventures in Cork City be filled with delicious discoveries and unforgettable moments. 
Buon appetito!