This list of Irish Christmas Foods is an essential part of family tradition at Christmas time in Ireland. Christmas in Ireland is filled with joy, laughter, and delicious food! Irish families come together to share hearty meals that warm the heart and the belly. 
Traditional Irish Christmas Foods include a feast of roast turkey or ham, crispy roast potatoes, and a colourful mix of vegetables like Brussels sprouts and carrots. 
The table is adorned with treats like cranberry sauce, stuffing, and rich, flavorful gravy. And when it's time for dessert, Irish folks savour delights such as Christmas pudding—a fruity and boozy delight—and sweet mince pies. 
It's a time for enjoying good company, creating cherished memories, and savouring the flavours that make Christmas in Ireland truly special. So, let's explore the delightful world of Irish Christmas foods!
Table of Contents
List of Irish Christmas Food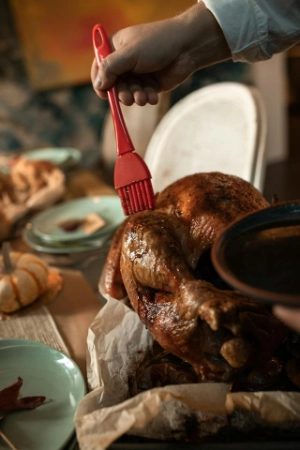 Roast Turkey: 
Roast turkey is a classic centrepiece for many Irish Christmas dinners, often stuffed and accompanied by gravy. Herb butter is often rubbed under the skin to provide flavour and moisture.
Ham: 
Baked or boiled ham is another popular choice, served with various glazes such as honey and mustard studded with cloves. 
Stuffing: 
A flavorful stuffing made with breadcrumbs, herbs, onions, and sometimes sausage is a typical side dish. Safe and onion are often the main seasoning for these stuffings.
Cranberry Sauce: 
Sweet and tangy cranberry sauce complements the richness of the main dishes, often made from scratch.
Roast Potatoes: 
Crispy and golden roast potatoes are a staple at Christmas dinners in Ireland. Boiled then roasted in Duck or Goose fat, they are often the prize accompaniment.
Vegetables: 
A medley of vegetables, such as Brussels sprouts cooked with bacon, carrots, and parsnips roasted in honey, are often served as a side dish.
Gravy: 
A hearty gravy made from the pan drippings of roasted meat adds extra flavour to the meal. Stock and fat from the turkey are reserved to make a flavour-packed gravy.
Christmas Pudding: 
A dense, fruity, and often boozy Christmas pudding is a traditional dessert, typically served with brandy butter or custard.
Mince Pies: 
Small, sweet pies filled with minced dried fruit (candied orange peel, currants, raisins), spices (mace, nutmeg, cinnamon, clove, ginger), and sometimes brandy is a festive treat. Served hot or cold with whipped cream, they are a treat.
Yule Log: 
A chocolate Yule log or "bûche de Noël" is a popular dessert choice during the holiday season. It is a chocolate Swiss roll covered with chocolate ganache that is scored with a knife to make it look like tree bark.
Trifle: 
A layered dessert consisting of sponge cake, fruit, custard, Jelly and whipped cream. Trifles can also contain alcohol, such as brandy, for an adult treat.
Cheese and Crackers: 
A cheese platter with various cheeses and crackers is often served before or after the main meal. Chutneys, jams or fruit compotes accompany them to balance the creaminess of the cheese.
Irish Christmas Cake: 
Like a fruitcake, this rich and moist cake is filled with dried fruits and nuts, often soaked in Irish whiskey. It is covered with marzipan and fondant and then decorated with little marzipan figures and trees.
Irish Cream Liqueur: 
Drinks like Baileys Irish Creamare commonly enjoyed alone or in Coffee as a festive treat. Learn how to make your own Baileys Cream Liqueur at home in the link.
Irish Soda Bread: 
A quick and easy Irish soda bread served with meals, including Christmas dinner, often served as a starter with Irish curred smoked salmon and creme fraiche.
Smoked Salmon: 
Traditional smoked salmon is a real treat for Christmas. Salted then smoked in a traditional smoker, the flavours are unique.
Spiced Beef: 
Spiced beef is an authentic Cork tradition. Beef is corned in a salt brine solution. When ready, it is then rubbed with spices. The spice mix often includes allspice, juniper berries, treacle, clove and brown sugar. The meat is cooked in water on a simmer to keep it moist. Often eaten cold-sliced in sandwiches over the Christmas period.
Irish Coffee: 
The perfect way to end a Christmas dinner is Irish Coffee. The secret to making the perfect Irish Coffee is adding brown sugar to hot Coffee and a generous pour of whiskey. Pour some thick cream on top to make a delicious treat. Learn how to make traditional Irish Coffee in this link.
Irish Sausage, Bacon and pudding: 
A hearty breakfast is often consumed in the morning to start the day. The breakfast of champions is Irish pork sausage, bacon, and black and white pudding (if you are in Cork it Clonakility Pudding) served with tea and toast. For information on the Full Irish breakfast consumed on Christmas morning read my article in the link.
Biscuits: 
It's a tradition in almost every house in Ireland to have tins of biscuits on hand over the Christmas period. Tins of biscuits from Fox's Biscuits, Jacobs Afternoon Tea Biscuits or Jacobs USA biscuits have become the norm in houses at Christmas time for years. The empty tins are kept, and Christmas decorations are stored for years.
Chocolates: 
Along with tins of biscuits, most homes in Ireland will have tins of sweets and chocolates to eat over Christmas. Tins of roses, quality street and toffees are always available for visitors and family.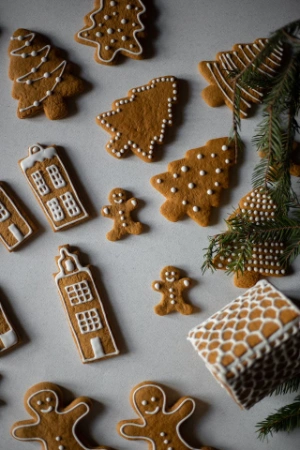 Christmas in Ireland
In Ireland, Christmas is not just a holiday; it's a celebration of family, togetherness, and the warmth of shared moments. Family is central to Irish Christmas traditions, and the festivities revolve around creating lasting memories with loved ones. Irish Christmas Foods is a way of getting families together and sharing memories over great food.
As the holiday season approaches, Irish families eagerly anticipate the joyous reunion around the Christmas table. Preparing a sumptuous feast becomes a shared endeavour, with each family member contributing to creating a memorable meal. From the succulent roast turkey or ham to the carefully crafted stuffing and crispy roast potatoes, the kitchen is filled with the comforting aromas of festive delights.
Christmas Food and Drink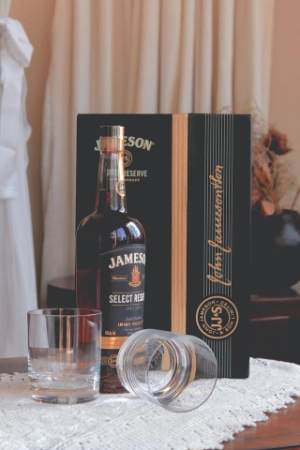 Food and drink play a crucial role in these celebrations, expressing love and care. Traditional Irish Christmas Food dishes passed down through generations take centre stage, embodying the essence of Irish culinary heritage. The dining experience becomes a communal affair, where the exchange of laughter and stories is as important as the delicious flavours on the plate.
Irish families also hold a special place for sweets during Christmas. Desserts like Christmas pudding, mince pies, and Irish cream liqueur add a sweet note to the festivities, creating a sense of indulgence and joy.
Family Time at Christmas
Beyond the culinary delights, the true magic of an Irish Christmas lies in the time spent together. Families gather around crackling fires, exchange gifts with laughter and excitement, and partake in the cherished tradition of sharing stories and reminiscing about the year gone by. The Christmas table becomes a sacred space where generations connect, bonds strengthen, and love flourishes over Traditional Irish Christmas Foods.
In Ireland, the emphasis on family is not just a cultural norm; it's a heartfelt expression of the Irish spirit. The holiday season provides a precious opportunity for busy lives to pause momentarily, allowing families to reconnect, share in the season's joys, and create memories that will be cherished for years to come. Christmas in Ireland is a celebration of love, unity, and the simple pleasures found in the company of those who matter most.