Easy Homemade Baileys Irish Cream Recipe
How to Make Baileys Irish Cream at Home
Making this very easy Homemade Baileys Irish Cream Recipe is so simple to do from home.  You will need very little equipment for this and the ingredients can be tailored to suit your taste. A fantastic benefit to making this Baileys Irish Cream Recipe at home is that it is often cheaper to make it than to buy an actual bottle of Baileys Irish Cream.
Baileys Irish Cream is a fantastic alcoholic beverage consumed by many here in Ireland.  It is usually taken out around Christmas time as part of our holiday celebrations and is a fantastic tasting treat.
Baileys Irish Cream Ingredients
This Easy Baileys Irish Cream Recipe will give you a creamy drink with hints of Chocolate, Coffee and Almond with a little kick from some great Irish Whiskey.
The main ingredients are:
Cream
Condensed Milk
Irish Whiskey
Chocolate Syrup
Coffee or Coffee Syrup
Vanilla Essence
Almond Essence
My Irish Whiskey of choice for this Baileys Irish Cream Recipe is always Jameson Irish Whiskey but you can substitute any other Whiskey you like, but try keep it as Irish as possible for the unique Irish Cream Liquor flavour.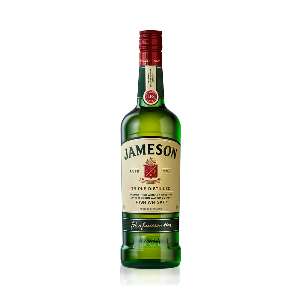 How to Make Baileys Irish Cream
Making this recipe couldn't be any easier.  All you need to do is add all the ingredients into a large bowl and gently whisk to combine.  You can use a blender if you wish just take great care not to over mix as you make risk over whipping the cream which could curdle the mixture.  Its much better, and less of a clean up to mix it all together in a bowl.
Once everything is mixed together simply pour into a sterlized container and chill.
Irish Baileys Cream Recipe
This recipe is a great foundation recipe for tailor making your own, Easy Baileys Irish Cream Recipe and you can add or take away any of the ingredients, as long as its not the whiskey. You could reduce the Whiskey but if you are Irish you know this is a sin.
But jokes aside, if you find the Whiskey taste overpowering or too much just cut it back a little to suit your tastes.  You can always add a dash of Irish Whiskey to a glass and top it up with your Homemade Baileys Irish Cream for those who love a bit of extra love.
In Ireland the Irish for Whiskey is, " Uisce Beatha", which when translated mean, Water of Life.  So you can see why us Irish love a drop of the good stuff every once in a while.
Storing Your Homemade Irish Baileys Cream
Once sealed in a sterlised bottle or container this drink will store for up to 2 months in a chilled cabinet.  This recipe will make up to 1 ltr or 4 cups of Homemade Baileys Irish Cream and can be stored in one bottle or divided into smaller bottles to be given as gifts.  Making your own Homemade Baileys Irish Cream is a great way to give that something special to someone as a gift during the holidays and you can always make it your own by adding extra flavours to it.
Make sure you experiment with this recipe but try make it as is first to get a taste of a true Irish Cream Liquor flavour.  I hope you enjoy this recipe and you, your family and friends and create some great memories over a glass of Homemade Irish Cream Liquor.
Enjoy!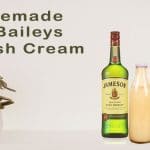 Easy Homemade Baileys Irish Cream Recipe
Baileys Irish Cream is an alcoholic creamy drink enjoyed by many. This recipe will show you how to make this drink at home, its very easy.
Keyword:
baileys irish cream, baileys irish cream drink, baileys irish cream recipe, easy baileys irish cream recipe, homemade baileys irish cream recipe, how to make baileys irish cream
Ingredients
250

ml

Single Cream

1 Cup/9fl Oz

1x397

Grams

Condensed Milk

114 Ounce Can/14 oz

350

ml

Irish Whiskey (Jameson is Great)

1 and 2/3 Cup/12flu oz

1

tsp

Coffee Essence

You can supstitute 1 tsp of coffee granules

3

tsp

Chocolate Sauce

1

tsp

Vanilla Extract

1

tsp

Almond Essence
Instructions
First you will have to wash and sterilise the bottle you want to use to store your liquid in. Make sure you wash with hot water or place into the dishwasher. The method you use is up to you but you can either use the hot dry function in your dishwasher or place your bottle in a oven after washing at 160°C/325F/Gas Mark 3 for 10 to 15 minutes then allow to cool.

Once the bottle is cooled, pour all your ingredients into a large bowl and stir with your whisk to combine everything. If you are using coffee granules as a substitue, heat a small amount of cream in a pan or microwave to disolve the granules.

It is important not to whisk too much as you don't want to whip up the cream. Just gentle stir until everything combines together.

Once everything is combined, have a taste. If you think you need a little bit more chocolate or coffee add a little bit more. Needs more alcohol (when does it never need more) add some. Make this recipe to your taste. Remember when chilled it will dull the flavours down slightly.

Once you are happy pour the liquid into your bottle and fit with a tight fitting lid then chill. This bottle will hold for up to 2 months in a chilled cabinet and it always best served chilled or over ice.

These are the main elements of this recipe but experiment to make your own. Add some orange liquor to make it more festive. Maybe infuse the liquid with some spice. It up to you and this recipe is just a guide and a foundation for you to build on. Have fun with it.