Tradition Irish coffee with Cream Recipe
Traditional Irish Coffee with cream is a great after dinner drink.  In Ireland we love to top off a really good meal with a creamy Irish coffee.
Sometimes instead of an after dinner dessert an Irish coffee with cream is preferred as a way to aid with digestion and to awaken the body.
The combination of really good coffee, slightly sweetened with a strong kick from whiskey topped off with a creamy head is a great way to end a meal.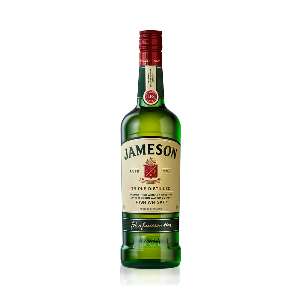 What Is an Irish Coffee with Cream
Traditional Irish Coffee is made up from four main ingredients; coffee, whiskey, brown sugar and fresh whipping cream.
When making an Irish Coffee you always have to use a good quality Irish whiskey, never a scotch nor can it be a bourbon, rye or malts.
Stick to Irish Whiskey and you can't go wrong.
A great whiskey to use and which is very common in Ireland to make an Irish Cream coffee is Jameson Whiskey.
Jameson whiskey is almost always used in Ireland as a mixer whiskey.  It's a good whiskey but wouldn't be considered a very high quality whiskey.  For this reason it's great to use as the whiskey of choice for a good Irish coffee with cream drink.
When making your traditional Irish coffee with cream drink always use good quality ingredients.
Use the best coffee you have, not instant if possible.  When using sugar it's best to use brown sugar as this will sweeten you Irish Coffee and also at a note of caramel which works well with the whiskey and coffee flavours.
For cream use a double cream or whipping cream that will add a fresh creamy taste that balances all the flavours and makes and coffee with whiskey into a creamy Irish Coffee.
How to make an Irish Coffee
An Irish Coffee with cream is normally served in a glass.  A small wine glass or tall glass with a handle is perfect for making a creamy Irish coffee.
Put your coffee of choice on to brew and once brewed set it to one side. If using an espresso, make sure to add enough hot water to fill the glass.
Set coffee to one side and lightly whip the cream. Who want it to be of a pouring consistency and not too thick.
Add two to three teaspoons of brown sugar into the glass then place the spoon into the glass and pour in the coffee to half fill the glass. You can add less sugar if you like but the sugar really helps to balance the flavours.
By placing the spoon into the glass this helps take the heat of the coffee and prevents your glass from breaking.
Once you have half the glass filled with coffee, stir until all the sugar has dissolved.
Next add in your whiskey and top up your glass with the remaining coffee leaving some room to top up with cream.
Give the mixture a good stir to combine the coffee and whiskey in the glass.
Next clean off your spoon and dry it the hold the spoon over the glass with the bowl of the spoon facing up. The spoon should be almost touching the coffee and whiskey mixture.
Gently pour the cream over the back of the spoon and allow it to fill up the remaining space at the top of the glass.
By using the spoon upside down it helps the cream settle on top of the coffee and whisky mixture and float rather than mixing into the liquid.
You now have made a traditional Irish whiskey with cream.  For another touch of flavour, great some dark chocolate over the top of the cream and enjoy your creamy Irish Coffee.
By adding chocolate to your Irish coffee you will get a similar flavour to our Traditional Bailey Cream.
This addition of chocolate really turns a creamy Irish coffee into a real after dinner treat.
Making an Irish Coffee Drink
Ingredients:
50ml/1.5 ounces Irish Whiskey (Jameson Whiskey)
150ml/5 ounces strong black coffee
2-3 teaspoons of brown sugar
2-3 tablespoons of lightly whipped double cream
Dark chocolate to grate extra
Irish Coffee is perfect as an after dinner treat but its also great for cold wintry nights in front of an open fire.  In Ireland where it is often very cold and damp in the winter time an Irish coffee really warms the soul.
I hope you try out making a creamy Irish Coffee for yourself and as you sip and enjoy just think of us here in Ireland with a smile.
A great cold brew Irish coffee version of this recipe can be found on the Jameson website, its worth checking out.
Recommended Articles: