Great Tasting and Easy Irish Vegetable Soup
Homemade Irish vegetable is one of those great go to recipes everyone tries when the cold weather starts to fall upon us.  Packed full of seasonal vegetables a traditional Homemade Irish vegetable soup is both packed full of flavour and it is also a great way to get some vegetable goodness into you.
As the cold weather comes in having a piping hot bowl of soup is always a good way to warm your body from the inside and is an easy way to make a quick lunch which is healthy too.  Put it together with a nice homemade brown Irish Soda bread and you have one very tasty meal.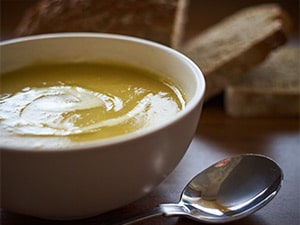 In Ireland having a nice bowl of vegetable soup is something we enjoy very much.  Sometimes its a great way of using up the left over veg in the bottom of the fridge but it is also a great way to make the most of those root vegetable that are in season and abundant.
Making a Homemade Irish Vegetable Soup need not be a chore. No need to cut up the vegetables into exact cubes or even spend a lot of time chopping. Just chop or slice up your vegetables into roughly the same size then pop them into a pot and swet to give them a bit of colour and flavour and you are good to go.
Soups are so easy to make and you can make them as easy as you like yet still packed full of flavour.  Just follow the cooking methods of this Irish Vegetable Soup Recipe and create your own soup to to your own taste.  If you don't have fresh vegetable to hand then frozen are just as good too.
I hope you enjoy my Homemade Irish Vegetable Soup and give it a try. Let me know in the comments what you thought and if you have any questions I will always be happy to answer them.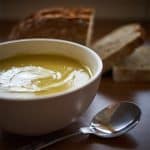 Homemade Irish Vegetable Soup Recipe
Traditional homemade Irish Vegetable Soup packed full of flavour and easy to make.
Keyword:
home made soup recipe, homemade irish vegetable soup recipe, homemade soup recipe, homemade vegetable soup recipe, traditional vegetable soup recipe, vegetable soup recipe
Ingredients
100

grams

White Onion sliced

100

grams

Carrot sliced

100

grams

Turnip

100

grams

Leek

100

grams

Celery

200

grams

Potato

1 and 1/2

ltrs

Vegetable Stock

50

grams

Butter

salt and white pepper
Instructions
Melt the butter in a deep pot on a medium heat then add the vegetables keeping the potato back. Cook vegetables stirring regularly without adding colour and onions become translucent

Cook vegetables stirring regularly without adding colour and onions become translucent for approx 5 or 6 minutes.

Add the stock and bring to a boil. Skim off any scum that rises to the top.

Add the sliced potato to the pot and season and continue to cook until all vegetables are cooked through.

Once vegtables are fully cooked blend using a hand blender until smooth.

Bring to a boil again and season to taste.

If you want a cream of vegetable soup add in 100ml of cream

Serve with a couple of sliced of brown bread for a genuine Irish touch and enjoy.