Easy Roasted Butternut Squash Soup Recipe
A very easy roasted butternut squash soup that is packed full of flavour.
As we slowly change from the cold and damp winter weather into a more warming and less wet (hopefully) spring, it is still a great time to make use of some winter veg.  One ingredient I love to make the most of is the extremely flavoursome butternut squash in my tasty yet easy roasted butternut squash soup recipe.
For a complete list of all my Irish recipes, click the link to visit my article on Irish Recipes
I just love this really easy roasted butternut squash soup recipe because of how easy it is to make.  As well as being easy it is also packed full of flavour, is extremely nutritious, is gluten free and is a great vegetarian option.
The reason this easy roasted butternut squash soup is so tasty is down to the roasting of the vegetables.  By roasting the vegetables you are caramelising the natural sugars in the vegetables and adding more depth of flavour to your soup.
My wife and children just love having a hot bowl of roasted butternut squash soup with a slice or two of warm buttered soda bread.  The mild sweetness of the soup and the rich smooth texture always puts a smile on their face.  For me I do love to add a little bit of heat by adding a little bit of chili oil or splash of hot sauce into my bowl.  The heat really really compliments the natural sweetness of this soup and just elevates the soup up another notch.
This easy roasted butternut squash soup is a very basic recipe and can always be improved by adding additional flavours and ingredients.  Try adding a little bit of ginger, extra root vegetables or a little bit of curry powder.  Just experiment with this recipe to create a flavour that you enjoy and build your own family soup recipe from there.
Enjoy.
Try this recipe with my Traditional Brown Irish Soda Bread recipe.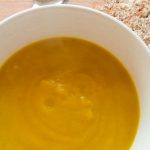 Roasted Butternut Squash Soup
This very easy and basic roasted butternut squash soup is a family favourite.  The roasting of the vegetables adds another level of flavour that makes this soup incredibly moreish.

Ingredients
3

tbsp

olive oil

1

medium / large

butternut squash cut into chunks

1

large

white onion roughly sliced

2

sprigs

fresh thyme

or 1 tbsp of dry

3

whole

garlic cloves

1

ltr

vegetable stock

or 4 cups

Salt and Pepper
Instructions
Preheat your oven to 180°C / 360°F / Gas Mark 4


Place the chopped butternut squash, onions, garlic cloves and herbs onto a baking tray. Drizzle with olive oil, season with salt and pepper and mix to combine all the ingredients and place in your preheated oven. Roast for 40 to 50 minutes until the vegetables are roasted keeping an eye that you don't burn your onions.


Once your vegetables are roasted add everything into a heavy based pan and cover with vegetable stock.  Bring vegetable stock to a boil and simmer for 5 to 10 minutes to allow flavours to combine. Check your seasoning and season to taste with salt and black pepper.




Using a hand blender or liquidiser blitz everything until creamy and smooth.  If the soup is too thick add a little more stock or hot water to get the desired consistency. Return to the heat and bring back to a boil. Check your seasoning again.


Serve in a warm bowl with a side of fresh soda bread or crusty roll. You can't get better than that. Enjoy.

Recipe Notes
Don't cut the onions to thin or they will burn before the butternut squash is roasted.
You can top the soup with a tbsp of creme fraiche or drizzle with a little chili oil to add an extra level of flavour.  I prefer the chili oil because the heat goes really well with the natural sweetness of the soup.
To make quick chili oil add a tsp of chili powder to a small ramekin or class and add 4 tbsp of neutral flavoured oil and allow sit for 15 min.