How To Make Traditional Irish Porridge
Learn How to Make Porridge
Want to learn how to make porridge?
My traditional Irish Porridge Recipe will set you right for a long day ahead and teach you how to make porridge correctly. Keep reading to learn how to make porridge that is nourishing as well as tasty.
For a complete list of all my Irish recipes, click the link to visit my article on Irish Recipes
Irish Porridge Recipe
For me there is nothing more warming and nourishing than a nice pipping hot bowl of creamy traditional Irish porridge on a cold and dreary Irish morning.  I just love how the creamy, thick Irish porridge mixed with a generous drizzle of honey warms the body from the inside out.  It's just a fantastic way to start the day.
What is Porridge
Irish Porridge has been a staple diet in Ireland for thousands of years, largely due to the ease of growing oats, a rain-tolerant grain, in our very rainy and wet country.
Irish Porridge was known to have been consumed in vast amounts in Ireland up until the introduction of the potato in the late sixteenth century.
In more recent times Irish porridge has seen a bit of a comeback as more health-conscious consumers look for a healthier and nutritious breakfast.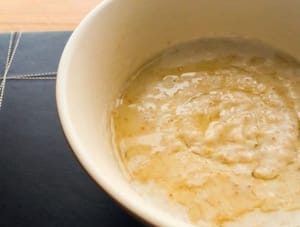 Eating a bowl of Irish porridge for breakfast is a fantastic way to fuel your body for the day.  Oats, which are a low-GI food, are low in fat, with a typical bowl made with water weighing it at 171 kcal, are a slow-releasing carbohydrate.
This means that one bowl of porridge should give you enough energy to see you through to lunch time without the need to snack in between.  This can be great way to see you through the working day or a great way to boost your energy before taking a morning walk through the luscious green hills of the Irish countryside.
Irish Porridge vs Scottish Porridge
Irish porridge and Scottish porridge are both traditional breakfast dishes made from oats, but they differ in their preparation and consistency. Irish porridge, also known as oatmeal, is made from steel-cut oats that have been chopped into small pieces and boiled with water or milk until they become soft and creamy. It has a slightly grainy texture and a nutty flavour.
On the other hand, Scottish porridge is made from oatmeal that has been ground into a fine powder and then simmered in water or milk until it thickens into a smooth, creamy consistency. Scottish porridge is often served with salt, while Irish porridge is usually sweetened with honey or brown sugar. Both are nutritious and filling breakfast options that have been enjoyed for centuries in their respective countries.
How to Cook Porridge
Traditionally in Ireland, we make porridge with water and a pinch of salt to highlight the flavour of the oats.  It is often served with a generous drizzle of honey and a splash of milk or a splash of whiskey as a little extra treat on the weekend.  Children always love porridge with a few dark chocolate nibs added in which creates a beautiful bowl of chocolate heaven, I know my daughter does.
This Irish Porridge Recipe is a basic but traditional recipe that shows you how to make porridge with water.  Try to add various ingredients to this Irish Porridge Recipe to make it even tastier than it already is like add some nuts, seeds or just a bit of fruit.  This Irish Porridge Recipe is so versatile I hope you try it out and learn how to make porridge the right way for yourself.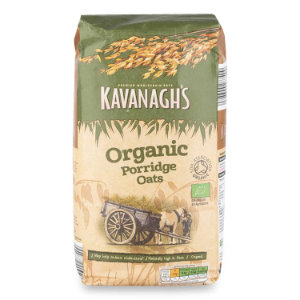 Porridge Oats Calories
Porridge Oats Calories are pretty low, coming in at 115 calories per serving when made with water.  Using the traditional pinhead oatmeal cooked in water keeps porridge oats calories to a minimum while you gain extra nutrition contained in the pinhead vs rolled oats.
The more popular rolled or quick oats contain less nutrition than pinhead due to the processing.  By using traditional pinhead oatmeal to make your traditional Irish Porridge, you are getting the most nutritional value out of the grain.
This traditional Irish porridge made with water is a fundamental way of making a nutritional breakfast as well as keeping the porridge oats calories as low as possible but you can always add in different flavours to the recipe to create your own breakfast.
Try out my recipe and add your favourite toppings to it to create a bowl of pure joy for yourself.
Like this recipe then why not try my Traditional Brown Irish Soda Bread Recipe or my delicious Irish Potato Cake Recipe.
Make sure you check out my other recipes and posts for more information.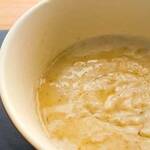 Traditional Irish Porridge Recipe
This extremely healthy and nutritious recipe is one of the best ways to start the day.  This low fat, low-GI recipe will keep you nourished as well as help regulate your blood sugar levels.  For me the best part is that it tastes good and warms you from the inside out.

Keyword:
easy porridge recipe, how to make porridge, Irish porridge recipe, porridge recipe, tasty porridge recipe, thick porridge, Traditional Irish Porridge, traditional porridge recipe
Ingredients
1

litre

Water

1 litre = 4 Cups

115

g

Pinhead Oatmeal

1 Cup of Oatmeal

A good pinch of salt
Instructions
Add the water, pinhead oatmeal and salt into a heavy based pan and bring to the boil over a medium heat while stirring with a wooden spoon.  Once it starts to thicken reduce the heat to a simmer.


Cook the porridge on a simmer for 25 minutes stirring regularly until the porridge is cooked to a smooth and creamy consistency.


Serve hot with a drizzle honey and milk or add some dark chocolate nibs (my daughters favourite).  I love to add the milk to my porridge after it has been cooked to make it even more creamier.  It also helps to cool it down slightly so you can eat it without scalding your mouth. You just can't beat that!

Recipe Notes
Allergens: Gluten
Alternative cooking method:
For a quicker porridge you can use rolled oats by using 115g/1 cup of oats to 750ml/3 cups of water with a pinch of salt.  This should take between 5 and 10 minutes to cook.
Pinhead oatmeal will cook faster if you bring the ingredients to the boil the night before then once it was reached a boil, turn off the heat, cover with a lid and leave until the following morning.  The following morning you can add a little bit of milk then reheat it and its ready.
What a fantastic way to start the day.
Enjoy.
If you are interested in visiting my home in Cork, read my article on the Best Restaurants in Cork City.
Recommended Recipe Book of the Month:
Click To Purchase
How To Make Porridge With Water