How To Make Traditional Irish Pancakes
How To Make Traditional Irish Pancake Recipe
It's that time of year again when Irish families feast themselves on Traditional Irish Pancakes for the day.
Shrove Tuesday or Pancake Tuesday is a religious activity where Irish families would feast prior to taking part in lenten fast.  This day takes place the day before ash Wednesday and is followed by 40 days of lent just before Easter.  The date for shrove Tuesday/Pancake Tuesday is normally dictated by Easter so the date of always changes.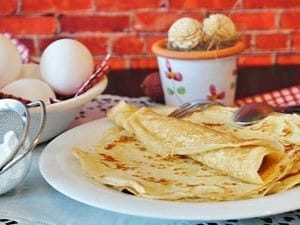 In my family home we all love pancake Tuesday.  Every year my wife goes crazy for pancakes.  Pancakes for breakfast, Pancakes for lunch and even Pancakes for dinner if she can get away with it.
For breakfast we always prefer the thicker American style pancake drizzled with a bit of honey but later in the day it has to be the thin traditional Irish pancake.  The traditional Irish pancakes wouldn't be complete without a sprinkle of caster sugar and a generous squeeze of lemon juice.
Below is my extremely easy traditional Irish pancake recipe.  It's easy to whip up and always loved in my home.  I find I often have to double the recipe to ensure we always have plenty of pancakes.  My family can be a hungry bunch when it comes to pancakes.  Learn how to make Irish Pancakes that you and your family will love and enjoy.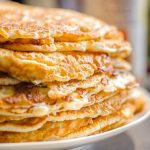 Tradition Irish Pancakes
Great tasty and simple Traditional Irish Pancake recipe.

Keyword:
easy irish pancake recipe, easy pancake recipe, how to make irish pancakes, how to make pancakes, irish pancake recipe, traditional Irish Pancakes
Ingredients
150

g

Plain White Flour

300

ml

Whole Milk

1

medium

Egg

1

tbsp

Irish Salted Butter

Pinch of Salt
Instructions
Sift the flour into a large bowl and add the pinch of salt


Make a well in the centre of the flour and add the egg, melted butter and 3/4 of the milk.  Gradually begin to whisk in the flour from the outside to prevent lumps forming.  Whisk until all liquid is incorporated then add the remaining milk and whisk to combine to the required thickness of pouring cream.


Pour into a jug and allow it to rest for 30 minutes before using. Alternatively leave in the bowl and cover and allow rest.  You can then use a ladle to pour the correct amount into the pan.

To cook the pancakes you must heat a heavy based frying pan until hot then turn the temperature down to medium


Lightly grease the pan with butter or oil then pour in the required amount to coat the base of the frying pan.  Tilt the pan around to ensure the batter coats the pan.


Cook over a moderate heat for 2 to 3 minutes lifting with a spatula to check to see if it is done.  Using a spatula turn the pancake over or alternative show off your skills by attempting to flip the pancake in the air. (warning pancake will be hot and flip at your own risk)


Cook the other side and cook for another minute or two.  Check with a spatula by lifting an edge to see if it is done.


Move pancake onto a warm plate and place in a warm oven while you cook the remaining pancakes or, serve them as they are cooked.


Serve with a sprinkle of sugar and squeeze of lemon juice or whatever your family prefer. You just can't beat that.  Enjoy!

Recipe Notes
Allergens: Milk, Egg and Gluten
Recommended Recipe Book of the Month:
How To make Irish Pancakes | Traditional Irish Pancakes