What Is The Best Kitchen Knife?
Kitchen Knives Buying Guide
What is the best kitchen knife? Here is my Kitchen Knives Buying Guide for all you budding home cooks and learner chefs.
As a chef your knife is your best friend.  If you don't treat your knife with care and respect then it can, and often will hurt you.  With this in mind it is extremely important that when you are buying a kitchen knife for home use, you put a bit of thought into it.
Among many of the questions I am asked as a chef some of the most often asked are:
What knives to I need in my kitchen?
What is the best kitchen knife?
Do I have to spend a huge amount of money to get a really good knife?
Would I be better to buy a kitchen knife set?
In the following post I hope to answer the question, What is the best kitchen knife.  I will also explain to you what knife/knives I would recommend for home use in every kitchen in my quick kitchen knives buying guide.



What Knives Do I Need In My Kitchen?
As a chef we are constantly making use of a wide range of knives.  Each knife we use has been designed for a particular purpose, like a flexible fish knife for skinning fish or a flexible boning knife that allows us to get close to the bone and reduce wastage.
For the average home cook most of these knives would just end up sitting in a drawer with other odds and ends taking up space (yep, I have one of those drawers too) or used for jobs that they were never intended.
I always tell my friends and family that they only ever need to have three knives in their kitchen to cover every job that comes their way. The advice I give to them is always the same, that there is no need to be buying knife sets for the kitchen with 12 knives in a butchers style block.  These knives may look nice, fit in with the style of your kitchen but they do a rubbish job when it comes to using them.
Forget the cleavers, butchers knife and fish knife.  They may be fun to have but you won't get much use out of them.  All you need in your kitchen are these three knives which will do all the jobs and you need and you will use them every time you cook in your kitchen.
The three knives I always recommend are a 8 or 10 inch chefs knife, a 3.25 inch paring knife and a serrated 10 or 12 inch bread knife.  These are the only knives you will need and they are the only knives I ever use when cooking at home.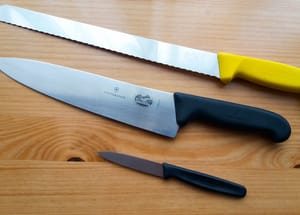 Chef Knife
What is the best kitchen knife?  It would have to be the Chef Knife.  This is your go to knife.  Out of all the three knives this is the knife you will use the most and is probably the first one you should aim to buy.  It can be used for: slicing and dicing heavy duty meats and veg, fine slicing (chiffonade) of herbs, breaking shell on crabs or bones on a rack of lamb and even for skinning a fish.  This is the knife you will spend most of your time using so you need to buy one that will be comfortable, non-slip and will keep and edge for some time.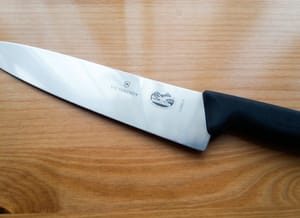 Paring Knife
This knife is also known as a utility knife.  This is the knife you will use when you just want something a little more easy to use.  It can be used for pealing onions and shallots, doing very fine dice, slicing fruits and vegetables and more.  It give you a little bit more freedom and ease to use than the chef knife and allows you to make very find dice on veg (until you get your knife skills up on the chef knife).  It a great little knife and I often use it instead of the chef knife just so I don't have a big blade out on the kitchen counter.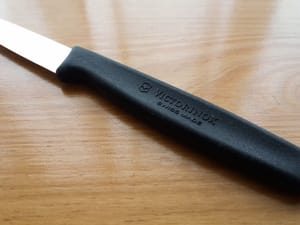 Serrated Bread Knife
A serrated bread knife is again another knife that gives you multiples of uses from cutting slices of bread to carving up a chicken breast ready to plate for dinner.  This knife can be used to slice tomatoes extremely thin as well as skinning a big fish (I have an old serrated knife for skinning salmon).  It is a great knife and allows you to make cutting and carving meat and breads a easy task.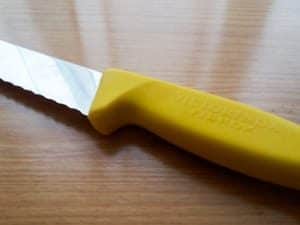 Best Kitchen Knives For The Money
Investing in a decent knife that will last and allow you to get the job done in a safe and efficient manner is important.  Should you buy the most expensive knife available, certainly not.  There are plenty of knives on the market that are used by chefs on a daily basis that won't break the bank.  As a chef it's a dream to have a Japanese 100 layer Damascus Steel Chef knife, but as a home cook a knife like this is overkill.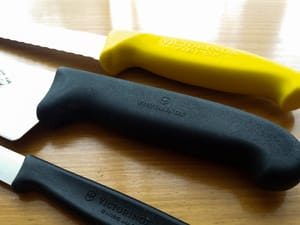 The knives I always recommend are the knives I use every day, which are:
For a chef knife a 8 or 10 inch Victorinox Chef Knife
This knife is made from stamped stainless steel, is pretty light weighing in at approx 260 grams and is extremely sharp.  This is a knife that not many chefs have never used.  Its non slip handle allows chefs to work with this knife with ease knowing that they can get through a lot of work without having to keep drying it. Since it is made of stainless steel it is less prone to chipping, won't rust like the more expensive high carbon knives and is easy to keep an edge.
For a paring knife again I would recommend a 3 inch Victorinox Paring knife.
This utility knife is very affordable, will last you a very long time and you will get a lot of use out of it.  I always have a number of these in my knife kit because in a busy restaurant kitchen they are always going missing.  I find the 3 inch blade to be easier to use over the 4 inch paring knife.  It gives me more flexibility when carving and doing fine work and allows me to grip the blade better to control the knife.
A great knife that I always have out next to the bread board is my Victorinox Serrated Knife.
This knife I used for everyday tasks at home like cutting a slice of bread to the right thickness to slicing a bread of chicken on the bias for a roast dinner.  It is a great knife, very sharp and has many uses.
I have used Victorinox knives for many years and have found that for the price they are a great investment.  Many chefs that I have worked with have use and still use many Victorinox knives and trust that they will get the job done in a safe and quick manner.
As chefs we understand that a blunt knife is a dangerous knife so it is great to have a knife that I can trust and which will keep and edge with a little bit of love and care.
I hope I have answered the question, what is the best kitchen knife  in my Kitchen Knives Buying Guide and I hope you find the right knife for you and have many years safe use.
Make sure you check out some of my recipes in my blog.  These will be update hopefully twice a week and will give you some tips on how to make delicious, easy meals.
Thanks for stopping by.
Kitchen Knives Buying Guide | What Is The Best Kitchen Knife