How To Make Irish Brown Soda Bread Recipe
This traditional Irish Soda bread recipe is simple, yet delicious, which has been passed down through generations. It is a quick and easy bread to prepare, made with just four ingredients – flour, baking soda, salt, and buttermilk.
Irish Soda bread gets its name from the baking soda that is used as a leavening agent, and it was initially developed as a way to use up buttermilk that had gone sour.
For a complete list of all my Irish recipes, click the link to visit my article on Irish Recipes
The first Irish Soda bread was likely made in the early 1800s, and it quickly became a staple of the Irish diet. Today, Soda bread is still enjoyed by many, and it can be found on tablecloths all over Ireland. So, if you're ever in the mood for a delicious slice of Soda bread, be sure to give this traditional recipe a try.
Irish Brown Soda Bread Recipe.
I love this Irish Brown Soda Bread recipe. It always makes my family smile when they tuck into a nice warm slice of Brown Soda Bread covered with delicious creamy Irish butter.
Soda Bread has been baked in Irish houses for decades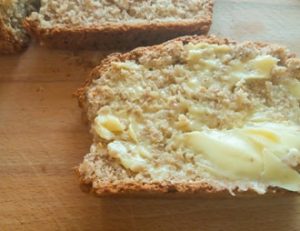 This recipe is so easy to whip together and bake. There is no messing about with machines. No straining yourself to knead the bread and very little clean up afterwards.
If you don't believe how easy this is I'll tell you how fast I made this batch for my blog.
Irish Soda Bread Recipe
At the moment, my wife is currently sitting her Masters Degree in Primary Education.  Since she is up the walls with assignments and such, I have been helping collect the kids, cook, and other odds and ends.
Yesterday I had to pick up my five-year-old daughter from school while my wife was finishing one of her assignments.
About 20 minutes before leaving, I remembered I had promised my daughter I would make her some Irish brown soda bread for her lunch when she got home.
Most people would think 20 minutes is not enough time to whip together brown soda bread, but it is.
I stuck my oven on to preheat, and while that was preheating, I whipped up this traditional Irish Brown Soda Bread recipe that all my family love.
Just as the dough was ready, the oven had finished preheating, and I popped it in and asked my wife to keep an eye on it while I left.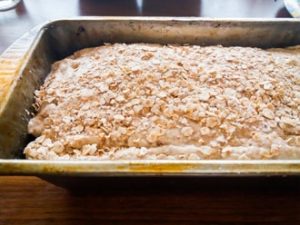 This soda bread recipe normally takes about 45 minutes to bake, and this was the same time it took me to collect my daughter and get home.
Once I got home, the brown soda bread was almost done; it needed an extra five minutes to make sure it was fully baked.
You see, it's that simple and easy to make. You don't need loads of time or equipment to enjoy this fantastic Brown Irish Soda Bread recipe.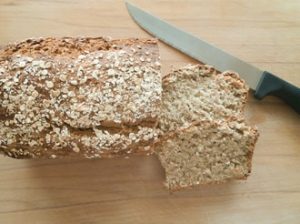 Why not try this recipe along with my Irish Cheddar Cheese Toastie recipe.  I hope you enjoy it and I hope it brings smiles to your family's faces too.
Cheers.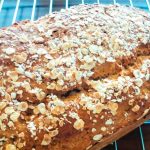 Irish Brown Soda Bread
A fantastic tasting and easy Irish Brown Soda bread. Make this for your family and friends and you will always put a smile on their face.

Ingredients
225

grams

Brown Wholemeal Flour

225

grams

Plain White Flour

1

tsp

Salt

1

tsp

Bread Soda

400

ml

Buttermilk
Instructions
Preheat oven to 200°C / 400°F / Gas Mark 3


In a large bowl add the wholemeal flour and then sift in the plain white flour and bread soda.


Add salt into flour and make well in the center of the dry mix


Pour in most of the buttermilk, keeping back a small amount


Make a claw shape with the fingers of your hand and mix all ingredients in a circular motion until combined (alternatively use a wooden spoon).  You should end up with a sticky dough which is not too dry or too wet. If the mixture is too dry add the remaining buttermilk


Clean your hands if using and turn your dough into a lightly buttered/oiled bread tin and press down with the back of your hand.


Lightly brush the top of the bread with some buttermilk and top with rolled porridge oats or pinhead oatmeal if you wish.


Bake in the center of your preheated oven for 45 mins. To check if done insert a skewer or knife to test. This should come out of the bread clean. If sticky put back in for another 5 mins then retest.

When baked turn bread out onto a cooling rack upside down to keep a crispy crust. If you prefer a less crispy crust wrap the bread in a clean tea towel for a softer, chewier crust.


Enjoy topped with delicious and creamy Irish butter while warm. You just can't beat that.

Recipe Notes
To make this bread a richer golden brown in colour and add a little bit of extra flavour add 2 tbsp of honey or treacle.
Allergens: Contains Gluten, Milk
This recipe is for 7 people.
Two slices of soda bread comes in at 256 kcal.