How to make Irish potato soup.
There is something about a hearty and delicious bowl of Irish Potato soup that warms the soul on a cold winter day. And what could be better than a thick and creamy potato soup?
This Irish potato soup recipe uses starchy potatoes, chicken stock, cream, and onion. It's seasoned with salt and pepper and perfect for a winter day!
Just follow these simple steps to make a delicious bowl of Irish Potato soup at home.
For a complete list of all my Irish recipes, click the link to visit my article on Irish Recipes
Traditional Irish Potato Soup Recipe
There's nothing quite like a big bowl of steaming hot Irish potato soup on a cold winter day. This thick and creamy soup is made with simple ingredients, yet it's so hearty and delicious that you'll want to make it repeatedly.
Best of all, it's easy to prepare so you can have a piping-hot bowl of goodness on the table in no time.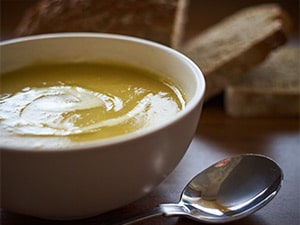 Traditional Irish Soup Preparation
Preparing the ingredients for this Irish Potato Soup couldn't be any easier.
You want to take your onion and roughly diced it. You can go small dice if your knife skills are up to it. The smaller the onion dice, the faster they will sweat in the pot.
Leaving the onions big won't make too much of a difference, so its down to your skill level.
Potatoes
The potatoes you want to cut into cubes and small if you can. The smaller the cubes of potatoes, the faster they will cook. The best potatoes to use for Irish Potato Soup are ones which have a medium to high starch content. Russet potatoes or Yellow or Yukon gold are perfect for this recipe.
Use your own preference here and cut the potatoes to what size suits your knife kill level.
Stock
Warm up your stock and have it ready to add to the pot. Having your stock hot will speed up the cooking process. Make sure to taste your stock before you use it for salt level. You don't want a stock that is high in salt.
Use the salt level in the stock to dictate how much seasoning you add. Most will use vegetable stock for making this soup but I often prefer to use chicken stock as it adds a little extra flavour. It's your choice which one to use.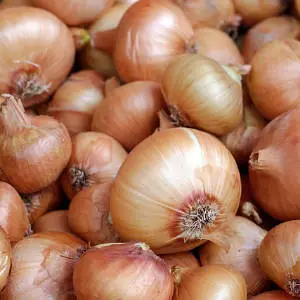 If you love Irish Soup then make sure to try my Traditional Irish Vegetable Soup Recipe.
Making Traditional Irish Potato Soup
Irish potato soup is a hearty and delicious dish perfect for a cold winter. It is made using starchy potatoes, cream, chicken stock, and onion and seasoned with salt and pepper. This delicious thick potato soup is easy to make, follow these simple steps:
Start by heating a large pot over medium heat.
Add butter into the pot and allow melt.
Add the onion to the pot and cover with a lid. Cook on a low heat until translucent, about 5 minutes.
Add the potatoes into the pot and cook for another 5 minutes.
Add the chicken stock or vegetable stock and bring to a boil.
Reduce the heat to low and simmer for 20 minutes.
Once potatoes are cooked and have fallen apart, blitz with a handheld blender.
Return to the heat and add cream, bring soup to a boil once more.
Season with salt and pepper to taste, and serve hot!
Full Recipe and ingredients can be found at the bottom of this blog post.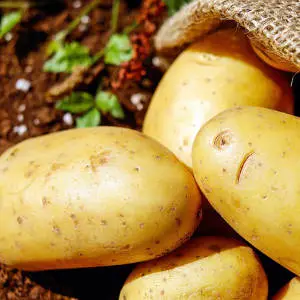 Best Potatoes for Irish Potato Soup
The key to making this soup delicious is using the right potatoes. Some of the best potatoes for Irish potato soup include Yukon Gold, redskin, or fingerling potatoes. These potatoes are all relatively small in size and have a smooth, creamy texture when cooked.
To make the perfect Irish Potato Soup, you must choose potatoes with a high starch content.
Traditionally Irish Potato Soup used potatoes to thicken the soup. There is no need for flour or any other form of starch to thicken this soup so it is perfect for Celiacs or those with Gluten Intolerance.
Variations of Irish Potato Soup
There are many variations of Irish potato soup. One popular variation is Irish Potato and leek Soup.
Adding leeks to the potato soup really brings another level of flavour and is another fantastic Irish soup that must be tried.
First off start with making a Traditional Irish Potato Soup Recipe and build from there.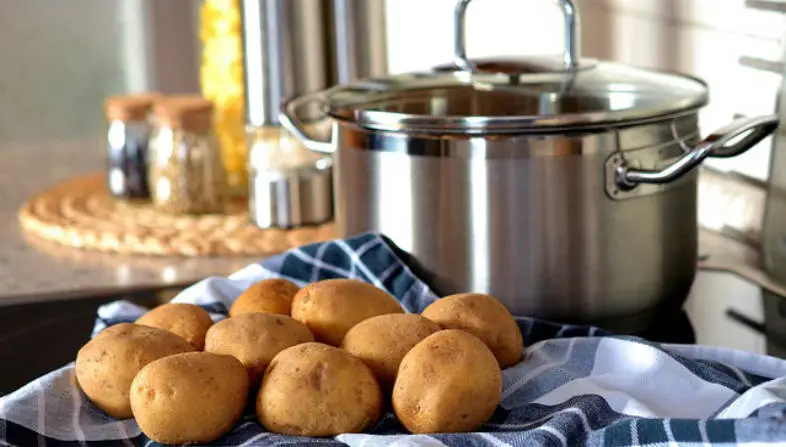 Traditional Irish Potato Soup
A delicious creamy Irish potato soup packed full of flavour to chase away the winter cold.
Keyword:
home made soup recipe, irish potato soup, irish potato soup recipe, irish soup recipe, potato soup, potato soup recipe, tradtional irish potato soup
Ingredients
60

grams

Irish Butter

2 ounces

1

Large

White Onion

500

grams

Starchy Potatoes

17 ounces

900

ml

Chicken or Vegetable Stock

1 1/2 Pint

125

ml

Cream

4fl Oz

Salt and Pepper
Instructions
Start by heating a large pot over medium heat.

Add butter into the pot and allow melt.

Add the onion to the pot and cover with a lid. Cook on a low heat until translucent, about 5 minutes.

Add the potatoes into the pot and cook for another 5 minutes.

Add the chicken stock or vegetable stock and bring to a boil.

Reduce the heat to low and simmer for 20 minutes.

Once potatoes are cooked and have fallen apart, blitz with a handheld blender.

Return to the heat and add cream, bring soup to a boil once more.

Season with salt and pepper to taste, and serve pipping hot with some Irish Brown Bread,