Authentic Irish Champ Recipe
Irish champ is a traditional Irish dish made with mashed potatoes and green onions. While there are many different ways to make champ, the basic ingredients are always the same.
While champ may not be the most exciting dish out there, it's definitely one of the most comforting. There's something about its creamy texture and subtle flavor that just hits the spot. Plus, it's incredibly easy to make.
So if you're ever in the mood for some good old-fashioned comfort food, champ is definitely the way to go.
For a complete list of all my Irish recipes, click the link to visit my article on Irish Recipes
Traditional Halloween Food
October is a month for many things: leaves changing color, the air getting cooler, and of course, Halloween. Even though trick-or-treating may look a bit different this year, there are still plenty of ways to enjoy the holiday. One of the most important traditions is food, and no Halloween feast is complete without champ.
Great Tasting Traditional Irish Champ Recipe
This Irish Champ Recipe is a traditional way of using seasonal produce to make a very tasty side dish to any meal.  My Irish Champ recipe is a great comfort food that is easy to make but packed with flavour.
In this Irish Champ recipe I simmer the spring onions (scallions) in milk to take some of the harshness out of them but you can add the spring onions fresh into the mash if you like.
The secret to making a good Irish Champ is to season it well.  Make sure you use plenty of butter to add flavour but also season well with salt and pepper.
Try out my Authentic Irish Champ recipe and let me know what you think of it.
I'm sure you will enjoy it and it will become a family favourite.
Enjoy!
If you like this recipe why not try out my Irish Pork Chop Recipe to go with this dish.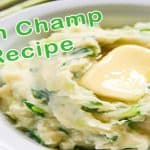 Irish Champ Recipe
Irish Champ is a traditional comfort food made using potatoes, spring onion (scallions), butter and milk.  It is a great side dish that can accompany many meats and veg.

Keyword:
camp recipe, champ, how to make champ, irish champ, Irish champ recipe, irish potato recipe, potato and scallions, potato and spring onion
Ingredients
650

g

Floury potatoes cut into chunks

6

Spring Onions, finely sliced

250

ml

Whole Milk

100

g

Salted Butter

Salt and Pepper
Instructions
Boil or steam the potatoes until cooked through, this should take approx 20 – 25 minutes depending on size of the potatoes.


While potatoes are cooking simmer the spring onions in milk for about 5 minutes the remove the spring onion a reserve the milk.


Mash the potatoes and add a quarter/25g of the butter and some milk into the mash potato and mix.  Add enough milk to get to a creamy consistency to your liking.


Season the mash with salt and pepper and add in the spring onions. Mix through and taste then adjust seasoning as necessary.


Add potato to a plate making a hollow in the center. Melt the remaining butter and pour into each hollow in the potato.  Enjoy dipping the potato into the butter which is the traditional way to eat it in Ireland.

Recipe Notes
Allergens:  This recipe contains Milk