Irish Pork Recipe – Brined Pork Loin Chop
A Very Easy But Very Tasty Pork Chop Recipe
You just can't beat Irish Pork Recipes, and you certainly won't beat this Irish brined Pork Chop Recipe. As a chef this is my go to recipe when preparing pork chops for service. It makes pork chops stand out a mile from every other around.
I'll be honest with you, I love Irish pork Recipes.  Be it a nice succulent Irish Superquinn sausage on a weekend morning or a juicy roasted rolled and stuffed loin of pork for Sunday lunch.  Irish pork recipes give you a fantastic choice of mouth-watering meals to create that you, your family and friends will love and enjoy.
For a complete list of all my Irish recipes, click the link to visit my article on Irish Recipes
This Irish brined pork loin chop recipe of mine is great.  It can be made with the minimum amount of effort but will give back maximum gain; which is a winning combination in my book.  The subtle flavours will compliment the pork and create an even juicier pork chop that will water your mouth like Homer Simpson, Ummmm, Pork Chops.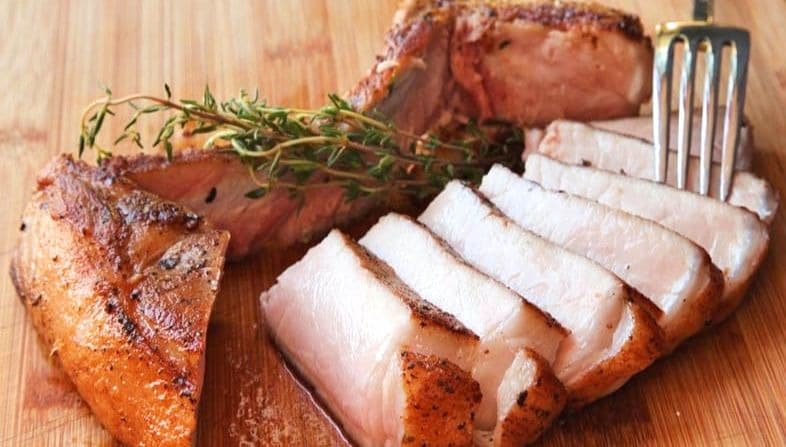 The brine works by helping the protein to break down in the meat and allows for the salt solution to penetrate into it.  This will help the meat to contain more liquid so when it's cooked the extra liquid creates a juicier bit of meat; and who doesn't love a juicy bit of meat.  By adding flavours to the brine you are allowing the salt solution to carry these flavours into the meat creating a more flavoursome meat.
This brine can be used for various types of meat such as chicken and beef.  You will just have to adjust the flavours to suit the meat and add longer soaking times for tougher meat.  The longer soaking for tougher meats will help the meat to tenderise too which is an added bonus.  For red meats I would tend to soak them overnight.
Chef Tips: You should always, when possible, purchase all your meats from your local butcher, preferably an Irish Craft Butcher from your local town.  Talk to them when purchasing meat and ask them about flavours that go best with your meat.  They will always be too happy to give you tips and tricks.
Here is my easy Irish Brined Pork Loin Chop Recipe that I hope you enjoy.  Serve your pork chops with some creamy mashed potato, steamed vegetables and maybe a bit of apple sauce. You will be glad you did.
Enjoy.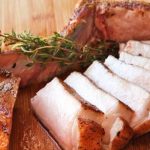 Irish Pork Recipe – Brined Irish Pork Chops
This is a great recipe to add more flavour into your pork chops.  This brine not only allows for more flavour to be added into the pork chop but also make the pork chop moist and less prone to drying out.

Keyword:
easy brine, easy pork brine, easy pork chop brine, easy pork chop recipe, how to brine pork, how to brine pork chops, how to cook pork chops, irish pork chop recipe
Ingredients
4

Irish Pork Loin Chops

800

ml

Water

1

tbsp

Salt

1

tbsp

Sugar

5 or 6

Black pepper corn

1

Bay leaf

3

Whole cloves of garlic

1

tbsp

Dried rosemerry

or 1 sprig fresh
Instructions
Bring 200ml of the water to a boil and add in all the ingredient except the pork.  Stir everything until it is combined.

Mix in the rest of the cold water to the brine solution and allow to cool down.


Once the brine is cold place the pork chops into a non-metal container and cover with the brine solution.  Cover the container and place in the refrigerator for 5 to 6 hours.


After 5 or 6 hours heat a heavy based frying pan and when it is very hot turn the heat down to medium.  Add the oil to the pan and fry the pork chops for 4 minutes on each side.  Ensure that the pork chops are fully cooked then set aside to rest for 4 to 5 minutes before serving. Enjoy.

Recipe Notes
This is a basic brine recipe and add a nice flavour as well as moisture to your pork chops. 
You can add other flavours like juniper berries or various herbs. Play about making your own recipe once you have tried this one of course.
Serve with some buttery mash potatoes with steamed vegetables with a nice apple sauce. You won't get better than that.
Irish Pork Recipes – Brined Pork Chop Recipe