Easy Meatball Sauce Recipe
Delicious and Easy Meatball Sauce Recipe
In this easy meatball sauce recipe I will show you how to cook meatballs in sauce to create a very delicious and easy meal that will make become one of your go to recipes.  This each meatball sauce recipe cooks the meatballs in a very tasty tomato sauce but you can substitute it for a range of other sauces.
Regularly in my house we set our meals based on the day of the week to make it easier to shop for ingredients and cut down on the annoying question of, what will we have for dinner today.
Meatball Monday is when I regularly get to come up and test out various recipes using meatballs that the family will love and enjoy.  From meatballs in tomato sauce to Indian meatballs in a rich curry the choice is endless and you can be as adventurous as you want.
My secret to cooking this perfect easy meatball sauce recipes is to brown the meatballs and finish cooking them in the sauce.  By browning the meatballs on a high heat and transferring into a sauce you not only create a moist meatball you add extra flavour to your sauce.  It also has the added advantage of cutting down on washing by using just one pot to cook the meatballs and sauce.
This easy meatball sauce recipe is a base recipe for meatballs that can be combined with various sauces to make a delicious family meal time and time again. Why not try it in a sub or a nice Swedish meatball recipe.  Be adventurous and turn this nutritious meal into something you will love and enjoy.
I hope you enjoy my easy meatballs sauce recipe and don't forget to check out my other recipes in my blog.
If you like this post don't forget to share it on social media or Pin it to Pinterest.
Easy Meatball Sauce Recipe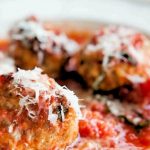 Meatballs in Tomato Sauce
Meatballs cooked in a easy but delicious tomato sauce.  This recipe creates a very tasty and moist meatball with a rich and flavoursome tomato sauce.

Keyword:
great meatball recipe, how to make meatballs, meatballs in sauce, meatballs in sauce recipe, meatballs in tomato sauce, meatballs recipe, tomato sauce recipe
Ingredients
Meatball Recipe
250

grams

Beef Mince

250

grams

Pork Mince

1/2

Large

Onion Finely Chopped

80

grams

Bread Crumbs

1

Medium

Egg

1

tbsp

Dry Mixed Herbs

2

Cloves

Garlic Minced

Salt & Black Pepper to season

2

tbsp

Oil Olive/Sunflower/Rapeseed
Tomato Sauce Recipe
2 x 400

gram

Tin of Chopped Tomatoes

1

tbsp

Tomato Puree

1/2

Large

Onion Diced

1

Red Pepper Diced

1

Clove

Garlic Minced

1

tbsp

Dry Oregano

200

ml

Beef Stock

Salt & Black Pepper to Season
Instructions
Heat a deep sided pan on medium to low heat and add 1 tbsp of oil then add the finely diced onions and sweat until translucent.  Sweating the onions brings out the sugar in them adding a rich dept of flavour.


While the onions are sweating in a large bowl add all the ingredients for the meatballs, seasoning generously then add in the sweated onions when done. Mix and fold all ingredient until everything is combined taking care that the onions are still hot.


What I normally do before shaping the meatballs is to place a sheet of baking parchment, cling wrap or tin foil out on the counter surface and lightly oil it.  I then lightly oil my hands and pinch a bit of meat off and shape by rolling around between my hands until they are the required shape and place them on the sheet.  I aim to get them to a rough golf ball or ping pong ball size. You can make them as big or small as you like you will just have to adjust the cooking time.


Once all the meatballs are shaped, wash your hands and clean up your area before reheating your deep sided pan/wok with a table spoon of oil on high heat.


Once the pan is hot lift all the sheet up with all the meatballs and transfer them in one go into the hot pan. This saves you having to transfer them by hand and having to wash your hands all over again.


Brown all the meatballs in the hot oil then transfer onto a plate with a bit of kitchen paper to remove excess oil. You are not cooking the meatballs through just looking to get a really nice brown color so hot oil and turn them when browned.


Reduce the heat and if you need to remove some of the oil from the pan leaving roughly a tbsp behind. Excess fat will have come out of the meatballs into the pan so you don't want too much oil left over.


Add in the chopped onions and sweat until translucent. Then add in your diced peppers and cook for a couple of minutes.


Add in the tomato puree, minced garlic and herbs and cook for a further 2 to 3 minutes to cook the garlic but also cook out the bitter taste of the tomato puree.


Add in the tinned tomatoes and stock,season, mix to combine and bring to a boil. Add the meatballs into your sauce and simmer and cook for 20 minutes.


Reduce the sauce to correct consistency and taste and adjust the seasoning if needed. Serve with a thick pasta that will hold the sauce such has tagliatelle or with spaghetti for a more traditional spaghetti and meatballs.


Top the meatballs with a nice mature grated cheddar or freshly grated parmesan cheese for a more authentic flavour.

Recipe Notes
Allergens: Contains Gluten, Egg