How to Make Traditional Irish Lamb Stew
Authentic Irish Lamb Stew Recipe
How to make traditional Irish Lamb Stew that is simple but packed full of flavour that your family will love and enjoy.
This Authentic Irish Lamb Stew is a great meal that is loved all across Ireland because it is simple, uses ingredients that is in season and you always feel good after eating a piping hot bowl.
For a complete list of all my Irish recipes, click the link to visit my article on Irish Recipes
Irish Lamb Stew Recipe
This Irish Lamb Stew recipe is pretty basic and sticks to tradition of using meat and vegetables that are in season and packed full of goodness.  Make sure if you have a local butcher available to you that you visit him and ask him for the right cut of meat.
It is important that you use lamb that is normally tough and needs a long time cooking to become tender.  For this Irish Lamb stew recipe I always use lamb neck or shoulder, lamb rump is also good too.  Make sure if you are getting it from your butcher you ask them to remove the bone for you if you are not able to do it yourself but get him to give you the bones to use for stock.
In this recipe I use lamb or beef stock but you can also put the bones into the stew to get all the flavour into your meal.
Cooking Lamb Stew
When cooking lamb stew it is important that you cook it over a couple of hours to make sure the meat becomes fork tender and to allow all the flavours to develop.
This is a very straight forward, one pot meal that you can just leave to simmer away and you will be glad you gave it all the time it needs to cook.  I always make sure I add the potatoes at the end of the cooking so that they don't fall apart in the stew.
I use flour in this recipe to slightly thicken it by coating the meat.  You can remove the flour if you like and add extra potato at the start of cooking which will fall apart and thicken your stew. This is also a very traditional Irish way of thickening soups and stews.
Make sure you season your stew to taste and serve this with a side of Irish Soda bread or freshly baked rolls with Irish creamy butter.
Enjoy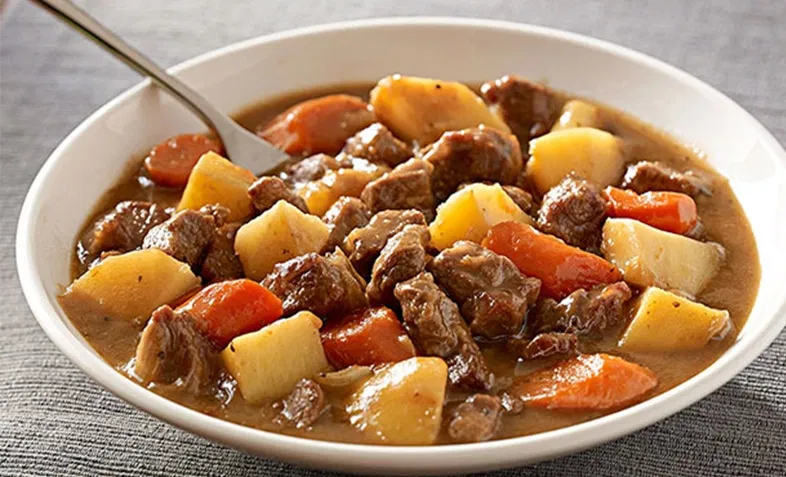 Traditional Irish Lamb Stew Recipe
Traditional Irish Lamb Stew Recipe packed full of flavour and very simple and easy to make. A one pot meal the family will love and enjoy.
Keyword:
how to make irish lamb stew, how to make irish lamb stew recipe, how to make traditional irish lamb stew, how to make traditional irish lamb stew recipe, irish lamb stew, irish lamb stew recipe
Ingredients
1

Kg

Diced Lamb

Preferabley Lamb Neck, Shoulder or Rump

1

Bouquet Garni

Parsley Stalks, 2 Sprigs of Thyme, 1 Bayleaf tied

3

larrge

White Onions, sliced

4

large

Carrots, cut into bite size pieces

1

small

Turnip/Swede Diced

4

Large

Potatoes, quartered

Place in bowl of cold water to stop browning

1

ltr

Beef or Lamb stock

3

tbsp

Plain Flour

4

tbsp

Oil

Rapeseed or any neutral oil

Salt & Pepper to season

Finely Chopped Parsley to garnish
Instructions
Place diced lamb in a bowl ans season with salt and pepper generously then dust with flour and mix to coat.

Heat a heavy based pot on high heat then add the oil, its important to get the oil really hot. You can add one cube of meat and if you hear a sizzle you know you have it hot enough. Brown the lamb in small batches to prevent stewing the meat. When all meat is brown set to one side. Browning the meat is very important. It adds lots of flavour and colour to the dish.

Reduce the heat and add all your vegetables, except the potatoes, into the pan and swet for 5 minutes stirring regulary. Season with salt and pepper. When the onions are translucent add all your meat back into the pot and give it all a good stir to mix.

Pour the stock into the pot until it covers all the meat and vegetables and drop your bouquet garni into the stock. Turn the heat up and bring to a boil.

Once brought to a boil reduce to the lowest heat and allow to simmer for 2 hours skimming any fat and scum that rises to the surface.

After 2 hours add in your potatoes and cook until tender.

Taste your stew and adjust the seasoning as needed. Before serving add in the finely chopped parsley and serve pipping hot with some Irish Soda bread on the side.