Irish Soda Farls Recipe
Traditional Irish Soda Farls Recipe Loved Across Ireland
This Irish Soda Farls Recipe is a quick and easy way to make great traditional Irish bread. Irish Soda Farls are great on their own but are fantastic when served with an Ulster Fry (bacon, sausage, fried eggs, black and white pudding and fried tomatoes).
It is easy to make and will give you a real taste of Irish cooking in your home.  I hope you try how to make soda farls to see for yourself.
For a complete list of all my Irish recipes, click the link to visit my article on Irish Recipes
Irish Soda Farls
Traditionally cooked on a cast Iron hot plate over an open fire these Irish Soda Farls are a great way of making a delicious bread on your stovetop.
This traditional Irish Soda Farls recipe uses basic ingredients such as flour, salt, baking soda and buttermilk to create a bread that has lightly risen and a unique taste.
Baking soda and buttermilk has been used in Irish cooking for generations as a raising agent for bread such as our traditional Irish Soda Bread, to Irish buttermilk Scones.  The buttermilk adds a slightly sour flavour while acting as an acid to get the baking soda to activate and do its magic.
How to Make Soda Farls
Below you will find a very easy-to-follow recipe that will teach you how to make soda farls in your own home.  It is a straightforward method and is excellent on the weekends, especially after a few pints the night before.
I hope you try this recipe and enjoy it.
If you enjoyed this recipe, why not try my Traditional Irish Lamb Stew Recipe that's easy and a taste of Ireland.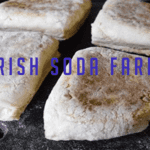 Irish Soda Farls Recipe
Traditional Irish Soda Farls – This traditional Irish Bread is great slathered with Creamy Irish Butter but is also a key part of the traditional Ulster Fry. Try it and you will fall in love with it too.

Keyword:
how to make irish soda farls, how to make soda farls, irish soda farls, irish soda farls recipe, what are soda farls
Ingredients
300

g

Plain White Flour

1 and 1/4

tsp

Baking Soda

250

ml

Buttermilk

Pinch of Salt
Instructions
Once ingredient are weighed out preheat a heavy bottomed pan on a medium to medium high heat.


Mix the flour, salt and baking soda together and make a well in the middle.


Working quickly mix in the buttermilk into the flour with your hand to make a soft dough.


Turn the dough out onto a light floured surface and shape the dough into a round flattening it so its about 1 1/2 cm high.


Place it into your preheated pan and score the top with a knife in a cross shape making 4 equal quarters.  There is no need to add oil to the pan but you can sprinkle a little flour to prevent sticking if you wish.


Turn over after approx 10 minutes and cook on the other side for another 10 minutes until the bread is nicely risen and is cooked through.


Once cooked remove from pan and break into 4 quarters and serve with your traditional ulster fry or on their own with Irish butter. Enjoy.

Recipe Notes
Allergens:  Contains Milk, Wheat (gluten)