Irish Buttermilk Scones Recipe
Great Tasting Traditional Irish Buttermilk Scones Recipe
Try my Irish buttermilk scones recipe today and you will be glad you did.
Irish buttermilk scones are a great treat had in many family homes across the country of Ireland.  Many homes and families have their own Irish buttermilk scones recipe that they pass down and for a very good reason. 
Often in Ireland families would serve warm freshly baked Irish Scones slathered with butter, strawberry jam (jelly for our American cousins) and topped with fresh cream.  No Irish buttermilk scone would be complete without a nice cup of tea to wash it all down.
It is often hard to find a really good scones made with buttermilk recipe that are nice, light, full of flavour and don't leave a bad taste from using too much soda. 
My Irish buttermilk scones recipe has been tried and tested to insure you will get the best buttermilk scone every time.  With a little few tips and a bit of practice you too can make Irish buttermilk scones like many nan's across the country used to make.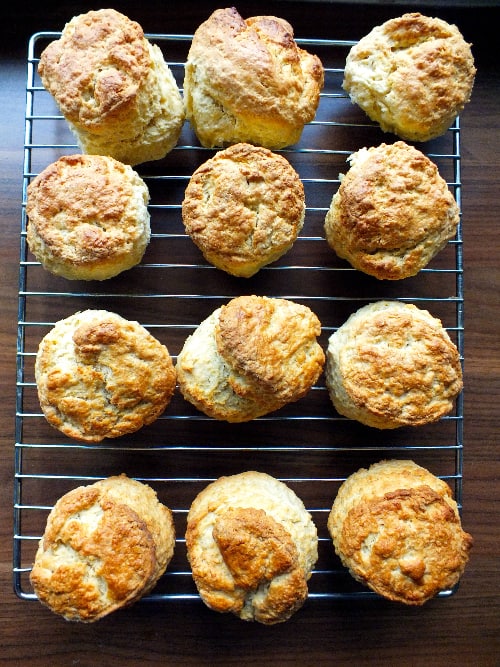 How to Make Perfect Irish Buttermilk Scones
The best tip to make the best Irish Buttermilk scones is to use your hands.  Yes, forget the machine, get a big bowl, add your dry ingredients then work that butter into the flour before mixing in the liquid, with your hands.  Just make sure to wash them before hand.
By using your hands you first of all get to enjoy the feel, smells and texture of the mixture.  Second, using your hands you learn if you have enough butter, if you have rubbed the butter in enough and also, if you have enough liquid in the dough. 
After a little practice making this Irish Buttermilk scones recipe you will learn by feel and touch if the scones are right.
The secret to getting buttermilk scones that turn out nice and light is to not over work the mixture.
When rubbing in the flour with your hands pinch some of the flour and butter,  then lifting your hands above the bowl, rub the flour and butter together between your thumb and fingers.
Keeping your hands above the bowl ensures you keep air in the flour and it does not clump up. Even after rubbing I like to grab the flour a few times and lift it into the air and let it fall back down into the bowl.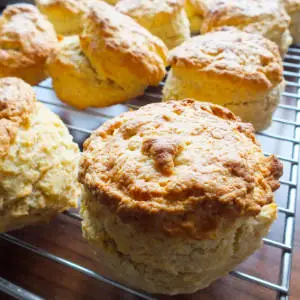 Next secret, don't over knead the dough.  The dough should not be too wet or sticky but should be slightly moist to touch.  When you empty your bowl out onto a work surface just work the dough enough to bring all the flour together.  
We are not aiming for a smooth dough like if we were making bread. We want the dough to just hold together before we shape it or cut it.
Follow these steps and you will make the best tasting Irish buttermilk scones every time.
If you enjoyed this Irish Buttermilk Scones Recipe why not try my Grandmothers Apple Tart Recipe too.
Irish Buttermilk Scones Recipe
Traditional Irish Buttermilk Scones Recipe that is great heaped with Irish Butter, jam and fresh whipped cream.

Keyword:
buttermilk scones recipe, fresh scones, how to make irish buttermilk scone, how to make irish scone, how to make scone, Irish buttermilk scone recipe, irish scones, irish scones recipe, scones with cream, scones with jam, scones with jam and cream
Ingredients
900

g

Self Raising Flour

32 ounces

2

tsp

Baking Powder

225

g

Unsalted Butter Room temp diced

8 ounces

130

g

Caster Sugar

4.5 ounces

450

ml

Buttermilk

16 ounces

Pinch of Salt

Egg Wash or Extra Buttermilk to glaise
Instructions
Preheat your oven to 190°C 375°F Gas Mark 5


In a large bowl add the dry ingredients and butter


Rub the butter into the flour ensuring you lift the flour above the bowl when rubbing to keep the air in the flour.  If the butter was not at room temp then grate the butter into the flour before rubbing in.


Keep rubbing until the flour looks like breadcrumbs ( I always enjoy the smell of the butter and flour during this stage)


Make a well in the center of the mixture and add two thirds of the buttermilk. Use your hand or if you like a fork to bring all the mixture together.  Add the remaining buttermilk if needed. 


If you use your hands you will will learn if the mixture needs more liquid or less.  Depending on times of the year and moisture in the air you may often need more or less liquid.  The mixture should not be sticky but just damp to touch.


Turn out the mixture onto a flour work surface and bring it together. Do not knead the mixture just work it about so it all comes together.


Use a rolling pin to roll out the dough until it's 1 inch thickness.  I normally just flatten it out with my hands keeping it a uniform height.


Use a 3 inch floured pastry cutter or a sharp knife and cut into desired shapes. Place onto a lightly flour baking tray and brush the tops with egg wash or extra buttermilk. This recipe should give you between 10 and 12 large scones


Bake for approx 20 to 25 minutes until golden brown then remove and let rest for a few minutes on a cooling rack.


Enjoy these scones with some Irish butter, strawberry jam and fresh cream.  Don't forget a cup of tea. Enjoy.

Recipe Notes
Allergins: Gluten, Milk
If you like fruit scones you can add 75g of raisins and 75 grams of sultanas after rubbing the butter in.
This recipe make 10 to 12 large scone.  If you like you can half the recipe or just freeze some for another day.
Recommended Recipe Book of the Month:
Click To Purchase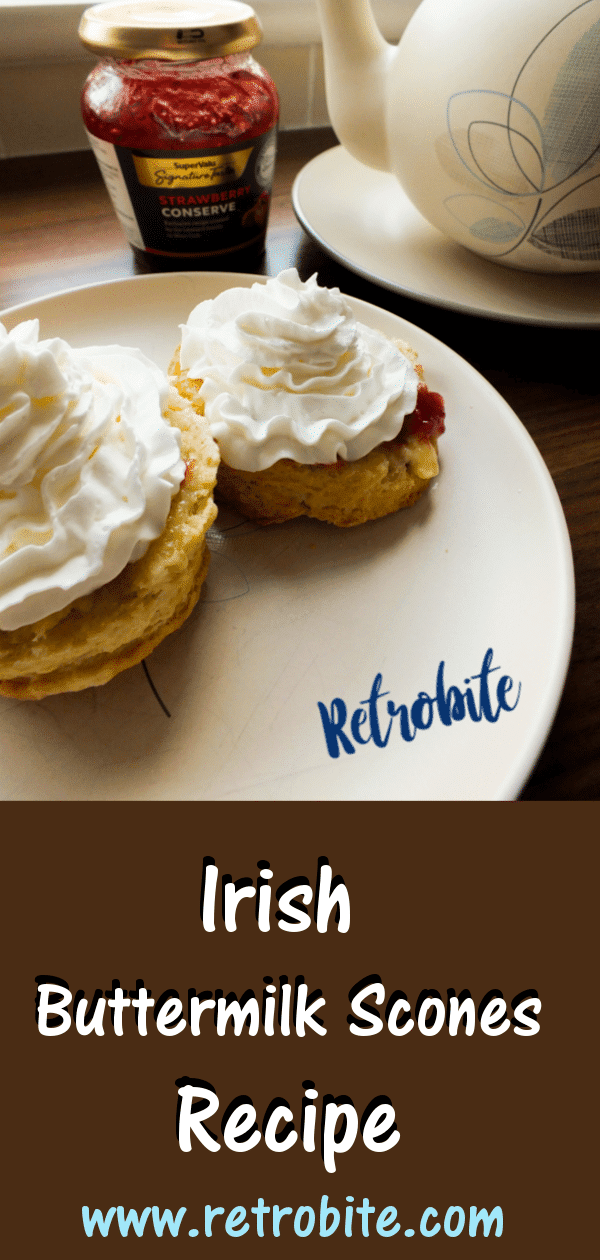 Irish Buttermilk Scones Recipe