Traditional Irish Colcannon Recipe
Traditional Irish Colcannon Recipe – Traditional Irish Comfort Food At Its Best
I love making this traditional Irish colcannon recipe for dinner for my family.  Made using potatoes, green cabbage, butter and milk this is a great meal in itself, this is traditional Irish food at its best.
For a complete list of all my Irish recipes, click the link to visit my article on Irish Recipes
What is Colcannon?
Colcannon is a traditional Irish recipe that typically includes mashed potatoes, kale or cabbage, and butter. Some variations of the dish also include onions, leeks, cream, and other seasonings.
While colcannon can be enjoyed any time of year, it is particularly popular during the autumn and winter months. The dish is said to have originated in the 17th century, and there are many regional variations of the recipe.
Whether you're looking for a simple side dish or a hearty main course, colcannon is sure to please.
Irish Colcannon Recipe.
Irish Colcannon is best served on a cold Winter's night, this Irish Colcannon recipe is comfort food at its best and will warm your soul while tasting every bit as good as you think.
Colcannon comes from the Irish word cál ceannann which mean "white-headed cabbage" and was traditional served on Halloween in Ireland.  Charms would often be hidden inside the potato and when found would signify your future, or so they say.  A plain gold ring would signify you were to wed within a year,  a sixpence or coin denotes wealth, a thimble a spinster and a button would mean you would be a bachelor.
This traditional Irish Colconannon Recipe is great on its own but also goes really well served with roast lamb or beef.  It is a heart warming meal that all the family will love and enjoy time and time again.
Served with some melted butter in a hollow in the middle of the mash this was an extremely tasty and warming meal loved by many families throughout Ireland. 
Why not try out my Irish Colcannon recipe and enjoy a taste of traditional Irish food for yourself.
If you liked this why not try this delicious Irish Champ Recipe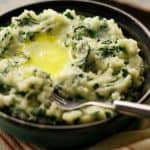 Traditional Irish Colcannon Recipe
Traditional Irish Colcannon Recipe made using potatoes, green cabbage, butter and milk.  This is a great tasting Irish comfort food.

Keyword:
how to make colcannon, potatoes and cabbage, traditional irish colcannon recipe
Ingredients
2

kg

Floury Potatoes, peeled and cut into chunks

1

Head of Green Cabbage, sliced thinly

250

ml

Whole Milk

125

g

Salted Butter

Salt and Pepper
Instructions
Boil or steam the potatoes for 20 to 25 minutes until fully cooked.


In a pot bring water to a boil and add some salt. Once boiled add the thinly sliced cabbage and simmer for 4 to 5 minutes until wilted and soft.


Drain the cabbage well squeezing to remove as much water as possible. Return to the pot and add a third of the butter mix to coat.  Put a lid on the pot to keep the cabbage warm.


Once the potatoes are cooked strain off the water and return to the pot and heat to remove as much moisture from the potatoes as possible.

Warm the milk slightly then add to the potato and mix to combine. Season to taste with salt and pepper.


Add in the cabbage to the mash and mix well. Test again for seasoning.


Serve heaped on a plate with a hollow in the middle.  Melt the remaining butter and pour into the hollow of each portion of colcannon.