Roastie Restaurant Midleton
Cuisine: European (Specials – Italian, Asian, Mexican, French, Greek)
Restaurant Type: Family & Friends
Cost: €20+
Value: Huge portions, so excellent value. Go hungry.
Recommendations: If you like a challenge, their Devil Burger. Pan Fried Prawns are amazing.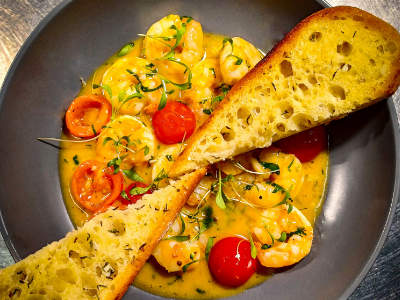 Roastie Midleton
Roastie Restaurant Midleton opened its doors to the public in 2019. It is a family restaurant run by owners Andrew and Martin, with Andrew's brother Jack creating some of Midleton's best dishes. It was one of my recommended Restaurants on my Things to do in Midleton List.
Roastie Midleton, or as locals often call it, Roasties Midleton, has a stylish yet comfortable decor. From the first day of opening, people have been amazed at how open, airy and comfortable the restaurant is.
The walls of Roasties are decorated with beautiful black and white images of locations all over Midleton, which gain massive attention from locals as memories of the past greet them on arrival.
The restaurant is divided into two main areas on entering. To the right, you have tables set up for 2 to 4 people (Roasties staff can often be seen grabbing tables from other areas to accommodate more; they are excellent for that). Then, down to the left, you have a room often used to accommodate larger and smaller parties. This room can be booked for family events and can accommodate up to 20 people.
Andrew and his staff are always on hand as you enter to be greeted and seated. It is always recommended that you book in advance or if you can't, give them a ring to see what tables they have. Roasties Midleton is renowned for finding tables for people even when fully booked, so don't worry; if they can fit you in, they will.
Since opening, Roastie Midleton has probably been one of the only restaurants in Midleton town that has held onto their original staff, which really says a lot over the last few years. On most days but especially the weekends, you will be served by the two best front-of-house staff in Cork, Nicola and Sinead, the dynamic duo.
Nicola and Sinead have been with Roastie Midleton since day one, and everyone will agree that Roastie would not be the restaurant it is without their hard work in front of house. With the leadership of Andrew and the passion for service that the team has, Roastie Midleton really excels when it comes to delivering top-class customer service.
Roasties Menu
I have saved the best to last, Roastie Midletons Menu. Roasties Menu is designed to showcase the best Midleton has to offer. Their menu uses local ingredients where possible and has been tailored over the years to give the customers what they want.
When you arrive at Roasties Midleton, you will be seated and given two menus, their set menu and the specials. Their set menu offers some of the best burgers in Cork, and this is not just me saying this. In 2022 Roastie won the Best Restaurant Burger in Ireland competition in the National Burgers Competitions beating off some tough competition.
You won't get a better option for a burger in Midleton than Roastie. They were one of the first Restaurants in Midleton to create gourmet burgers that were on a whole other level than anything else in East Cork. They started off with their signature Black Burger, Yes, it comes in a black bun. They use burgers created for them by their local butchers O'Farrells Butchers on the main street which are juicy and packed full of flavour.
Their burger menu then expanded to include their classic Duck burger, and then they added more to their menu, such as Chicken, Pulled Pork, Ballycotton Fish, Vegan Burgers and Vegetarian. Last but by no means least, they added their two mind-blowing burgers, their Spicy Chicken burger and their head-exploding Devil Burger.
If you love spice and flavour, then the Devil Burger has been designed for you. Made using their signature black bun and O'Farrells burger, Roastie has created a harissa sauce that hits every spice gland in your mouth. You feel it on the tip of your tongue, the back of your throat and your lips. The heat is immense, but you get tonnes of flavour with this heat. You can see the Head Chef's expertise level at Roastie. It's easy to create a really spicy sauce, but it takes years of talent to create a spicy sauce that packs tonnes of flavour. This is a must-try burger for all you heat lovers.
Besides their amazing burgers on their main menu, you have terrific options such as their Ballycotton Fish and Chips, which is coated in Panko breadcrumb instead of batter. It's lovely and light, and the breadcrumb allows the flavour of the local fish to shine. Combined with their own homemade tartar sauce, it's sublime.
Roastie Midleton makes all their own sauces in-house, from their tartar to their famous garlic mayo. I would highly suggest trying their garlic mayo on the side (don't tell them I said this; it's like a secret menu item; ask them for their garlic and cheese fries; trust me, you won't regret it).
Their salads are next level, and I don't often say that about salads; after all, it's mainly leaves, right? Not at Roastie Midleton. The Caesar salad, you could honestly feed two people with it. Made using their very own Caesar dressing mixed with baby gem lettuce, pan-fried chicken and crispy bacon topped with garlic and herb croutons and crispy onion. It's next level when it comes to salad.
Their kid's menu uses all fresh ingredients from chicken gougons breaded in panko breadcrumb to their kid's burgers, again sourced from their local butcher. You won't be getting anything frozen for the kids at Roasties; they really pride themselves on quality.
Roastie also has a fantastic rotisserie oven, which you can see upon entering the restaurant. From this, you can order half-roast chicken sourced from East Ferry Farm, just a 15-minute drive from Midleton. If the chicken doesn't catch your fancy, they have half Roast duck, which is an Asian influence and will honestly compete with any roast duck the best Chinese in Cork can produce.
Their specials Menu, where do I even start? Back during Lockdown, Roastie decided to create a specials menu themed around creating dishes from countries around the world. The idea was if people couldn't leave Ireland to go on holiday, then Roastie would bring the food to the people. It was with this idea that their themed specials were created.
Each week, Roastie Restaurant creates a specials menu themed around destinations worldwide. One week you could have several specials from Greece and the next from Mexico. Classic recipes such as Greek Giro to Fish tacos have wowed everyone who visits and has become what Roastie is best known for.
Their specials menu each week can be extensive, from 10 to 20 different options, and shows the level of food and quality of Roastie Midleton.
Their Head Chef, Jack, without a doubt, is an exceptional talent, and you can see the level of passion he has for creating the best dish possible for his customers to enjoy. Chef Jack's extensive knowledge of cuisines worldwide has allowed Roastie to stand out from every other restaurant in Midleton and in Cork. There is no other restaurant that I have found that can deliver the consistent level of food and service that Roastie has become renowned for. This all comes from the passion and commitment of each team member to deliver the best food and service to all their customers.
Roastie has one goal they want to achieve: customers to leave happy and full. I can guarantee you that they have overachieved on this commitment, and once you visit, you will understand what I mean.