Restaurant Type:

Couples, Special Occasions

Value:

High-quality food, it's fine dining but more relaxed

Recommendations: The

Jameson Marinated Feather blade is exceptional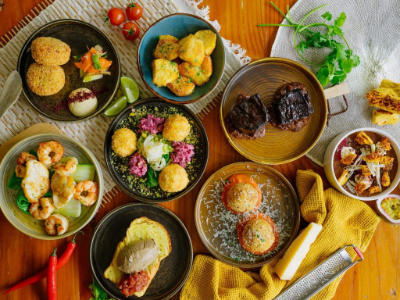 Ferrit and Lee Restaurant Midleton
The Ferrit and Lee Restaurant Midleton, formerly known as Raymonds, has been serving the people of Midleton for many years and is one of the restaurants on my things to do in Midleton list. Taken over by the head Chef Stephen Lee and Chef Pat Ferriter in 2017, they both set out to re-design the restaurant and bring Modern Irish Cuisine to the fore.
Ferrit and Lee restaurant's current menu sets out to show off the best of Local Irish produce, from cheese to meat and fish. They aim to create modern Irish dishes that pay tribute to the local Irish fishmonger, butcher and cheesemaker. Ferrit and Lee's seasonal ingredients ensure you always taste the best of ingredients with each meal.
Both Chefs, Stephen and Pat, are local to the area and have both trained under the Bayviews Award-winning Chef Ciaran Scully. I was also fortunate to train under Ciaran Scully while in Culinary College. Chef Scully is a fierce-looking man with many years of skills, talent, and a fantastic passion for Irish Cuisine. You can see his influence in many of the dishes created at Ferrit and Lee Restaurant.
Located on the doorstep of the Jameson Distillery, the Ferrit and Lee Restaurant holds a prime location for visitors to Midleton Town. As both Chefs Stephen and Pat are local to the area, they take the responsibility of being the first port of call for holidaymakers visiting the distillery very seriously. Their menu highlights and elevates Irish cuisine and ensures all guests are treated to exceptional seasonal food.
Ferrit and Lee Menu
The Ferrit and Lee Restaurant Midleton offer a fantastic lunch and dinner menu that showcases the best of Irish local ingredients. For starters, their Ballycotton seafood chowder or Ardsallagh goats cheese and sundried tomato bon bons show their style in taking traditional dishes and putting a modern twist into them.
For mains, you will usually find a slow braised dish or two using seasonal ingredients such as their Jameson Marinated Fetherblade with seasonal vegetables or their slow-cooked shoulder of lamb. What you will notice with each dish is the range of vegetables and locally sourced ingredients they use. Everything is carefully selected and balanced to make the dish appealing to the eye and allow each element to stand out on its own. You can really taste each element of the dish and everything compliments the hero element on the plate.
Ferrit and Lee Restaurant has a fantastic selection of beers, wines and spirits along with its seasonal lunch and dinner menu. Being so close to the Jameson Brewery, you would expect them to have a fine selection of Whiskey. They have a beautiful Midleton rare but my favourite is a lovely 12-year-old Red Breast, a perfect way to round off a rich and flavourful meal.
Ferrit and Lee Restaurant Midleton is the restaurant I would always recommend for couples looking to celebrate a special evening for two in a cosy environment. The menu and decor of Ferrit and Lee will always leave a happy taste in your mouth and create memories that will last.