Look at the Restaurants Midleton offers, and you will find a selection of some of the best restaurants in Cork. Located 15 minutes drive from Cork City, Midleton has become known far and wide as the place to go for the best local food in Cork.
The Restaurants in Midleton are fortunate to have a fantastic selection of local food suppliers on their doorstep. This is partially why people flock to Midleton to taste the best of local Irish Cuisine. On the main street alone, you have Ballycotton Seafood, which supplies most of the Midleton Restaurants with freshly caught seafood straight from the docks in Ballycotton. Midleton also has several award-winning family butchers that carry on the deep farming traditions within Midleton town.
Blessed with some of the best farmland in East Cork, all of the Best Restaurants in Midleton demonstrate how important it is to source the best of ingredients locally.
List of Restaurants in Midleton
Roastie Restaurant Midleton – Cuisine: European & World Cuisine. Perfect for couples and families.
Ferrit and Lee Midleton – Cuisine: Modern Irish. Perfect for couples and special occasions.
Sage Restaurant Midleton – Cuisine: European with a twist. Perfect for special occasions.
Farmgate Restaurant Midleton – Cuisine: Irish Cuisine. Perfect for couples.
Salinas Bistro Midleton – Cuisine: Blend of Middle Eastern & European. Casual Dining
The Black Barrel Gastro Bar – Cuisine: Modern European. Couples, casual dining
Leonardos Bistro Midleton – Cuisine: Italian. Couples, casual dining.
Pan Cafe & Restaurant – Cuisine: Modern European. Perfect for breakfast and lunch.
La Trattoria Restaurant – Cuisine Italian/Eurpean. Casual dining for families and groups.
Pizza Ria San Marco – Cuisine: Traditional Italian. Casual for couples and groups.
Mill Wheel Bar and Bistro – Cuisine Irish/European. Cosy casual dining.
Restaurants in Midleton
Here, I will give you a list of some of the best restaurants in Midleton. I will give you some brief information on the food they create and highlight the chefs who deliver some of the best food in East Cork.
Roastie Restaurant Midleton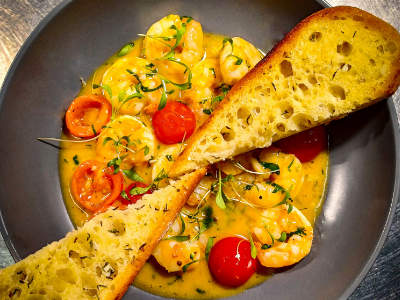 Roastie Restaurant in Midleton is a family-run business serving European and International Cuisine. They are the main restaurant in Midleton for award-winning gourmet burgers and host some of the most extensive specials menu anywhere in Cork.
Their Head Chef, Jacek (Jack) Faltyn, is a Polish chef and brother of the owner Andrzej (Andrew). Chef Jack has gained impressive experience working in some of the best restaurants and hotels across Ireland and Poland. Chef Jack was the Corporate Executive Chef for the Dobry Hotel Group and has previously worked in the five-star Merrion hotel in Ireland. Chef Jack also spent many years working on luxury Cruise ships, gaining extensive knowledge of world cuisine. For Chef Jack, cooking is his passion; he wants to share it with all his guests who visit Roastie Midleton. With an emphasis on taste and presentation, Chef Jack has created a menu and a reputation in Midleton and beyond for world-class food in a small town in Cork.
Please read my full review of Roastie Restaurant Midleton.
Ferrit and Lee Restaurant Midleton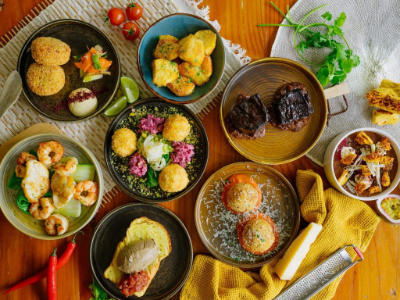 The Ferrit and Lee Restaurant location just off the entrance into the Jameson Distillery has always been a popular restaurant in Midleton. Formerly known as Raymonds, then taken over by Head Chef Stephen Lee and Chef Pat Ferriter.
Ferrit and Lee Restaurant create excellent seasonal modern Irish dishes that emphasise the quality of locally produced vegetables, meat and fish. Sourcing ingredients from the East Cork area, the Chefs at Ferrit and Lee have created a menu of the highest quality delivered in a relaxed environment.
Both Chefs, Stephen and Pat, are local to the area and have gained vast knowledge working in the industry in Ireland and abroad. Both Chefs have trained under award-winning Chef Kieran Scully of the Bayview Hotel.
Chef Stephen has gained valuable knowledge and experience working in Restaurants and Hotels in Ireland, such as Jacobs on the Mall in Cork City and the Kingsley Hotel. Chef Pat has worked in numerous hotels in Australia before returning home to work alongside Head Chef Stephen in Raymonds in Midleton.
Ferrit and Lee have built on the reputation of the former restaurant, Raymonds, by modernising their menu and creating a restaurant that is one of the top 3 destination restaurants in Midleton Town.
Please read my full review of Ferrit and Lee Restaurant Midleton.
Sage Restaurant Midleton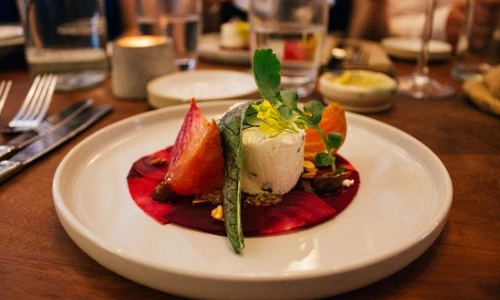 Sage Restaurant in Midleton describes itself as a "casual, creative Irish neighbourhood restaurant". Once renowned for fine dining, Sage restaurant has redefined itself over the last few years to recreate something new and unique in Midleton.
Sage Midleton is counted as the main restaurant, which put Midleton on the map as a food destination with the passion and enthusiasm of the former head chef/owner, Chef Kevin Ahearn.
Sage Restaurant Midleton has tried to move from fine dining to a more casual, funky neighbourhood restaurant flare. Many of the dishes on their menu are unique and inspiring and highlight the evolution of Sage Restaurant to what it is today. Diners will be treated to a different dining experience that sings out loud: this is Sage Restaurant Midleton.
The former Head Chef/Owner could be classed as a funky rock star college dropout chef who would wear that honour with pride. Dropping out of culinary college and heading off to travel abroad, Chef Kevin returned with a passion to create an exceptional dining destination in Midleton. Chef Kevin created the foundation Sage and became renowned for sourcing all ingredients within a 12-mile radius. Over the years, the restaurant grew from strength to strength and is consistently evolving to meet modern demand.
New Head Chef Darren Kennedy has been an exciting addition to Sage Restaurant since October 2021. Chef Darren is a local Cork Man who has gained previous experience working at Chez Bruce, a one-star Michelin Restaurant in London. On returning to Ireland, Chef Darren took over as head Chef in one of Kinsale's cosiest little restaurants, St Francis Provisions, which holds a Bib Gourmand distinction with the Michelin Guide. It will be interesting to see what Chef Darren brings to Sage over the next few years, but we can tell it will be delicious and unique.
Farmgate Restaurant Midleton
Farmgate Restaurant is a charming culinary establishment in Midleton town's heart. Renowned for its commitment to locally sourced and seasonal ingredients, Farmgate offers a unique and authentic dining experience that celebrates the rich flavours of the region. The restaurant's warm and welcoming ambience reflects its close ties to the local community and agricultural heritage.
Farmgate Restaurant specializes in contemporary Irish cuisine, rooted in traditional flavours while embracing modern culinary techniques. Their menu showcases diverse dishes, often featuring fresh seafood caught off the nearby coastline, locally sourced meats, and a bounty of organic vegetables. With a strong emphasis on sustainability and ethical practices, Farmgate's dishes not only tantalize the taste buds but also support local producers and farmers.
Whether you're seeking a hearty breakfast, a leisurely lunch, or an elegant dinner, Farmgate offers a thoughtfully curated menu that captures the essence of the Cork region. The restaurant's commitment to quality ingredients and creative preparation ensures that each visit is a memorable culinary journey through the flavours and traditions of Midleton and its surroundings.
Salinas Bistro Midleton
Salino's Bistro, located in the heart of Midleton, a hidden gem that delights diners with its vibrant and inviting atmosphere. This cosy bistro is known for its exceptional fusion of Mediterranean and Middle Eastern flavours, creating a unique and unforgettable dining experience.
Salino's Bistro's cuisine is a harmonious blend of fresh ingredients, aromatic spices, and traditional recipes. The menu reflects a commitment to using locally sourced produce whenever possible, ensuring every dish bursts with flavour and authenticity. From sumptuous mezze platters featuring hummus, falafel, and stuffed grape leaves to succulent kebabs and aromatic tagines. Salinas bistro offers diverse dishes showcasing the rich culinary heritage of Mediterranean and Middle Eastern cultures.
The bistro's warm and welcoming ambience, combined with the skilful execution of flavours, makes Salino's a favourite among locals and visitors alike. Whether indulging in a leisurely lunch or savouring an evening meal, the menu's careful balance of flavours and textures guarantees a delightful gastronomic journey. Salino's Bistro stands as a testament to the art of blending culinary traditions to create a truly memorable dining experience in the heart of Midleton.
The Black Barrel Gastro Bar
The Black Barrel Restaurant, formerly known as Finins, is located on Main street and captures the essence of Irish cuisine with a modern twist. This restaurant boasts a unique blend of elegance and comfort, creating an inviting space where diners can indulge in a memorable gastronomic experience.
The menu at The Black Barrel Restaurant is a celebration of locally sourced ingredients and inventive culinary techniques. With a focus on showcasing the region's flavours, the dishes are carefully crafted to highlight the beauty of simplicity and complexity in equal measure. From succulent meats and fresh seafood to vibrant vegetarian options, the menu caters to diverse tastes.
The restaurant's commitment to quality and innovation is reflected in its name, which pays homage to the rich history of whiskey-making in the area. This connection to tradition is mirrored in the ambience, where a blend of contemporary design and rustic charm creates a warm and welcoming setting for diners.
Their most recent head chef, Timmy Warne, formerly the Sous Chef at Ferrit and Lee has now taken over the helm and is looking forward to challenge of producing excellent food at the newly named restaurant.
Leonardos Bistro Midleton
Leonardos Bistro Midleton is located right in the Middle of Midleton's Main street, with access to the restaurant down the side lane off the main street. Serving a range of Italian classic recipes combined with more modern European dishes.
Space is limited in this restaurant, perfect for those who wish not to be seated in a fully packed restaurant. Leonardo's is a firm favourite with many Midleton locals, and you can most often easily find a table at short notice.
Pan Cafe and Restaurant
Pan Cafe and Restaurant, located along the main street of Midleton, is a delightful cafe-come restaurant that offers a blend of flavours and an inviting atmosphere. With a focus on comfort and creativity, Pan Cafe and Restaurant has become a beloved spot for locals and visitors seeking a diverse and satisfying dining experience.
The establishment's cuisine is a harmonious fusion of global inspirations, resulting in a menu that caters to a wide range of tastes. From hearty breakfast options featuring perfectly cooked eggs and artisanal bread to flavorful lunch and dinner choices that span various culinary traditions, Pan Cafe and Restaurant truly offers something for everyone.
The kitchen team at Pan Cafe and Restaurant takes pride in crafting dishes that showcase their culinary expertise and passion for quality ingredients. You can expect to find gourmet sandwiches and wraps, flavorful salads brimming with fresh produce, and enticing main courses that highlight seafood and meats.
La Trattorria Restaurant Midleton
La Trattoria, nestled in the heart of Midleton, Cork, is a little gem that transports diners to the heart of Italy with its authentic flavours and inviting ambience. Focusing on traditional homecooked Italian cuisine, this restaurant has established itself as a haven for those seeking a genuine taste of Italy in the heart of Ireland.
The cuisine at La Trattoria is a celebration of Italy's rich and diverse culinary traditions. From the moment you step inside, you're greeted by the warm and friendly atmosphere. The menu boasts a range of classic dishes, from perfectly cooked pasta varieties like linguine, tagliatelle, and homemade lasagna to hearty meat and seafood options that capture the essence of Italian home cooking.
La Trattoria is excellent for families who want to sit and relax and have some good home-cooked food with a bit of Italian style. Kids can choose freshly made pizzas to spaghetti bolognese. Lynda, one of the owners, is often there with a welcoming smile to greet guests as they enjoy their meal.
Pizzaria San Marco
Pizzeria San Marco, located on Main Street in Midleton, Cork, is a haven for pizza enthusiasts and lovers of authentic Italian flavours. This charming pizzeria captures the essence of Italy through its delectable offerings and inviting atmosphere.
At Pizzeria San Marco, the focus is squarely on crafting traditional Neapolitan-style pizzas that transport diners to the streets of Naples. The pizza dough is lovingly prepared using time-honoured methods, resulting in a thin, crispy, satisfying, and flavorful crust. Topped with the finest ingredients, including locally sourced produce and premium imported Italian cheeses, each pizza embodies the perfect balance of textures and tastes.
The menu at Pizzeria San Marco features an array of pizza options to cater to various preferences. From classic Margherita adorned with fresh basil and buffalo mozzarella to creative combinations featuring cured meats, roasted vegetables, and aromatic herbs, there's a pizza for every palate.
Beyond pizzas, Pizzeria San Marco also offers a selection of Italian-inspired appetizers, salads, and desserts to complete the dining experience. The restaurant's commitment to using quality ingredients shines through in every dish, promising a memorable and satisfying culinary journey.
The Mill Wheel Bar and Bistro
The Mill Wheel Bar and Bistro, located a short distance from the Main Street of Midleton, exudes a warm and inviting ambience that draws in locals and visitors alike. Nestled in a charming setting, this establishment offers a unique blend of a traditional Irish pub and a modern bistro, creating a versatile space for various dining experiences.
The bistro's menu is a delightful fusion of classic and contemporary flavours, catering to various tastes. From hearty pub classics like perfectly battered fish and chips to more refined dishes incorporating local produce and global influences, The Mill Wheel Bar and Bistro strives to offer something for every palate.