Christmas Markets in Cork 2023
Things to do in Cork This Christmas
'Tis the season to be merry; if you are looking for things to do in Cork this Christmas, then what better place to experience the festive spirit than in the charming city of Cork, Ireland? As the holiday lights twinkle, the air fills with the scent of mulled wine and roasted chestnuts, and the city comes alive with the season's joy. Cork's vibrant streets and warm-hearted people shine during Christmas, making it the perfect destination to celebrate with family and friends.
In this comprehensive guide of things to do in Cork this Christmas, we'll walk you through the enchanting world of Christmas Markets in Cork. I will offer a curated selection of activities, events, and experiences to help you make the most of this beautiful time of year. Whether you're a resident or a visitor planning a memorable Christmas getaway, Cork has something special for everyone.
From enchanting markets to dazzling lights, from seasonal flavours to captivating shows, we'll uncover the city's most delightful offerings and provide insider tips on creating unforgettable memories. So, please grab a cup of hot chocolate, cosy up by the fire, and embark on a journey through Cork's festive wonderland during the holiday season.
In this blog, we invite you to explore the magic, joy, and heartwarming moments that make Cork the perfect destination to celebrate Christmas. Let's unwrap our list of Things to do in Cork this Christmas and the magic Cork Christmas Markets has to offer!
If you are looking for something to eat this Christmas, check out my Marina Market Guide, or for something a little budget-friendly in Cork City, Read my article on Best Cheap Restaurants in Cork.
Things To Do in Cork This Christmas
Marina Market Cork City: Santa's Magical Market Experience 2023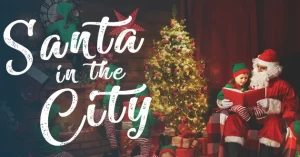 Location: Marina Market, Centre Park Rd, Cork
Dates: Nov 25th – Dec 23rd 2023
Ticket Prices:

Adult: €12
Baby (0-23 months) with gift: €15 No Gift €10
Child (23 months+) with gift: €22.50 No Gift €15

Additional Costs:

Treat From Ms Claus: €2
Bring a dog: €10
1 Printed Photo: €15 

Bookings: Marina Market Website
Santas Magical Market at the Marina Market 2023
Cork City Marina is once again set to be the epicentre of enchantment and festive joy as it welcomes back the Santa Magical Market for the 2023 Christmas season. With many delightful activities and heartwarming experiences, this year's market promises to be a magical winter wonderland for families and visitors of all ages.
All Aboard the Polar Express!
One of the highlights of this year's Santa Magical Market is the enchanting Polar Express. This full-sized train whisks you away into a magical Christmas village. Climb aboard and journey through a captivating woodland area where children can spot woodland creatures and count them as they go. Breathe in the crisp scent of pine trees and immerse yourself in the proper Christmas feeling.
Toy-Making with Santa's Elves
The holiday magic continues with a visit to the Elf Toy Workshop. Here, children can meet Santa's trusty elves and lend a hand in crafting and creating toys for all the boys and girls on Santa's nice list. It's an opportunity for kids to be a part of the magic that brings smiles to children's faces on Christmas morning.
The Christmas Village
Explore the charming Christmas Village, where Ms Claus' bakery will tickle your taste buds with delightful treats, and the South Pole Post Office offers the chance to send your letters to Santa himself. You can make festive treats and send your heartfelt wishes to the North Pole.
Journey to Santa's Grotto
The Christmas experience is only complete with a visit to Santa's Grotto. Step inside his cosy house, share your wishes and capture an unforgettable memory with a photo alongside the big man himself. Santa's Grotto is a place where dreams come true, and the spirit of the season is alive and well.
The 2023 Santa Magical Market at Cork City Marina promises to be a truly magical experience that encapsulates the wonder and joy of the holiday season. From train rides on the Polar Express to encounters with Santa's elves, the Christmas Village's tasty treats, and, of course, meeting Santa in his Grotto, this event is the perfect way to create cherished memories with family and friends. Take the chance to immerse yourself in the magic of Christmas at this unforgettable market in Cork City Marina.
Marina Market on Ice 2023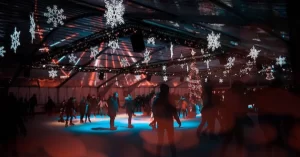 Location: Marina Market, Centre Park Rd, Cork
Dates: December 22nd – January 7th
Prices per Session:

Children: €16
Adults: €18
Family of 3:€45
Family of 4: €56

Booking: Marina Market on Ice Website
Glide into Festive Bliss at Marina Market On Ice
Regarding festive fun during the holiday season, Cork's Marina Market On Ice is the newest and coolest (no pun intended) addition to the city's winter wonderland. If you're looking for a magical experience that combines the thrill of ice skating with the charm of a Christmas market, this is the place to be.
A Chilly Delight in a Festive Setting
Marina Market On Ice makes its debut this ice season, and it's set against the charming backdrop of the Marina Markets. The setting alone promises to transport you to a winter wonderland with holiday cheer. Imagine gliding gracefully on the ice under the open sky, surrounded by the bustling stalls of the Christmas market. It's an experience that encapsulates the very essence of the holiday season.
Cork's Newest Ice Skating Experience
Whether you're a seasoned skater or your first time on the ice, Marina Market On Ice welcomes everyone. This ice rink is set up at the far end of the Marina Market in Cork City, conveniently located next to Leahy's Open Farm Ice Cream. So, after a delightful skate, you can warm up with a tasty treat.
Skating Hours and Sessions
The ice rink opens Monday to Friday, offering sessions between 3 p.m. and 8 p.m. On Saturdays and Sundays, you can enjoy the icy delights from 10 a.m. to 8 p.m. Each skating session spans 45 minutes and starts on the hour, ensuring a smooth flow of activities. To make the most of your visit, it's recommended to arrive at least 20 minutes in advance. This gives you ample time to prepare for your skating session, lace up your skates, and enjoy every moment on the ice.
Whether planning a family outing, a romantic date, or a fun-filled get-together with friends, Marina Market On Ice promises a memorable and enchanting experience. So, bundle up, grab your skates, and get ready to create cherished holiday memories at Cork's newest and most exciting ice skating venue this Christmas season.
Cork North Pole Experience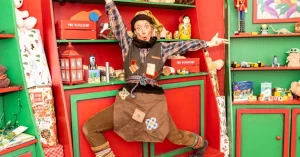 Location: Cuskinny, Cobh
Dates: December 15th and December 19th
Prices: FULLY BOOKED
Step into the Magic: The Cork North Pole Experience in Cobh
There's a place where the spirit of Christmas comes to life in the most enchanting way, and that place is the Cork North Pole Experience in Cobh. An annual tradition that captures the heart and soul of a traditional Cork Christmas, this event is an imaginative and immersive journey that promises to make your holiday season truly special.
A Cork Christmas Tradition
The Cork North Pole Experience is not just an event; it's a beloved tradition. Every year, the elves work tirelessly to create a truly unique experience for families and visitors. They bring to life the real values of a good old-fashioned Cork Christmas, blending the warmth and cheer of the season with an extra touch of magic.
Immersive Theatrical Production
Step inside this magical world, and you'll be transported into a theatrical production that's as interactive as it is imaginative. The entire experience lasts approximately 65 to 80 minutes, during which you'll explore four different themed areas. Each of these areas holds its own special charm, from the Elf Passport Office, where your adventure begins, to the bustling Toy Workshop, where you'll see the magic of toy-making unfold before your eyes. In Mrs. Claus' Kitchen, creativity knows no bounds as you decorate your very own cookies, adding a personal touch to your journey.
New Characters, New Themes, Endless Fun
One of the things that make the Cork North Pole Experience so exciting is the promise of new characters and themes each year. With each visit, there's something fresh and captivating to discover. The event is designed to be a joyful and interactive experience for all, ensuring that the magic of Christmas is felt by young and old alike.
A Magical Meeting with Santa
The grand finale of this enchanting journey is a private visit to Santa Claus in his woodland cabin. It's a moment of pure wonder, and to ensure you have something to remember it by, a photographer is on hand to capture the joy and excitement of your family or group's meeting with the man in red. It's the perfect way to create cherished holiday memories.
In the heart of Cobh, the Cork North Pole Experience brings the magic of the North Pole right to your doorstep. It's a journey that encapsulates the very spirit of Christmas and offers a warm, memorable, and interactive way to celebrate the season with your loved ones. Don't miss the chance to step into the magic and make your holiday season truly unforgettable with the Cork North Pole Experience.
The Magic of Santa at Fota House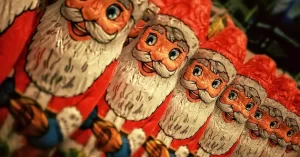 The Magic of Santa at Fota House
"The Magic of Santa at Fota House" is a fully interactive and traditional Christmas experience designed for families. This enchanting journey takes place inside the beautifully decorated historic Fota House, offering a unique way to celebrate the holiday season.
Seasonally Decorated Rooms and Christmas Storylines
Throughout this immersive experience, each room in Fota House is seasonally decorated and tells a unique Christmas story. The journey through these rooms is designed to engage visitors with the magic and wonder of the holiday season.
Personal Family Visit to Santa
One of the highlights of the experience is the individual family visit to Santa. This private meeting with Santa is a moment of pure joy and excitement for children and families.
North Pole Library and Book Gifts
After meeting Santa, children are invited to visit his North Pole library, where each child will receive a gift of two age-appropriate books. This thoughtful touch adds an educational and literary aspect to the magical encounter.
Duration of the Experience
Each room in the experience lasts approximately 10 minutes, making the journey a series of delightful moments. The experience typically takes about 1 hour to complete, ensuring families have ample time to soak in the festive atmosphere and create lasting memories.
Location at Fota House, Arboretum & Gardens
This enchanting Christmas experience is hosted at Fota House, Arboretum & Gardens, a historic and picturesque location that provides the perfect backdrop for celebrating the holiday season.
"The Magic of Santa at Fota House" offers a memorable and immersive Christmas experience combining tradition, storytelling, and magic. It's an opportunity for families to create cherished memories and celebrate the holidays in a beautiful and historic setting.
Glow Cork City Christmas Market: A Festive Extravaganza for All Ages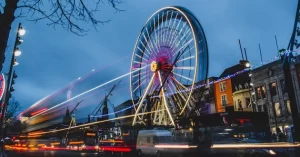 Location: Grand Parade, Cork City
Dates: TBC
Prices: TBC
Step into the enchanting world of Glow Cork City Christmas Market, where the holiday spirit comes alive against the backdrop of the vibrant cityscape. This festive extravaganza is not just an event; it's a celebration that brings together the magic of the season, stunning views, and heartwarming experiences for visitors of all ages.
Iconic Panoramic Views: The 32m Panoramic Wheel
The skyline of Cork transforms into a magical panorama with the much-loved 32m Panoramic Wheel at the heart of Glow. Offering unparalleled views of the surrounding area, this iconic attraction becomes a beacon of festive cheer, inviting both locals and visitors to soar above the city and capture the holiday spirit from new heights.
Classic Carousel Charm: A Ride for Every Age
The Christmas Carousel offers a classic and charming ride for our younger guests and those young at heart. Set against the twinkling lights and festive decorations, the carousel adds a touch of nostalgia to the experience, making it a perfect family outing during the holiday season.
Rediscover Town, Shop Local, and Enjoy the Glow
Christmas in Cork is a time-honoured tradition filled with nostalgia and a spirit of togetherness. Glow Cork City becomes the perfect backdrop for Corkonians to rediscover the town, support local businesses, and immerse themselves in the season's joy. It's not just an event; it's a time for family and friends to come together and create lasting memories.
Bishop Lucey Park: A Free Family Wonderland
Nestled in the heart of the city on the Grand Parade, Bishop Lucey Park is transformed into Santa's Workshop, offering a free, family-friendly wonderland. Here, children are transported to a world of wonder as they watch elves at work, interact with live toys, and experience the magic of Christmas. From posting letters to the North Pole to watching the enchanting North Pole Express toy train, every moment in Bishop Lucey Park is filled with holiday joy.
Glow Cork City Christmas Market is not just an event; it's a celebration of the season, a journey into the heart of Cork's festive spirit. Whether you're soaring high on the Panoramic Wheel, enjoying the classic charm of the Christmas Carousel, or immersing yourself in the wonderland of Bishop Lucey Park, Glow Cork City is the ultimate destination for creating cherished memories during the most beautiful time of the year.
Experience the Magic: Glounthaune Christmas Craft Fair 2023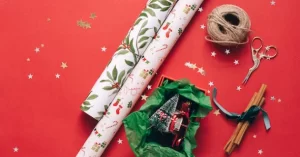 Location: Glounthaune Community Centre, Cork
Date: Saturday 2nd December from 11am-5pm
Ticket Prices: FREE
Step into a winter wonderland of creativity and community spirit at the Glounthaune Christmas Craft Fair. This annual celebration has become a cherished tradition for craft enthusiasts near and far. Now in its third year, this festive gathering is set to enchant visitors with a delightful array of locally crafted treasures, heartwarming entertainment, and a charitable spirit embodying the holiday season's true essence.
Date and Venue:
Mark your calendars for Saturday, 2nd December, as Glounthaune Community Centre transforms into a festive hub from 11 a.m. to 5 p.m. The air will be filled with the warmth of community, the scent of handmade delights, and the joyful sounds of local choirs and musicians.
Crafting Tradition:
The Glounthaune Christmas Craft Fair has quickly become a beacon of creativity, drawing those passionate about handmade wonders. From intricate ornaments to cosy knits and unique trinkets, the diverse stalls offer an opportunity to fill your Christmas stockings with unique, locally produced treasures.
Community and Festive Atmosphere:
As you explore the stalls, take a moment to sit down and enjoy delicious food and drinks in the company of friends and neighbours. The festive atmosphere will be further enhanced by the musical talents of local choirs and musicians, creating a soundtrack to accompany your shopping adventure.
Raffle Excitement:
The thrill of winning awaits as the Glounthaune Christmas Craft Fair offers an array of fantastic raffle prizes throughout the day. Every ticket purchased contributes to the anticipation of winning and the greater sense of community support.
Charitable Giving:
This year, the craft fair takes on an even more meaningful role as all proceeds will be split between Glounthaune Community Centre's building reparation fund and the local branch of the St. Vincent de Paul Society. Attendees can indulge in the holiday spirit while contributing to essential community causes.
Join us for festive joy, craftsmanship, and community connection at the Glounthaune Christmas Craft Fair. It's more than an event; it's a celebration of the season, a gathering of creative minds, and a chance to positively impact the community. Bring your family and friends and immerse yourself in the magic of this special day.
If you are interested I have compiled a list of Traditional Irish Foods every home can't do with out at Christmas.
Is there a Cork Christmas Market
There are numerous Christmas Markets in Cork. Cork Glow is the main Market in Cork City but there are others such as the Marina Market, Farran Woods Crafts Fair, Nano Nagle Christmas Market, Togher Farmers Market and various Markets in Most towns in Cork