Thai Restaurants in Cork City
Hi, my name is Chef JJ, and welcome to my list of the best Thai Restaurants in Cork City.
I've been a Chef in Cork for numerous years, and my passion for cooking also spills over to eating food. When I am out of the kitchen, I love to search and find the best restaurants to experience other tastes and flavours. 
Here, you will find my list of my most loved Thai Restaurants in Cork City that will guarantee you the most authentic Thai Food experience in Cork.
Enjoy!
Cork City Thai Restaurants
Koto
Golden Elephant
Kanok Thai Restaurant
Camile Thai
Soba
Malay Kitchen
WokNRoll
Ramen
If you are interested why not read my article on the Best Indian Restaurants in Cork City.
Exploring the Thai Culinary Scene in Cork City
Cork City is where the love for good food knows no bounds. When it comes to satisfying your taste buds with delicious Thai cuisine, you're in for a treat. The Thai food scene in Cork City is vibrant and filled with mouthwatering options that'll have you coming back for more. 
A Burst of Thai Flavors
The Thai culinary scene in Cork City is all about an explosion of flavours. From sweet to spicy, tangy to savoury, every dish tells a story of the rich Thai culinary heritage. Whether you're a fan of Pad Thai, Tom Yum soup, or green curry, you'll find a Thai food haven in Cork City. The city's Thai restaurants are dedicated to bringing the true essence of Thai cuisine to your plate.
Diverse Thai Dining Experiences
What makes the Thai dining scene in Cork City even more exciting is the diversity it offers. From cosy, family-run eateries to chic and modern restaurants, there's something for everyone.
If you're in the mood for a romantic date night, you can find an elegant Thai restaurant with a cosy atmosphere. Or, if you're looking for a quick and delicious meal, there are casual Thai spots and takeout options to enjoy at home.
While I have your attention, I recently updated my list of the best restaurants in Cork; make sure to check it out before you leave.
Bringing Thailand to Cork City
Each Thai restaurant in Cork City is like a portal to Thailand. The décor, ambience, and background music transport you to the heart of Southeast Asia. It's not just about the food; it's about the entire experience.
Thai Food Cork City: A Culinary Adventure
Koto Thai Street Food Cork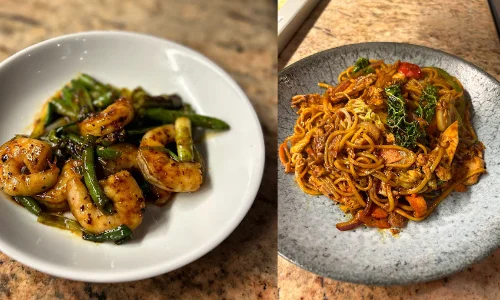 Location: Carey's Lane, Cork City
Price Range: €8 – €24
Koto Restaurant in Cork City is a must-visit gem among Thai restaurants in Cork City. A family-run eatery, Koto has been delighting diners since March 2017. 
Their two-floor establishment includes a cosy outdoor terrace with heating. What sets Koto apart is their dedication to creating everything in-house, from delectable sauces to fantastic dishes. 
They're all about serving top-notch quality with excellent customer service. Plus, they're super inclusive, with gluten-free and vegan options galore. You'll savour classic Thai dishes like Pad Thai and curries, as well as exclusive creations. 
Remember to explore their thoughtfully chosen wine and cocktail offerings.
Visit Koto Menu. 
Golden Elephant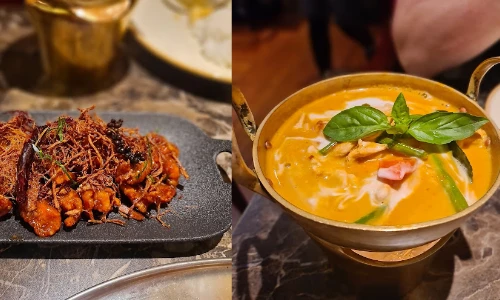 Location: Douglas, Cork City
Price: €6 – €20
The Golden Elephant, nestled in Douglas, Cork City, is a Thai dining treasure you will want to take advantage of. They take Thai cuisine to a whole new level, using the freshest ingredients to craft red and green curries bursting with authentic Thai flavours. 
What's extra special is that they make their curry paste from scratch daily, ensuring top-notch quality. Their menu features mouthwatering dishes like Massaman curry, roasted cardamom seeds, cinnamon, and crunchy peanuts.
The stir-fry dishes change with the seasons, ensuring you get the best of what's available. Don't forget to try their hot and sour soup, a spicy and aromatic delight featuring fresh chillies, lime juice, Kaffir lime leaves, and galangal, finished with fresh coriander and herbs.
Whether you're into beer, wine, or traditional drinks like coconut juice, The Golden Elephant has covered you. It's a place where the flavours of Thailand come alive in every bite.
Visit the Golden Elephant Website.
Kanok Thai Restaurant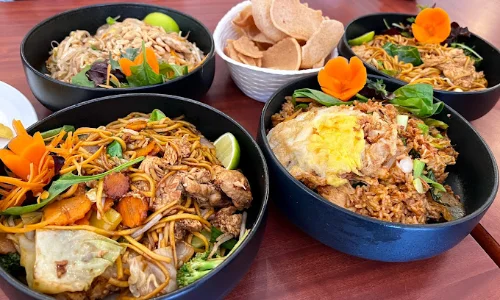 Location: Ballincollig, Cork
Price: €9 – €20
Kanok Thai Restaurant, situated in Ballincollig, Cork, is a true gem among Thai restaurants in Cork City. Since 2015, they've been delighting diners with authentic Asian cuisine. 
Open from Tuesday to Sunday, this restaurant is a must-visit for anyone seeking an exquisite Thai dining experience. Their menu is a journey through the fragrant and flavorful world of Thai cuisine, featuring delectable dishes like BBQ ribs with Thai BBQ sauce and signature Thai Fish Cakes. 
Try out their mouthwatering curry options, from yellow and red to green and the delectable Massaman curry. The signature Panang curry and Pad Thai are simply irresistible. Kanok Thai Restaurant is your gateway to Thai culinary perfection.
Visit their Kanok Thai Menu.
Camile Thai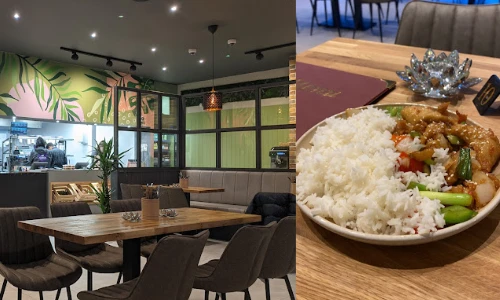 Location: Bishopstown & Douglas Cork
Price: €6 – €17
Camile Thai Restaurant, a shining star among Thai restaurants in Cork City, stands out for its commitment to sustainability and local community support. 
They create their sauces from scratch and use locally sourced Irish beef, pork, and seasonal vegetables, aligning with their sustainability goals. 
Their dedication to eco-friendly practices earned them the title of Most Sustainable Restaurant at the National Takeaway Awards. 
Their menu boasts various curries, from red to chu chee, and flavorful noodle dishes, including the beloved Pad Thai and Khao Soi Gai. For vegans, there's a delectable range of alternatives. 
Camile Thai Restaurant is your destination for eco-conscious and flavorful Thai cuisine.
Visit Camile Thai's Website.
Soba
Location: Carey's Lane Cork
Price: €5 – €13
Soba Asian Street Food is a fresh and exciting addition to the Thai restaurant scene in Cork City. As a newly established eatery, Soba introduces diners to a world of delightful Asian flavours, focusing on noodle dishes across Asia.
They take pride in using fresh Irish meat and top-quality veggies and crafting homemade sauces, all without MSG. Soba's mission is to ensure a fantastic dining experience, whether you enjoy your meal in-house or as a takeaway.
For those seeking an unforgettable journey through Asian cuisine in Cork City, Soba is the place to be.
Visit the Soba Website.
Malay Kitchen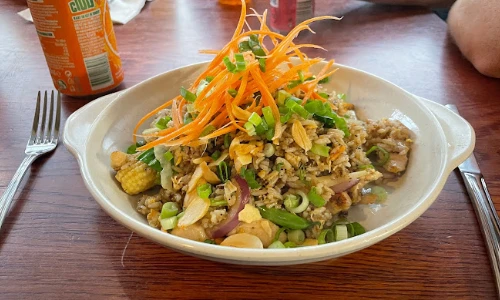 Location: Main Street Cork City Centre
Price: €5 – €15
Malay Kitchen, a beloved addition to the Thai restaurant scene in Cork City, is all about sharing the rich flavours of Malaysian cuisine.
Founded by Elle and Norza, they've been on a journey to bring treasured family recipes to Irish kitchens since 2014. Their commitment to authenticity shines through in using fresh, locally sourced ingredients for Rendang and Massaman curry pastes and Pad Thai sauce.
Malay Kitchen is your passport to savouring the captivating spices and aromas of Malaysia right at your own dinner table. For an exquisite taste of Malaysia in Cork City, Malay Kitchen is the go-to choice.
Visit the Malay Kitchen Website.
WokNRoll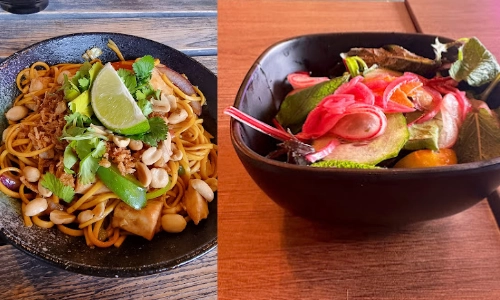 Location: Grand Parade, Cork City
Price: €5 – €35
Wok'n'Roll, an acclaimed Thai restaurant in Cork City, offers a taste of Thailand that's hard to resist. Founded in 2005 by Pat O'Leary and Jim Ryan, it has earned a stellar reputation, delighting festival-goers with authentic Thai dishes.
Their commitment to excellence earned them the coveted McKenna Food Guide Award, which they've held since 2013. In 2022, they expanded with a stylish restaurant in the heart of Cork City, offering signature Thai dishes and an extensive menu. Moreover, they cater to night owls, providing a delicious takeaway option late into the night.
For a delightful Thai food experience in Cork City, Wok'n'Roll is the go-to choice.
Visit WokNRoll Website.
Ramen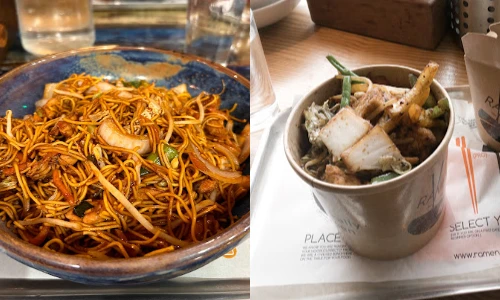 Location: Anglesea Street, Cork City
Price: €10 – €14
Ramen in Cork stands out in the realm of Thai restaurants in Cork City with its innovative "Fresh To Wok" approach. They're all about crafting natural and healthy dishes made to order.
What sets them apart is their personal sourcing of natural spices from Asia, ground and blended into their unique Ramen formula. Importantly, you won't find any additives, chemicals, or MSG in their dishes, and they try to use local ingredients as much as possible.
Ramen's mission is to whip up the healthiest and most natural food, striving for "Super Nutrition" by reducing calories, sugar, and salt and embracing organics. It's your go-to spot for a wholesome and satisfying Thai dining experience in Cork City.
Visit Ramen Website.
Cork City Thai Food Scene
In the vibrant culinary landscape of Cork City, Thai restaurants shine with their dedication to authenticity, flavours, and unique experiences. 
From the aromatic spices of Malay Kitchen to the eco-conscious practices of Camile Thai Restaurant and the innovative "Fresh To Wok" approach of Ramen, these establishments offer a diverse array of Thai culinary adventures. 
Koto, Golden Elephant, Kanok Thai Restaurant, Camile Thai, Soba, Wok'n'Roll, Ramen, and Malay Kitchen each bring distinctive flair. With an emphasis on locally sourced ingredients, fresh homemade sauces, and reduced additives, these restaurants are more than just places to eat; they're a gateway to Thailand's diverse and delectable flavours in Cork City. 
When you seek Thai restaurants in Cork City, these are the unforgettable dining destinations that should be at the top of your list. 
Explore, savour, and enjoy the delightful world of Thai cuisine in this charming city.