Hi, my name is Chef JJ, and here I will give you my fast food guide to the best takeaway Cobh has to offer.
I previously lived in Cobh for almost 15 years. In that time, I have spent many nights out drinking in the town and visiting numerous takeaways in Cobh.
Over the years, Cobh's Fast Food scene has changed a lot. Places like Lumber Jack's takeaway have come and gone. At the same time, the old favourites like Mimmos Take Away have continued to serve the community. 
This list will give you a selection of Cobh's best takeaways, giving you a choice of the best fast food in Cobh. If you are looking for a sit-down meal, read my article on which Cobh Restaurants you need to visit.
Enjoy!
Table of Contents
List of Takeaways in Cobh
Sorrento Fish & Chips
Mimmos Take Away
Amigos Pizza and Kebabs
China Sea Restaurant and Takeaway
Kirin Court Chinese Takeaway
Hong Kong Kitchen
Supermac's & Papa John's
Takeaway Cobh: Where Taste Meets Convenience
Cobh, with its rich maritime history and stunning harbour views, offers a lot more than just beautiful sights. Its diverse culinary scene is a hidden treasure waiting to be explored, and there's no better way to do that than by trying out some of the local takeaways and fast food establishments.
From mouthwatering fish and chips to sizzling kebabs, Cobh's takeaways have something to satisfy every palate. Whether you're a local searching for a quick, tasty bite or a visitor eager to experience the town's culinary delights, Cobh's takeaways offer many options.
In this guide, we'll take you on a delectable tour of the best places to grab a quick and delicious meal in Cobh. We'll provide insights, recommendations, and tips to ensure you make the most of your dining experience. So, let's set sail through Cobh's finest takeaways and discover the flavours that make this charming town a true food lover's paradise.
Check out my article on the Best Fish and Chips in Cork City for great places to eat.
Cobh Fast Food Restaurants
1. Sorrento Fish & Chips Takeaway Cobh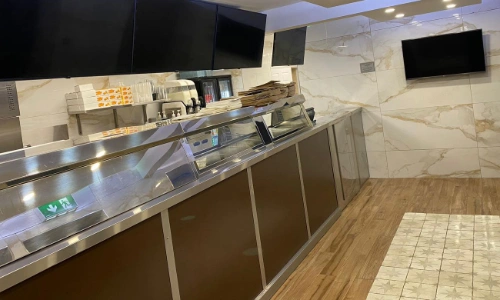 Sorrento Fish & Chips a local, cherished family-run business and probably the most loved takeaway Cobh has to offer. Offering an outstanding fusion of Italian flavours, excellent battered fish and delicious burgers, you can't go wrong. Sorrento Fish & Chips has quickly become one of the top Cobh Chippers over the years and its easy to see why
Sorentos Cobh menu boasts an array of mouthwatering choices, from their signature fresh fish and chips to juicy burgers, succulent kebabs, and even tempting pizzas. 
Ato Sorentos Cobh their commitment to excellence has earned them nominations for multiple "Best Fish and Chips" awards. When you visit Sorrentos Cobh, you're in for a treat, experiencing a blend of flavours that is truly exceptional. Make sure to stop off at Sorrentos Cobh and see why it ranks as one of the best takeaways in Cobh.
Visit Sorrentos Website.
2. Mimmos Takeaway Cobh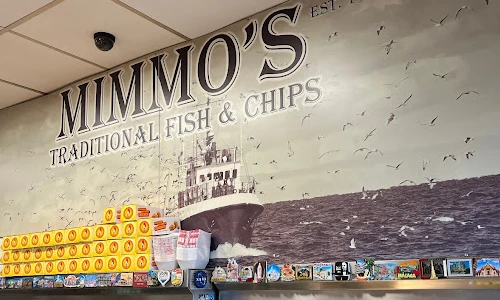 Mimmos Takeaway Cobh is a cherished and enduring family-run business in Cobh that has satisfied hungry locals and visitors for years. Situated in the heart of Cobh on Casement Square, this Italian-run takeaway is a go-to spot for those seeking traditional fast food in Cobh. 
Their menu is a culinary journey, offering everything from their beloved Mexican Chip to mouthwatering burgers, Southern fried chicken boxes, and classic fish and chips. Moreover, you can savour their delicious Chicken Maryland, which offers a selection of deep-fried meats with chips. 
After exploring the historic town of Cobh or enjoying a local pub, Mimmos Takeaway Cobh is your flavorful, convenient stop for a taste of tradition in Cobh.
Visit Mimmos Facebook Page.
3. Amigos Pizza and Kebabs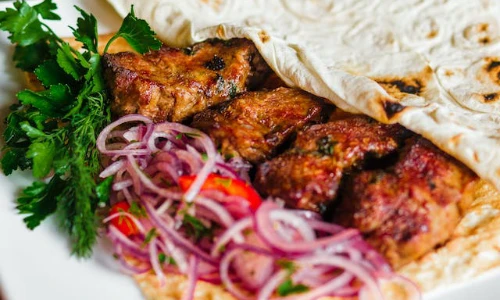 Tucked along West Beach in Cobh, Amigos Pizza and Kebab Takeaway Cobh offers a fantastic selection for all tastes. This charming spot is a stone's throw away from the town centre, making a quick, delicious meal convenient.
The menu is a treasure trove of flavours, offering various delectable choices. There's something for every craving, from mouthwatering kebabs to piping hot pizzas, juicy burgers, flavorful wraps, hearty suppers, and even chicken snack boxes.
Amigos Takeaway Cobh hits all the spots for food lovers and the diverse tastes of Cobh. A must-visit for food explorers!
Visit Amigos Pizza and Kebab Menu.
4. China Sea Restaurant and Takeaway
Located within Cobh's Bella Vista Hotel, the China Sea Restaurant and Takeaway Cobh commands a breathtaking panorama of Cork Harbour from its perch on Spy Hill, arguably Cobh's most fittingly named street.
This establishment offers a delightful dine-in experience and stands out as a fantastic takeaway option. Their menu is an epic journey through Chinese cuisine, catering to every palate. They have something for everyone with a wide array of delectable dishes, from sizzling stir-fries to savoury noodles. When I used to live in Cobh this was my go-to spot for delicious takeaway food in Cobh.
Whether you're in for a stunning view or a flavoursome feast, the China Sea is the place to be in Cobh.
Visit China Sea Website.
5. Kirin Court Chinese Takeaway Cobh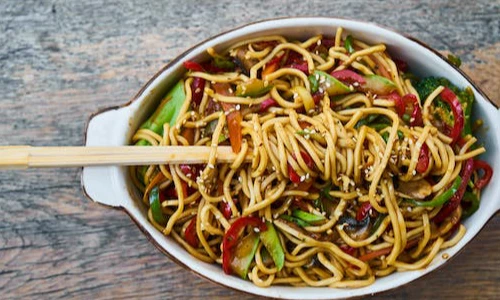 Perched above the bustling Londis Shopping Center in Newtown, Kirin Court Chinese Takeaway Cobh may be a hop away from Cobh's town centre, but it's worth the trip.
Renowned for its mouthwatering spice bags, this gem in Cobh boasts an extensive menu that's a treasure trove of Chinese delights to satisfy every palate. From savoury stir-fries to delectable noodles, they've got it all.
Kirin Court brings a taste of the Far East to this charming town, making it a must-visit spot for those craving authentic, flavorful Chinese cuisine. Make the trip; you won't be disappointed!
Visit Kirin Court Website.
6. Hong Kong Kitchen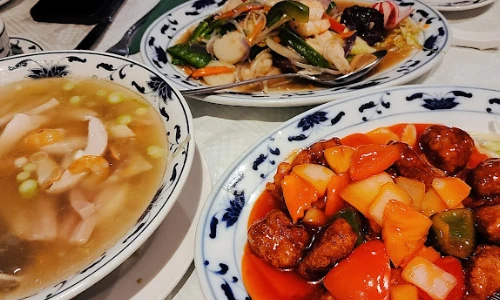 The Hong Kong Kitchen is situated along West Beach in Cobh and offers more than delicious Chinese cuisine. With its captivating view of Spike Island, this restaurant has been a local treasure for over two decades.
Known for crafting some of the finest Chinese dishes in town, they serve an extensive menu catering to all tastes. Whether you prefer to dine in or savour their flavours from the comfort of your home with their takeaway option, the Hong Kong Kitchen promises a delectable journey through the heart of Chinese cuisine right in the heart of Cobh.
Visit Hong Kong Kitchen's Facebook Page.
7. Supermac's & Papa John's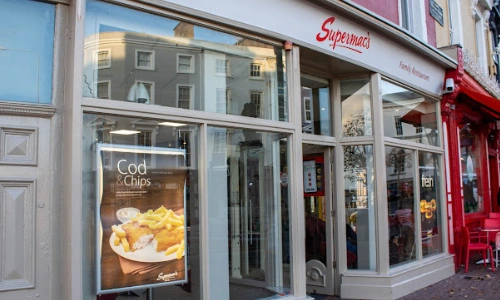 Situated on Casement Square in the heart of Cobh, Supermac's & Papa John's is a delicious fusion of two culinary worlds. Supermac's, a cherished Irish-owned gem, delivers mouthwatering burgers, tantalizing snack boxes, and golden, crispy chips.
Meanwhile, Papa John's adds to the mix with its irresistible pizzas, perfect for takeaway. Whether you fancy a classic burger and fries or crave a hot and cheesy pizza, this spot has you covered. The best part?
You can enjoy your meal on-site or take it with you for a cosy dinner at home. Cobh's culinary diversity shines at Supermac's & Papa John's!
Visit Supermacs Website.
Savour the Flavors of Cobh's Takeaways
Cobh, a charming coastal town with a rich history, offers scenic beauty and a delightful culinary journey for those craving convenience and flavour. From the heartwarming traditions at Sorrento Fish & Chips to the mouthwatering excellence at Mimmos Takeaway, the diverse and delicious world of Cobh's takeaways is something to be cherished.
With options like China Sea Restaurant and Takeaway, Kirin Court Chinese Takeaway, The Hong Kong Kitchen, and Supermac's & Papa John's, there's an array of cuisines to explore. So, whether you're a local or a visitor, loving for excellent takeaway food, you will be spoiled for choice.