Hi, my name is Chef JJ, and I will share my list of the best healthy places to eat in Dublin. Over the years, I have worked in numerous award-winning restaurants, and I know how frustrating it can be to find great places to eat. For that reason, I have created this list to help you find healthy places to eat in Dublin that will make you want to return again and again.
Enjoy!
Table of Contents
List of Healthy Places To Eat
Cornucopia Wholefoods Restaurant
Flip Vegan Burger Bar
Eathos
Nutbutter Grand Canal Dock
Tiller and Grain
Urban Health
Sprout & Co
KALE+COCO
Tang
Urbanity
Umi Falafel
Healthy Food In Dublin
Welcome to the heart of the Emerald Isle, where the bustling streets of Dublin offer a rich cultural experience and a bounty of delectable, health-conscious culinary delights. 
If you're hunting for "Healthy Places to Eat in Dublin," you've come to the right place. In this blog, we're about to take you on a journey through the vibrant city, revealing where you can savour nourishing dishes that not only tantalise your taste buds but also revitalise you.
Dublin isn't just about traditional Irish fare or hearty pub grub; it's a city that's embraced the global health and wellness trend. From quaint cafés to chic restaurants and everything in between, there's a treasure trove of options for those looking to eat well while exploring this charismatic city.
Whether you're a Dublin local seeking new spots to satisfy your health-conscious cravings or a traveller eager to experience the city's culinary diversity, this guide will unveil the top spots and hidden gems where you can relish meals that prioritise your well-being. 
So, let's dive into Dublin's thriving healthy food scene and embark on a flavorful journey that promises to nourish your body and soul.
If you are interested, please read my article on the best restaurants in Dublin or my article on the best restaurants in Dublin Docklands.
Healthy Places to Eat in Dublin
Cornucopia Wholefoods Restaurant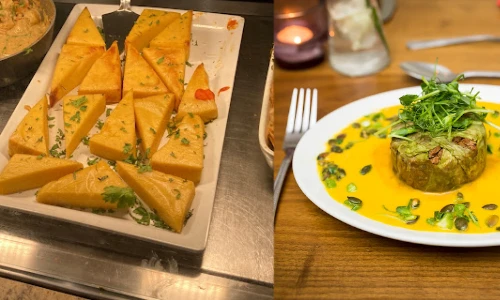 Cornucopia Whole Foods Restaurant in Dublin is a delightful family-run gem on Wicklow Street and Grafton Street. They've mastered the art of wholesome vegan dining, offering a menu brimming with delicious main courses, soups, salads, and sandwiches. 
If you're a coffee lover, their organic brews are a must-try, and their handcrafted pastries are divine. What sets them apart is their commitment to fresh, high-quality plant-based ingredients. 
Plus, if you're gluten-sensitive, you're in luck – they've got a generous selection of gluten-free options. Cornucopia is a haven for those seeking delicious, health-conscious fare, whether dining in or taking away. Cornucopia is a healthy and delicious edition to my list of Healthy Places to Eat in Dublin
Visit Cornucopia Website.
Flip Vegan Burger Bar Dublin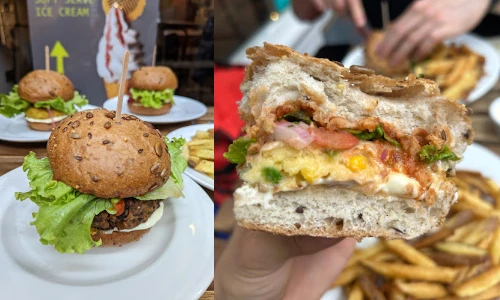 Flip Vegan Burger Bar, nestled in Dublin, is a paradise for burger enthusiasts with a twist. Their plant-powered creations are not your run-of-the-mill burgers. Each patty is lovingly handmade using organic grains, pulses, seeds, and veggies sourced from small farms and co-ops. The result? A burst of wholesome goodness in every bite. 
Served in a vegan organic seeded bun, these burgers are dressed with crisp lettuce, red onion, pickles, vegan mayo, and sugar-free ketchup. 
Suppose you're seeking a contemporary and ethical take on the classic burger. In that case, Flip Vegan Burger Bar is where flavour and sustainability unite and a welcome addition to my list of Healthy Places to Eat in Dublin.
Visit Flip Vegan Burger Bar website.
Eathos Dublin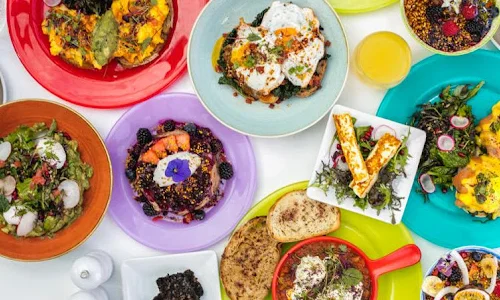 Eathos is no ordinary eatery in Dublin; it's where food is crafted with care and thoughtfulness. With two cosy spots on Baggot Street, it's more than just a cafe – it's a philosophy. Eathos focuses on creating food that brings happiness to your taste buds. 
Walking in, you're greeted by a mouthwatering spread of freshly baked pastries. Their salads and protein dishes are delicious and wholesome, promising a perfect blend of flavour and goodness.
They're open early for breakfast and offer an all-day brunch, ensuring something to satisfy every craving. Even better, their food is preservative-free, and they have options for those with dietary preferences, like gluten-free, dairy-free, and vegan dishes. 
Eathos is where quality, freshness, and flavour come together to create a delightful dining experience. No list of Healthy Places to Eat in Dublin would be complete without Eathos!
Visit Eathos Dubin Website.
Nutbutter Grand Canal Dock
If you are looking for healthy places to eat in Dublin, look no further. Nutbutter in Dublin is the brainchild of Paddy Hogan, who brought back dreams of healthy, flavorful, and diverse cuisine from California. Nutbutter brings a unique variety of food among the Healthy Places to Eat in Dublin.
At Nutbutter, they blend the freshest, responsibly sourced Irish ingredients with a Californian twist, creating a menu that caters to everyone. They've got everything from plant-based to meat-based options, offering tacos, tostadas, warm and hot bowls, seasonal specialities, protein-packed dishes, and poke bowls. 
Moreover, they even have nourishing bowls of broth for those seeking a healthy dining experience. It's a place where taste and health unite, making it a must-visit for food lovers with varied preferences.
Visit Nutbutter Website.
Tiller and Grain
Tiller + Grain, brought to life by Clair Dowling in 2019, is a culinary gem in Dublin. With a profound love for food, they've made sustainability and nutrition their guiding stars. It's all about celebrating the beauty of fresh, local, and seasonal Irish ingredients prepared with care and simplicity. 
Their menu is a testament to their dedication to taste and health. Tiller + Grain doesn't just create exceptional dishes; they're deeply invested in the local economy, collaborating with Irish farmers and producers. Whether you're a fan of BBQ, marinades, or unique seafood, they've got something special for every palate. 
Check out their in-house baked delights, crafted with Irish butter, seasonal fruits, and top-notch chocolate. Tiller + Grain combines flavour and sustainability to create a fantastic choice of healthy places to eat in Dublin.
Visit Tiller + Grain Website
Urban Health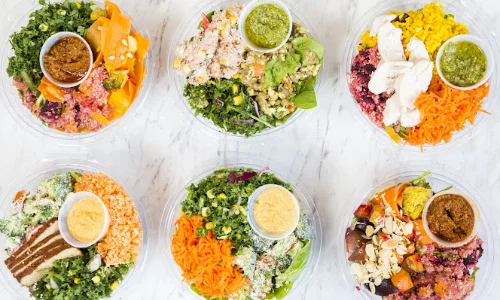 Nestled in the heart of Ranelagh, Urban Health is more than just a cafe; it's a destination for mindful, healthy dining. Open seven days a week, they offer a full brunch menu with vegan-friendly options and are one of the top healthy places to eat in Dublin. 
But it's not just about brunch – they're also a juice bar with a wide range of smoothies and juices. Their 'grab & go' salads and wraps make for a quick and nutritious bite. Plus, they've got a tempting selection of vegan treats and health food products.
Urban Health isn't just about food; it's about a philosophy of eating that's kind to both your body and the planet. They believe in the positive impact of healthy eating on the mind, body, and soul, and they're on a mission to reduce our environmental footprint by promoting plant-based alternatives. 
So, if you're in Dublin and seeking a delicious, eco-conscious dining experience, Urban Health is a must-visit.
Visit Urban Health Website.
Sprout & Co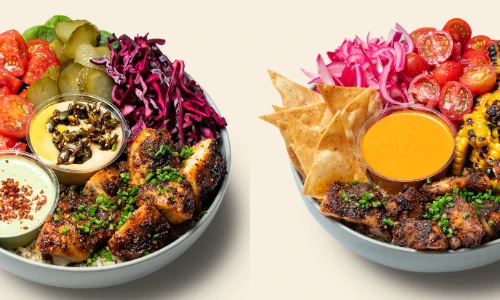 Sprout and Co. in Dublin embodies a tasty idea sparked by a single, freshly picked organic tomato. Their passion for locally sourced, seasonal, and healthy food is the heart of this vibrant eatery. 
Here, they prove that eating well doesn't mean compromising on flavour. Their commitment to fresh, delicious ingredients ensures that every dish is a taste sensation. Not stopping at just sourcing, in 2018, they ventured into farming, cultivating their own organic produce in Kildare. 
The result is a menu with delights like Middle Eastern chicken, crispy Bombay bowls, and more. For those who love salads, their options are equally enticing.
 At Sprout and Co, it's all about the joy of knowing where your food comes from and savouring the difference. Looking for healthy places to eat in Dublin that are big on flavour? Sprout and Co. is your destination.
Visit Spout & Co Website.
Kale+COCO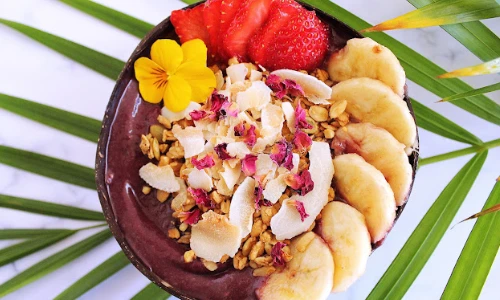 Kale + Coco, born from a journey that spans the tropical vibes of Hawaii to bustling cities in the US and globetrotting adventures through Central and South America, New Zealand, Australia, and Asia, is a delightful fusion of flavours and experiences. 
This Dublin eatery offers a slice of the tropics right in the heart of Ireland. Embracing the health and wellness wave, they serve up a diverse menu of healthy breakfasts, mouthwatering smoothies, nourishing bowls, and an array of vegan and gluten-free sweet treats. 
Kale + Coco is a tasty contribution to Dublin's vibrant wellness scene, blending the best of both worlds with a dash of tropical flair. A great addition to our Healthy Places to Eat in Dublin list.
Visit Kale + COCO Website.
Tang Dublin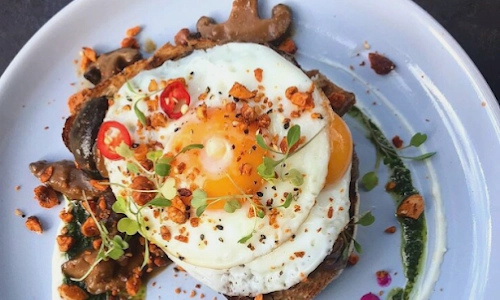 Tang in Dublin is all about the art of making people happy through food. Their approach to serving breakfast, brunch, and lunch is rooted in a deep commitment to taste, quality, and sustainability. 
Every plate reflects their belief in serving food as it should be – nutritious, healthy, and, most importantly, delicious. But Tang is more than just a place to eat; it's a haven for warm hospitality. 
They've cultivated a team that values genuine customer connections, creating a welcoming space where good food and great company blend seamlessly. With a diverse menu featuring everything from buckwheat pancakes to fresh soups, Tang offers a delightful culinary experience.
Visit Tang Website.
Urbanity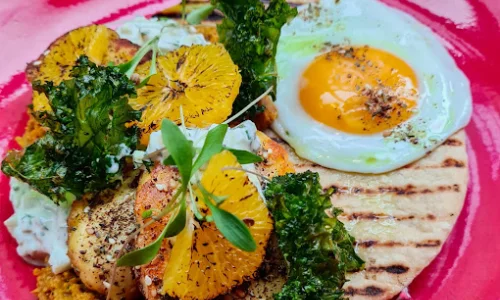 Urbanity in Dublin is a striking fusion of captivating design, delectable food, and exceptional coffee. What started as a vision to transform a stark concrete space into a bright and modern café inspired by Nordic aesthetics has become a unique gem in the heart of Dublin.
Since its inception in February 2016, Urbanity has forged a loyal community of patrons. They're dedicated to using top-quality, locally sourced ingredients to craft delicious, wholesome, innovative dishes. Nearly everything on their menu is crafted in-house by skilled chefs and baristas.
Urbanity's relaxed, open, and friendly ambience beckons you for morning coffee, delightful breakfasts, satisfying lunches, and renowned weekend brunch. 
Their offerings cater to various tastes, from organic scrambled eggs to pan-fried sea bream or pork shoulder ragu. With ever-changing daily specials and a tempting cake counter, Urbanity is a delightful culinary and visual experience.
Visit Urbanity Website.
Umi Falafel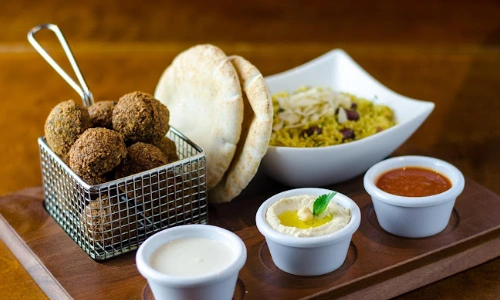 Umi Falafel is your go-to spot in Dublin for food that's not just healthy but also incredibly tasty and budget-friendly. Their secret to mouthwatering falafels lies in a daily blend of market-fresh produce and a touch of fourteen "magic" ingredients. 
Their commitment to freshness sets Umi apart — sauces, bread, and their famous pickles and salads are all crafted in-house daily. And here's the twist: their entire menu is 100% vegetarian. 
Umi, a cherished name in Ireland's vegetarian and vegan community since 2013, has multiple locations across Dublin, Cork, and Belfast, boasting an impressive array of awards and accolades, including TripAdvisor's Certificate of Excellence and the Travelers' Choice award. 
It's a culinary gem that's worth a visit.
Visit Umi Falafel Website.
Healthy Eats in Dublin
In the bustling streets of Dublin, a thriving food scene is taking root, catering to the health-conscious crowd. When it comes to "Healthy Places to Eat in Dublin," Umi Falafel, Kale + Coco, Tang, Sprout and Co, Urban Health, Cornucopia Wholefoods Restaurant, and Flip Vegan Burger Bar stand out as beacons of flavorful, nutritious dining.
These establishments have made it their mission to serve food that not only tantalizes the taste buds but also nourishes the body and soul. The health-conscious foodie is covered from fresh falafels to vibrant salads, wholesome bowls, and innovative plant-based creations.
So, when in Dublin, explore these gems and savour the delightful world of health-infused cuisine. Your taste buds and well-being will thank you.