Beginner No Knead Irish Rustic Bread Recipe
A Very Easy Homemade Rustic Bread Recipe
Do you love the taste of fresh, artisan bread, but don't have the time or experience to make it yourself? Well, we have the perfect recipe for you! This no knead bread is easy to make and doesn't require any experience. Plus, it makes a delicious loaf of bread that tastes just like something you would get at a bakery. So, what are you waiting for?
For a complete list of all my Irish recipes, click the link to visit my article on Irish Recipes
How to make Fresh Tasting Bread at Home
I love making rustic bread at home but I also love using a recipe that is easy to make.  The smell of freshly baked rustic bread in the house just makes the home feel more comforting and warm. I think that home baked fresh rustic bread always tastes better and this beginner rustic bread recipe is no exception.  The taste of warm, freshly baked bread just out of the oven covered with golden Irish butter that just melts is heaven on a plate.
My beginner no need to knead Irish rustic bread recipe is one I love to make every now and again when I want good bread but don't have the time.  This easy rustic bread recipe will give you a sour dough like bread with a beautiful crunchy crust that can't be beat.
This beginner Irish rustic bread recipe can be mixed together in a short period of time, covered and put in a cupboard to rise for between 12 and 18 hours then baked the following day using a cast iron pot/dutch oven.  It is a pretty lazy way of making bread but the quality of the bread you get is amazing.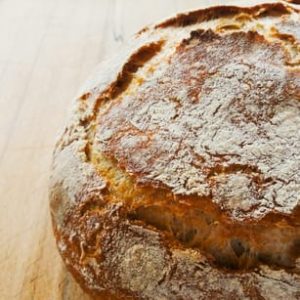 What makes no-knead bread different from bread?
Well, for starters, no-knead bread doesn't require any kneading. This makes it a lot simpler and easier to make than traditional bread recipes. Additionally, no-knead bread dough is allowed to rise for a longer period of time, which results in a denser and more flavorful loaf of bread. This longer rising time allows the dough to ferment and develop more flavour.
How long can I let no-knead bread rise?
The maximum amount of time you should let no-knead bread rise is about 18 hours. However, I've found that letting the dough rise for at least 12 hours will give you perfect results every time. So, if you're looking for a slower rise, then try letting the dough rise for about 18 hours.
This is an easy bread recipe for people like myself who often don't have the time to bake fresh bread from scratch.  Spending time kneading the dough, allowing it to prove then knocking it back, shaping it and getting a second prove.  This no knead recipe cuts out all that effort while still giving you a extremely tasty loaf of bread.
I hope you try this bread out and see how easy it is to make really good bread with very little effort.  Make sure you look up my other recipe and tips on my blog page.
Why not try my Brown Irish Soda Bread Recipe.
Enjoy.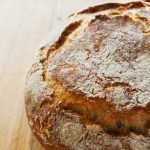 No Need To Knead Irish Rustic Bread Recipe
An extremely easy no need to knead rustic bread recipe that will give you crusty, tasty freshly baked bread with little to no effort.

Keyword:
easy bread recipe, easy no knead bread recipe, easy rustic bread recipe, how to make bread, how to make rustic bread, no knead rustic bread recipe
Ingredients
375

grams

Bread Flour

or 3 cups

1

tsp

Salt

1

tsp

Sugar

1 1/4

tsp

Dried Yeast

235

ml

Luke Warm Water

or 1 1/2 cups

Extra Flour For Dusting
Instructions
Sift flour into a large bowl then add the sugar, salt and dried yeast and mix to combine.


Make a well in the center of the flour and pour two thirds of the water in and mix to combine. You can use your hands to do this or a wooden spoon.  Keep an eye on the moisture in the dough. Some times you will need all the water and others you will need less depending on climate. You want to make a soft, almost wet dough. Add remaining water if needed.


Once all the ingredient are combined into a soft dough shaped into a ball and leave it in the mixing bowl.  Cover the bowl with cling film/saran wrap and place in a kitchen cupboard which is draft free.


Leave the dough rest for between 12 to 18 hours before baking.


After allowing it to prove for the recommended time heat your oven to 230°C / 450°F/ Gas Mark 8 and place a cast iron pot/dutch oven in to preheat.


When the oven and pot have come up to temperature remove the pot from the oven.  Remove your bowl of dough from the cupboard and scrape the dough out onto a floured work service.  The dough will be a little sticky and light so handle with care.


Fold the edges of the bread in on itself from the top, bottom, left and right and turn over. Shape into a round loaf shape or a shape that suits your pot then place into the put the dough into the very hot pot smooth side up. Sprinkle a little bit of the flour from your work service over the top to get an extra rustic look.


Place the lid back on the pot and put back into your hot oven.  Bake for 30 minutes with the lid on then remove the lid and continue to bake for between 15 to half an hour depending on how golden brown and crunchy you want your bread.


Remove the pot from the oven and carefully remove the bread and place on a wire rack and allow to cool before eating.  You won't wait, I know you won't as I can never wait.  Just don't burn yourself cutting the warm crusty bread.


Enjoy warm with fresh Irish butter.  You just can't beat that.

Recipe Notes
Allergens: Gluten
This recipe takes about 15 minutes to mix together, between 12 to 18 hours to prove and approximately 45 min to an hour to bake.
It gives you a rustic almost sour like dough with very little effort.
Homemade Rustic Bread Recipe | Irish Rustic Bread Recipe