This Pressure King Pro Lamb Tagine Recipe brings a taste of the Middle East to your kitchen table. As a professional Chef, I spend hours cooking dishes like this in the restaurant. I love making this dish with very little fuss when I am at home on my days off from a busy kitchen.
To view more recipes read my Pressure King Pro Recipes page.
Using a Pressure King Pro, I can reduce the cooking time required for a dish like this Lamb Tagine Recipe by up to 10 times. This allows me to spend more time with my family, which is precious to me.
That is one of the key reasons I love cooking with the Pressure King Pro, and it cooks excellent food fast while retaining all the nutrition and flavour. This saves me time to spend doing things I love with my family. I hope this recipe will help you free up some extra time in your home to enjoy the special moments in life. Learn how to use the Pressure King Cooker in my article.
Why Use a Pressure Cooker
One of the key reasons for cooking food using a pressure cooker is time. Time is very precious and being able to take a recipe that could take 5 to 6 hours and cook it in less than an hour is amazing. Not only does it save time, but it keeps all the goodness of the recipe in one pot. As an added bonus you have very little to wash up cooking in a pressure cooker.
I always remember as a kid my Grandfather cooking the Sunday dinner in this old stainless steel pressure cooker. It had this round chunk of metal that would his and spit steam out of it as it cooked on a low heat over the gas stove. The thing was a death trap but it cooked the best Sunday dinners I ever tasted.
Today we have pressure cookers that are a lot safer and use less energy than the one my Grandfather used to use. Its why I always feel safe cooking in my Pressure King Pro and get the best tasting meals as a bonus.
Lamb Tagine Recipe
This pressure king pro lamb tagine recipe is fantastic and reminds me of all the flavours of the Middle East. A pressure cooker allows the meat to cook faster, giving a fantastic fork-tender dish.
If you can find preserved lemons in your local market, then use them in this recipe to add a natural authentic Middle Eastern Flavour. Serve this dish up in a traditional tagine dish to wow your family and tell them you spent hours cooking it, they will never know the difference.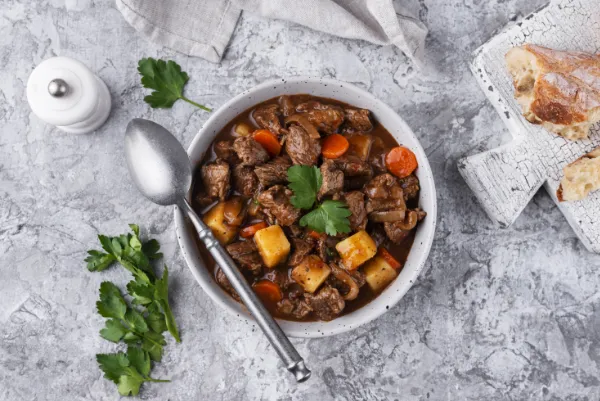 Pressure King Pro Lamb Tagine Recipe
A delicous Middle Eastern dish cooked using the Pressure King Pro to create a tender and flavour packed meal.
Keyword:
lamb tagine recipe, pressure king pro, pressure king pro lamb tagine recipe, pressure king pro recipe
Ingredients
Ingredients:
2

pounds

900g boneless lamb stew meat, cut into chunks

2

tablespoons

olive oil

1

onion

finely chopped

3

cloves

garlic

minced

1

teaspoon

ground cumin

1

teaspoon

ground coriander

1

teaspoon

ground paprika

1/2

teaspoon

ground cinnamon

1/4

teaspoon

ground ginger

1/4

teaspoon

ground turmeric

Pinch

of saffron threads

optional

Salt and pepper

to taste

1

cup

chicken or lamb broth

1

can

14 oz diced tomatoes, with juices

1/2

cup

dried apricots

chopped

1/2

cup

pitted green olives

1

lemon

sliced into rounds

Chopped parsley

for garnish
Instructions
Sear the Lamb:
Plug in the Pressure King Pro and select the "brown" function. Add olive oil to the pot.

Once the oil is hot, add the chunks of lamb and sear them on all sides until browned. Remove the seared lamb and set aside.
Sauté the Aromatics:
In the same pot, add chopped onions and sauté until they turn translucent. Add minced garlic and sauté for an additional 1-2 minutes.
Spice and Season:
Add ground cumin, ground coriander, ground paprika, ground cinnamon, ground ginger, ground turmeric, saffron threads (if using), salt, and pepper to the pot. Stir well to coat the onions and garlic with the spices.
Combine Ingredients:
Return the seared lamb to the pot. Pour in chicken or lamb broth and diced tomatoes with their juices. Mix well to combine all the flavors.
Pressure Cook the Tagine:
Close the lid of the Pressure King Pro securely. Select the "Stew" function and set the timer for 25 minutes.

Once the cooking time is up, carefully release the pressure according to the manufacturer's instructions.
Add Final Ingredients:
Open the lid and stir in the chopped dried apricots and pitted green olives. Allow the tagine to simmer for an additional 5 minutes on the "brown" function to meld the flavors.
Adjust and Serve:
Taste and adjust the seasoning if needed.

Place the lemon slices on top of the tagine.

Garnish with chopped fresh cilantro or parsley before serving.
Serving:
Serve the lamb tagine over cooked couscous or with crusty bread.