I love making this Cuban Style beef recipe using the Pressure King Pro. It's quick, easy and packed full of flavour. This is a must-try, and once you taste it you will understand why I love making this Pressure King Pro Cuban Style Beef recipe for my family. Learn how to use the Pressure King Pro in my article.
Cooking this dish in a pressure cooker allows for a quicker cooking time and pushes all the flavours in the sauce into the beef. This is one of my all-time favourite pressure cooker recipes, and I hope you enjoy it too.
For more pressure cooker recipes read my Pressure King Pro Recipe page.
Cuban Style Beef Recipe
This Pressure King Pro Cuban Style beef recipe is heavily influenced by both Spanish and African cuisine. This recipe's spice blend is unique and makes the most of combining various cuisines to make this stand-out dish.
The balance of flavours and combination of spices will give you a little hint of Spain with a background of North African flair. It's delicious and simple to make using the Pressure King Pro cooker.
Serve this dish over steamed rice with a slice of lime on the side for added freshness, and you will fall in love with this recipe as I have. The fantastic thing about using a pressure cooker to make this meal is it cuts down on your cooking time but up to 10 times.
Benefits of Using a Pressure Cooker
Pressure cookers are a fantastic way of cooking meals that usually take hours, so it frees up more of your time to spend with your family or friends. Using a pressure cooker allows the meat to become tender much quicker and keeps all the flavours and nutrients in one pot.
Using a pressure cooker like the Pressure King Pro also means less washing up to do, which is always a bonus in my books. The easy-to-remove bowl is very simple to clean and can hold a large amount of food. Perfect for cooking large batches which you can freeze or vacuum seal for another day.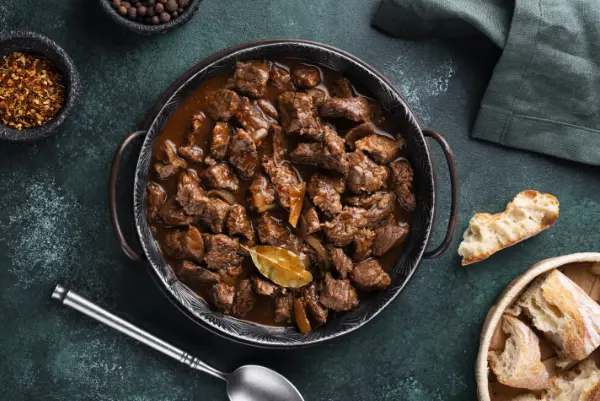 Pressure King Pro Cuban-Style Beef
A Cuban-Style Beef recipe cooked using a Pressure King Pro. This recipe is quick and easy using a pressure cooker which packs in the flavour while cooking in the shortest amount of time.
Cuisine:
Caribbean cuisine
Keyword:
cuban style beef recipe, pressure king pro cub style beef, pressure king pro recipes
Ingredients
2

pounds

900g beef chuck roast, cut into chunks

Salt and pepper

to taste

2

tablespoons

olive oil

1

onion

chopped

1

bell pepper

chopped

3

cloves

garlic

minced

1

teaspoon

ground cumin

1

teaspoon

dried oregano

1/2

teaspoon

ground coriander

1/2

teaspoon

smoked paprika

1/4

teaspoon

ground cinnamon

1/4

teaspoon

ground cloves

1/4

teaspoon

cayenne pepper

adjust to taste

1

cup

beef broth

1/2

cup

tomato sauce

1/4

cup

dry white wine

optional

2

bay leaves

2

tablespoons

fresh lime juice

Chopped fresh cilantro

for garnish

Cooked white rice

for serving
Instructions
Season and Sear the Beef:
Season the beef chunks with salt and pepper.

Plug in the Pressure King Pro and select the "Brown" function. Add olive oil to the pot.

Once the oil is hot, sear the beef chunks on all sides until nicely browned. Remove the seared beef and set aside.
Sauté the Aromatics:
In the same pot, add chopped onions and bell pepper. Sauté until the vegetables are softened.

Add minced garlic and sauté for an additional 1-2 minutes.
Spice and Flavor:
Add ground cumin, dried oregano, ground coriander, smoked paprika, ground cinnamon, ground cloves, and cayenne pepper. Stir well to coat the vegetables with the spices.
Combine Ingredients:
Return the seared beef to the pot. Pour in beef broth, tomato sauce, and dry white wine (if using). Mix well to combine all the flavors.
Pressure Cook the Cuban-Style Beef:
Close the lid of the Pressure King Pro securely. Select the "Meat" function and set the timer for 30 minutes.

Once the cooking time is up, carefully release the pressure according to the manufacturer's instructions.
Add Final Touches:
Open the lid and stir in the bay leaves and fresh lime juice. Allow the flavors to meld for a few minutes.
Adjust and Serve:
Taste and adjust the seasoning if needed.

Remove the bay leaves.

Garnish the Cuban-style beef with chopped fresh cilantro.
Serving:
Serve the flavorful Cuban-style beef over cooked white rice.