This Pressure King Pro Butter Chicken recipe is straightforward to make and produces a rich and creamy sauce that has a mild spice. Using a pressure cooker to cook this curry takes a lot of the hassle out of cooking and allows for easy cleanup afterwards.
With some fluffy basmati rice and some nann bread, trust you will want nann bread for the sauce, you will love this recipe. Learn how to use the Pressure King Pro in my article.
Why Use a Pressure Cooker?
Cooking food in a pressure cooker like the Pressure King Pro help keep all the goodness inside the pot and in your food. It allows you to cook meals up to 10 times faster than conventional cooking methods, and there is less washing up.
Sometimes when I'm cooking curries or tomato-based sauces, they can splash everywhere, leaving dots of sauce up the walls and over the cooking stove. With a pressure cooker, you have a lid on it so the goodness is kept inside
With the use of a pressure cooker, too, you are less likely to burn your sauce if you leave it unattended. It's one of the reasons why I love cooking with a pressure king pro; you can set it and forget it. No checking the sauce and stirring; you allow the pressure cooker to do it's thing.
Using a Pressure King Pro
Using the Pressure King Pro or any pressure cooker is very straightforward. You use the brown or saute function to brown your meat and veg, add your liquid, spices and seasonings; then pop the lid on. Close the pressure value, then set the required time to cook. I usually use the stew function on my Pressure King Pro and then adjust the time for what I need. Always remember that a Pressure cooker cooks up to 10 times faster, so you must monitor your timing.
When food is cooked, you may need to hit the brown or saute function to boil off the liquid to thicken it up. Alternatively, you can add a thicker of choice to your sauce. I will often use cornstarch which tends to make the sauce a pale colour. Agar agar thickens the same as corn starch without changing the colour of the sauce.
Butter Chicken Recipe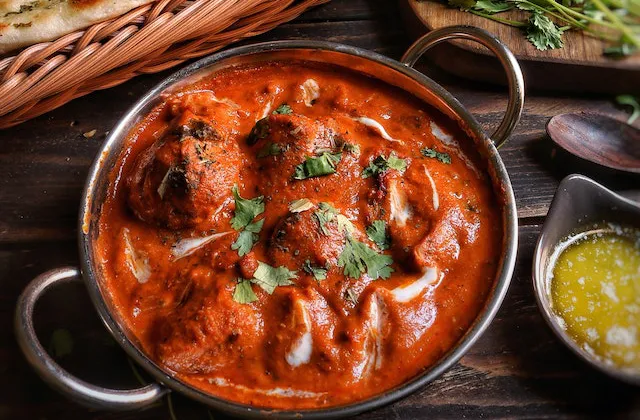 Pressure King Pro Butter Chicken
This tasty butter chicken recipe is cooked in a pressure cooker which take the fuss out of cooking for long periods of time. This medium spice recipe is rich and creamy.
Ingredients
For Marinating the Chicken:
1.5

pounds

700g boneless chicken thighs or breast, cut into bite-sized pieces

1/2

cup

plain yogurt

1

tablespoon

ginger paste

1

tablespoon

garlic paste

1

teaspoon

ground cumin

1

teaspoon

ground coriander

1/2

teaspoon

turmeric

1/2

teaspoon

red chili powder

adjust to taste

Salt

to taste
For the Butter Chicken Sauce:
2

tablespoons

butter

1

onion

finely chopped

1

tablespoon

ginger paste

1

tablespoon

garlic paste

1

teaspoon

ground cumin

1

teaspoon

ground coriander

1/2

teaspoon

ground cinnamon

1/2

teaspoon

ground cardamom

1/2

teaspoon

paprika

1/2

teaspoon

garam masala

1

can

14 oz diced tomatoes

1/2

cup

heavy cream

1/4

cup

cashew nuts

soaked in warm water

1

tablespoon

honey

optional

Salt and pepper

to taste

Fresh cilantro

chopped, for garnish
Instructions
Marinate the Chicken:
In a bowl, mix together yogurt, ginger paste, garlic paste, ground cumin, ground coriander, turmeric, red chili powder, and salt.

Add the chicken pieces to the marinade and coat them well. Cover and refrigerate for at least 30 minutes, or ideally, a few hours.
Sauté the Chicken:
Plug in the Pressure King Pro and select the "Browning" function. Add butter to the pot.

Once the butter is melted, add the marinated chicken pieces. Sauté until the chicken is browned on all sides. Remove the chicken and set aside.
Prepare the Sauce:
In the same pot, add chopped onions and sauté until they turn translucent.

Add ginger paste and garlic paste. Sauté for an additional 1-2 minutes.

Add ground cumin, ground coriander, ground cinnamon, ground cardamom, paprika, and garam masala. Sauté for another minute until aromatic.
Blend and Add Tomatoes:
Add the can of diced tomatoes to the pot. Stir and cook for a couple of minutes.

Use an immersion blender to puree the mixture until smooth. Alternatively, you can transfer the mixture to a regular blender and blend until smooth before returning it to the pot.
Pressure Cook the Sauce:
Close the lid of the Pressure King Pro securely. Select the "Stew" function and set the timer for 5 minutes.

Once the cooking time is up, carefully release the pressure according to the manufacturer's instructions.
Prepare the Creamy Base:
Open the lid and stir in heavy cream and soaked cashew nuts. Allow the mixture to simmer for a few minutes.
Blend the Sauce:
Use an immersion blender to blend the sauce until it's silky smooth.

Add Chicken and Finish:

Return the sautéed chicken pieces to the pot and stir them into the creamy sauce.

Stir in honey (if using) and season with salt and pepper to taste.
Adjust and Serve:
Taste and adjust the seasoning if needed.

Garnish with chopped fresh cilantro before serving.
Serving:
Serve the butter chicken over steamed rice or with naan bread for a complete meal.