Nestled in Cork City's heart, the Glass Curtain Restaurant beckons with its rich history and delectable offerings. This charming eatery is not just a place to savour extraordinary cuisine; it's a culinary journey deeply rooted in Cork's heritage and a celebration of the local flavours that make this region unique.
For more information on the restaurants in Cork, read my Guide to the Best Restaurants in Cork City.
Glass Curtain Restaurant
The Glass Curtain Restaurant is housed in the historic Old Thompsons Bakery, a culinary institution from 1826. The bakery was a beloved part of Cork's identity. It was renowned for producing a mile of its signature Swiss roll every day, right within the confines of its dedicated Swiss roll factory.
Legend has it that locals affectionately nicknamed the bakery "The Glass Curtain" during the swinging sixties due to its pioneering glass-walled architectural style. While the origins of this moniker may be shrouded in mystery, it's a name that the restaurant proudly embraces, adding an aura of nostalgia to its already enchanting ambience.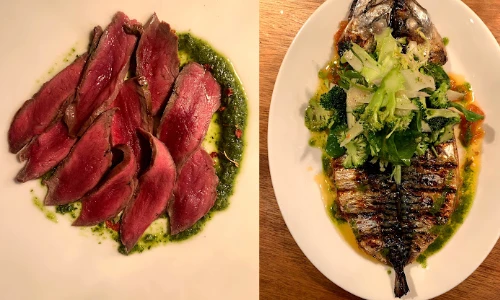 Best of Cork Food
One of the defining features of the Glass Curtain Restaurant is its unwavering commitment to showcasing the best of Cork's local suppliers. The menu is a testament to this dedication, as it evolves with the seasons, ensuring that diners are treated to the freshest and most flavorful ingredients available. From champion farmers and growers to skilled butchers, cheesemakers, fishmongers, brewers, and distillers, Cork's food producers are celebrated and revered.
These local artisans are dedicated to organic, nutritious, sustainable, and seasonal produce, and their passion and dedication have been instrumental in shaping the restaurant's menu. Each dish is a testament to the collaborative effort between the Glass Curtain and these exceptional producers, resulting in a menu that truly reflects Cork's culinary diversity.
Dining at The Glass Curtain Cork
Dining at the Glass Curtain is a versatile affair. The restaurant encourages patrons to share dishes with friends, fostering a sense of togetherness and camaraderie. However, if you'd instead embark on a personal culinary journey, you're welcome to pick your starter, main course, and dessert. It's all about catering to your dining preferences and ensuring your experience is exactly as desired.
A Touch of Exotic Inspiration:
What truly sets the Glass Curtain apart is its infusion of exotic influences into its menu. The dishes are lovingly prepared with a touch of grá (that's Irish for love) and often kissed with a little flame. This infusion of inspiration worldwide ensures that each plate is a masterpiece, a harmonious blend of global and local flavours.
Glass Curtain Ambience:
As you step into the Glass Curtain Restaurant, you're enveloped in an enchanting ambience that seamlessly blends history with contemporary charm. The echoes of the Old Thompsons Bakery's storied past resonate in the restaurant's walls, creating a nostalgic and inviting atmosphere.
Amidst the warm, rustic decor, you'll find an attentive and friendly staff ready to guide you through your culinary journey. The restaurant's commitment to creating a welcoming and comfortable environment is evident in every detail, from the soft lighting that casts a gentle glow to the carefully chosen music that sets the perfect tone.
Whether dining with friends, celebrating a special occasion, or simply looking for an unforgettable meal in Cork City, the Glass Curtain Restaurant provides an ambience that enhances your dining experience, making it a place where cherished memories are born.
A Culinary Haven in Cork City:
In a city known for its vibrant food scene, the Glass Curtain Restaurant stands out as a culinary haven that pays homage to Cork's past while embracing its present and future flavours. Whether you're a local seeking a taste of homegrown goodness or a visitor eager to explore Cork's gastronomic treasures, this restaurant welcomes you with open arms and promises to lift the curtain on a memorable dining experience.
So, the next time you find yourself in Cork City, visit the Glass Curtain Restaurant. It's a place where history, tradition, and innovation unite to create a culinary symphony that's nothing short of extraordinary.