Hello, my name is Chef JJ, and here I will give my list of places to get the Best Burger in Waterford. I have worked in award-winning restaurants, one of which won the Best Burger in Ireland, so I know I can help you find the Best Burger in Waterford. Below, you will find my list of the 8 places in Waterford to find the best Burger, and if you read further, I will give you more information to help you choose where to dine. Enjoy!
Phat Cow
Burza
Heerys
Grattan Bar Waterford City
Revolution Craft Beer & Whiskey Bar
The Tree Ships
Kazbar
Oskars
Waterford Food Scene
In the heart of Waterford, there's a culinary journey that takes your taste buds on an unforgettable ride. For those who savour a perfectly crafted burger's simple yet sublime pleasure, the question isn't just about satisfying your hunger; it's about finding the "Best Burger in Waterford." This charming city, nestled in the southeast of Ireland, boasts a delightful array of eateries and restaurants, each vying to claim the title of the ultimate burger destination.
In this article, I will help you uncover the hidden gems and well-known establishments that elevate the art of burger-making in Waterford. From juicy patties oozing with flavour to creative combinations that push the boundaries of this classic comfort food, our list of top contenders will satisfy even the most discerning burger enthusiast. So, whether you're a local searching for a new favourite or a visitor looking to indulge in the city's culinary delights, let's dive into the world of the "Best Burger in Waterford."
If you are interested in finding great dining spots in Waterford, please read my article on the Best Restaurants in Tramore.
Best Burgers in Waterford
Phat Cow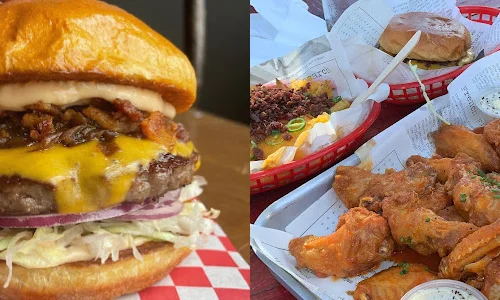 The Phat Cow in Tramore, Waterford, is a burger enthusiast's paradise. Known for its mouthwatering creations, this restaurant has captured the hearts and taste buds of locals and visitors alike. 
What sets their burgers apart is their dedication to quality. Using the finest ingredients, they craft each Burger with precision and love. From burgers like their innovative vegetarian burger "billy no meats" to their big Kahuna burger. 
The Phat Cow's burgers define what a good burger should be like. The secret? Fresh, locally sourced produce and an artful combination of seasonings. 
The Phat Cow is on my list for the "Best Burger in Waterford" – their commitment to excellence shines through in every bite, making them a must-visit for burger lovers.
Burza
Burza in Waterford City is a burger haven with an unforgettable culinary experience. Their burger range is a testament to creativity and craftsmanship, offering a diverse menu that caters to all tastes. 
Their Burger has some of the best names you will ever come across. Names like The Italian Stalian Beef Burger, The Dirt Bird Southern Fried Burger or their Texas Tower Beef Burger. Each Burger is an adventurer seeking unique flavour combinations you won't find anywhere else. 
What sets them apart is their dedication to using top-quality, sourcing their burgers from local butcher Tom Kearney, each bite with tantalizing flavours. With a warm and inviting atmosphere, friendly service, and extraordinary burgers, you will be delighted you visited them. 
Burza is undeniably a must-visit destination for burger enthusiasts seeking a memorable, delectable experience.
Heerys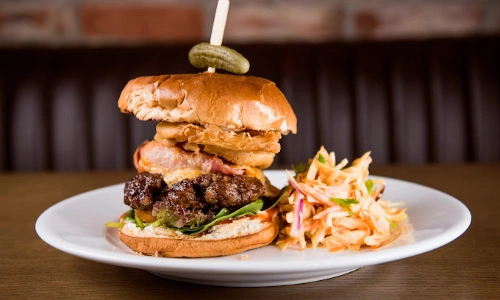 Nestled in the heart of Waterford, Heerys is a burger haven that perfectly blends location and culinary excellence. Their burgers are an actual work of art, carefully crafted to satisfy every palate. 
Diners can choose their 7oz Beef Burger with smoked cheese, BBQ mayo, bacon and an onion ring. Their Cajun Chicken burger with tomato, cheese and salsa or for vegetarians, they have a chickpea burger with sundried tomato and sweet chilli sauce. 
Their mouthwatering beef patties and delicious vegetarian options offer something for everyone. What sets Heerys apart is its commitment to using local, high-quality ingredients that elevate each bite. The charming ambience and friendly staff make dining here a delightful experience. 
If you're searching for top-tier burgers in a welcoming atmosphere, Heerys is the place to be. It's a must-visit destination for locals and travellers, offering a taste of Waterford's culinary soul.
Grattan Bar Waterford City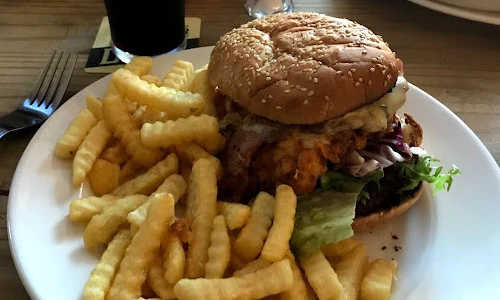 In the heart of Waterford City, Grattan Bar is a culinary gem offering a delightful dining experience. Their burgers are a testament to gourmet indulgence, with a menu that ranges from classic favourites to inventive, mouthwatering creations. Each bite is a burst of flavour, thanks to their dedication to using top-notch, locally sourced ingredients. 
The Grattan Bar's cosy ambience and welcoming staff create a warm, inviting atmosphere, making it a fantastic place to relax and savour a burger that's a cut above the rest. Whether you're a local looking for comfort food or a traveller seeking culinary delight, the Grattan Bar in Waterford City is an excellent choice for a memorable dining experience.
Revolution Craft Beer & Whiskey Bar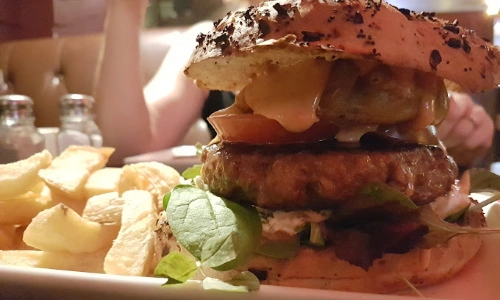 Revolution Craft Beer & Whiskey Bar in Waterford is a true destination for burger fans and beer enthusiasts. It is in a prime location and offers a unique blend of gourmet burgers and an extensive selection of craft beers and whiskeys. 
Their burger creations are culinary masterpieces, like their Revolution Gourmet burger, a classic burger with fried onions, coleslaw, and special sauce. To their Miss Piggy, a burger topped with pulled pork that is mouthwatering good. The dining experience at Revolution is a perfect fusion of great food, exceptional drinks, and a lively atmosphere. 
Whether enjoying a juicy burger or sipping on a craft beer, this bar is the ideal spot for a fun, flavorful evening, making it a must-visit destination in Waterford.
The Three Ships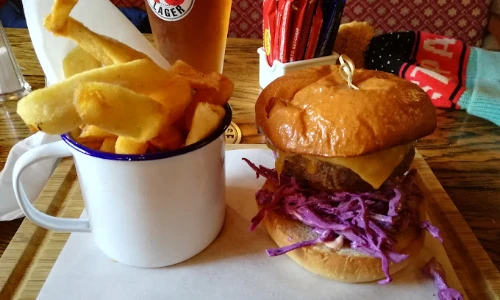 The Three Ships in Waterford is a culinary treasure situated in a charming location. Their burgers are a delicious journey for the taste buds, created with a commitment to using high-quality, locally sourced ingredients. 
The dining experience here is exceptional, with a welcoming ambience for friends, families, or solo diners. The friendly staff ensures that every visit is a delightful one. Whether you're savouring a classic burger or one of their unique offerings, dining at The Three Ships is a memorable experience that encapsulates the essence of Waterford's culinary scene. 
It's a spot where great food and great company come together seamlessly.
Kazbar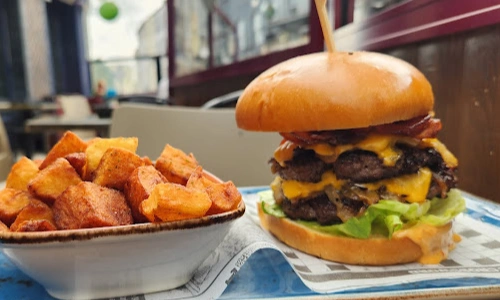 Kazbar in Waterford is a culinary gem nestled in a vibrant location. Their burgers are culinary masterpieces with a touch of Mediterranean flair. Their burgers are flavoured, from their house beef burger with roast pepper relish to their Bistor style chicken burger with crispy lettuce, and Marie rose sauce. 
The dining experience at Kazbar is an adventure for the senses. The cosy, intimate ambience, complemented by warm and attentive staff, makes for an unforgettable evening. 
Whether trying their classic offerings or venturing into Mediterranean-inspired burgers, Kazbar offers a unique and delightful twist on a classic favourite. It's the perfect place to savour a burger that takes your taste buds to distant lands.
Oskars
Oskars in Waterford is a culinary destination with a truly exceptional dining experience. Oskars in Waterford offers an extensive bar menu with a range of burgers renowned for their quality and innovation. 
Their burgers are a symphony of flavours, using locally sourced ingredients to create culinary masterpieces. Dining at Oskars is a treat for the senses, with a welcoming atmosphere and attentive staff that ensure every visit is memorable. 
Whether you're indulging in a classic burger or one of their inventive creations, Oskars delivers a culinary adventure that captures the essence of Waterford's vibrant food scene.
Waterfords Best Burgers
In a city brimming with culinary delights, the "Best Burger in Waterford" quest has led us on a delectable journey through the top burger joints. Each one, from Phat Cow to Burza, Heerys to Gratan Bar Waterford City, Revolution Craft Beer & Whiskey Bar to The Three Ships, and Kazbar to Oskars, has its own unique charm and flavour.
The passion and dedication these restaurants put into their burger creations are evident in every bite, making it a tough choice to crown a singular winner. Waterford's burger scene is a testament to the city's vibrant food culture, and each of these establishments deserves a spot on your culinary exploration list.
Whether you're a local or a visitor, your quest for the "Best Burger in Waterford" is bound to be a mouthwatering adventure.