Irish Potato Cakes Recipe
Treat Yourself With This Great Tasting Irish Potato Cakes Recipes
This Irish Potato Cakes Recipe is a great way of using up left of mash potato for a nice little treat that can make a fantastic breakfast, brunch or as an evening snack with a cup of Irish tea.
This Irish Potato Cakes Recipe is a great savory potato dish that works well with so many different flavours.  I love having them topped with bacon and and a poached egg but you can also have them by themselves with a little salt, how my wife loves them.
These Irish potato cakes or sometimes known as Irish Potato Farls are made in various ways across the country and can often be seen served with a Full Irish Fry in many counties across Ireland.  No Ulster Fry would be complete without a couple of slices of potato farl and for me it's what makes the fry stand out from so many others.
This Irish Potato Cakes Recipe is so versatile.  Traditionally they are made plain with potato, flour and seasoning but you can add a number of ingredients to make them that extra bit special.  Why not try add some finely sliced spring onion or chives or add and top them with smoked salmon and creme fraiche or add in some cooked diced bacon or black pudding as a little treat.
When cooking mash potatoes for dinner I normally make a little bit extra which can then be used to make potato cakes/potato farls.  You can use boiled potatoes for this recipe or you can bake potatoes and mash them up too.  The main thing is that when you make this recipe try not to over do it with the flour or they will become too stodgy and have a rubber like texture.  These Irish Potato cakes should still be light and fluffy and seasoned perfectly.
Try this recipe out and I hope you enjoy them as much as I do.
For more recipes read my blog posts here.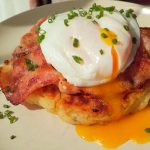 Irish Potato Cakes
These Irish Potato Cakes are a great way of using up left over potato. Served on their own with a light sprinkle of salt or served with bacon and a poached egg this recipe is always a nice little treat.

Keyword:
how to make irish potato cakes, how to make potato cakes, Irish potato cakes, irish potato cakes recipes, traditional irish potato cakes recipe, traditional potato cakes, traditional potato cakes recipe
Ingredients
450

grams

Cooked potatoes which have been cooled

75

grams

Plain White Flour

Salt & Pepper To Season
Instructions
Place cooled cooked potatoes into a bowl and add in the flour and seasoning and mix.


Tip out onto a floured service and knead together to form a dough


Flatten the dough to about 3cm then cut into 8 circles using a pastry cutter or using a knife cut into triangles.


Heat a heavy based pan on a medium heat and add some oil or clarified butter and cook potato cakes for 2 to 3 minutes on each side until golden brown. Traditionally flour was sprinkled into the pan and the potato cakes were dry fried but I find adding some clarified butter ads a little extra flavour and gives a more golden colour.


Serve hot with some salt or with a morning fry. These work really well topped with bacon and a poached egg with some hollandaise sauce or add in some cooked bacon or black pudding to the potato mix before cooking. The choice is endless. Enjoy.

Recipe Notes
Allergins: Gluten
Why not try add some finely sliced spring onion or chives to the potato mix to make a champ style potato cake. Fantasic alternative served with some smoked salmon and creme fraiche.